Hello everyone! What a weekend it's been! We took a pre-Christmas mini trip to London on Friday for 1 night to enjoy some of the festivities. We had lots of ideas of what we wanted to get done whilst we were there but didn't book anything in advance so that we could have a more relaxed feel to our trip rather than have to work to time restraints! It was actually one of the best trips I think we've ever had to London, we got so much done and without the stress of having to get somewhere on time! Here's what we got up to…
Friday 21st December 2018
on Friday 21st December we drove up to London on what was expected to be one of the busiest travel days of the year (an oversight on our part) however, we set off at around 10:30am and traffic was surprisingly light! There was just the usual busy city traffic when we hit London, but other than that, all good 👍🏻After checking in at our hotel and dropping off our bags, we went straight into the city centre.
If you've ever been to London you will know that there are loads and loads of Theatre ticket booths where you can get cheap tickets for that day's shows. We decided to see if we could pick up some cheap tickets and managed to get 2 tickets to see Wicked, one of my favourite musicals! Wicked was the first show that me and Lee ever saw together so it was really special to be able to go and see it again with him! I have now seen it 3 times and Lee has seen it twice.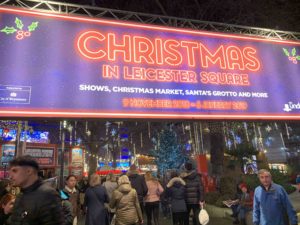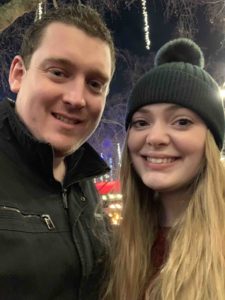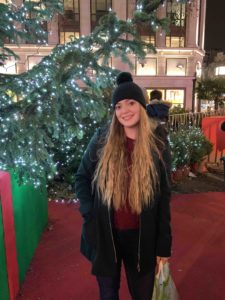 We had about an hour to kill before the show decided to head to Leicester Square to check out their Christmas Market. I visited 'Christmas in Leicester Square' last year at the exact same time and it was just so festive and beautiful! This year was just as good, if not better! We had a look around the market stalls where I ended up buying a gorgeous tea light carousel/spinner. I saw these online and absolutely fell in love with them so made it my mission to buy one when we went. How beautiful do they look all together?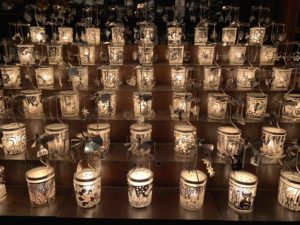 While we were at the market we also tried some festive food! We found a stall that was selling slices of smoked sausage, sauteed potatoes and a choice of cheese in a cup and it was DELISH! I can't remember the name of the company whose stall it was but I highly recommend trying this if you're going anytime soon!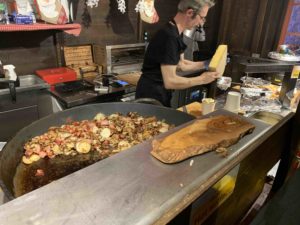 After visiting the market, we met up with my brother and his girlfriend so that I could give them their Christmas presents. We had a catch-up and walked around together for a while, watched some street performers and paid a visit to Chinatown so that I could get one of my favourite snacks in London, a Taiyaki Ice Cream from 'Bake'. A Taiyaki is a delicious fish shaped pancake which you can either get filled with Nutella or as an ice cream cone. The ice cream they serve with the Taiyaki's in Bake is just the best and we now get one of these pretty much every time we go to London.
Wicked The Musical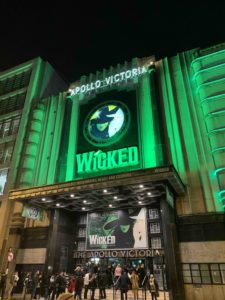 By the time we had finished our snack, it was time to start heading to the theatre! We said goodbye to my brother and his girlfriend and made our way to the Apollo Victoria. As most of you will know if you have been around since the beginning of my blog, I like to collect Theatre programmes. I went straight to the 'Oz Dust Boutique' (Wicked's merchandise shop) to pick one up. I normally just buy a programme from a staff member in the foyer, so when I went to the shop to get one and saw all the rest of the merchandise they had to offer, there was no way I was leaving with just a programme!
They had a pin (something I also collect) so I had to have that and they also. had a Christmas tree bauble and I just fell in love. I went to purchase just the pin, bauble and programme when I noticed that they did something called the 'Ultimate Wicked Bundle' which included A programme, a poster, a pin, and a fridge magnet for £20. It was cheaper for me to buy the bundle, plus the bauble than it was got get the 3 items I originally intended to buy, so I bought it all at and was absolutely thrilled!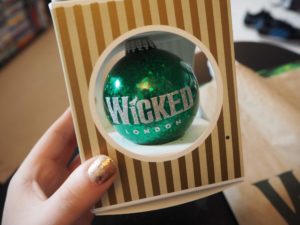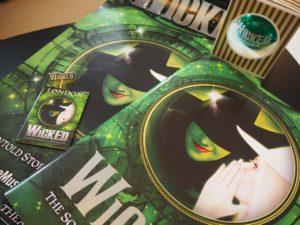 When we got into the auditorium, our seats were fantastic, the cast was amazing and the show was probably even better than the first 2 times I'd seen it. All around AMAZING evening!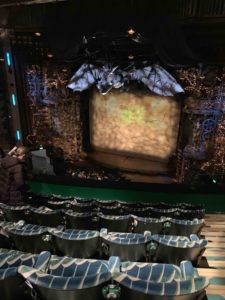 Saturday 22nd December 2018
Saturday 22nd December started off with a trip to Westfield Shopping Centre! We got some last-minute Xmas presents and had lunch at one of my favourite food places, Five Guys!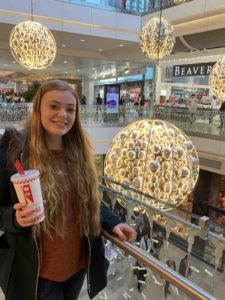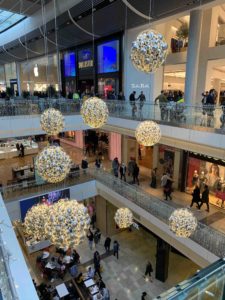 After shopping, we decided to head back into the City centre to take a look at all the Christmas lights that London had to offer! First, we went to Regent Street and saw their 'Spirit of Christmas' angel lights.
Christmas Lights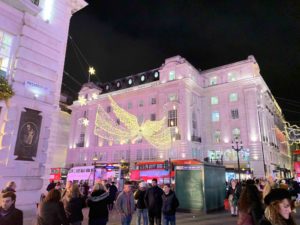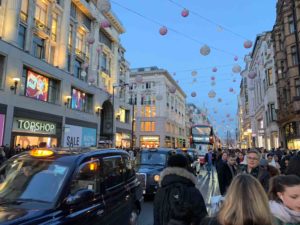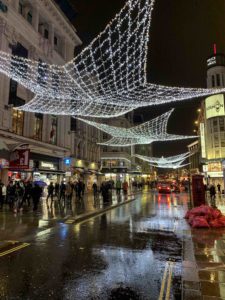 We then went to Oxford Street and paid a visit to the Disney Store (of course!) where I managed to pick up the Tangled Lantern Christmas tree decoration that I have been wanting for ages! I also found this adorable Pascal purse in the sale and thought it would be perfect for the next time we go to Disney (whenever that may be!)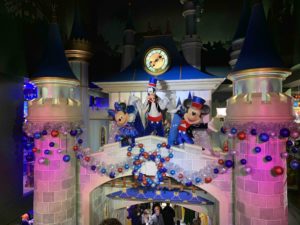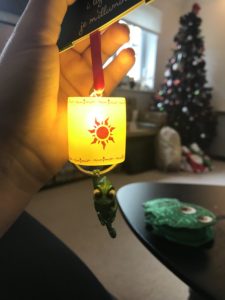 We then decided to take our first ever trip to Carnaby Street and saw their Bohemian Rhapsody Christmas lights! They were so cool and there were people dotted around singing Christmas songs as you walked down the street!
Carnaby Street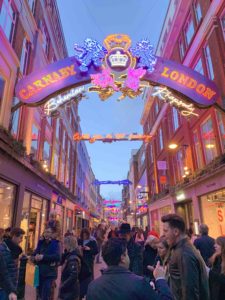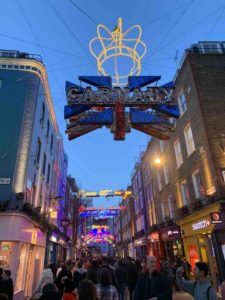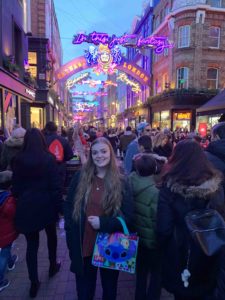 After seeing the Carnaby Street lights, we took a trip to Hamley's Toy Shop (the best toy shop ever!) There were staff members doing demo's of magic tricks, drones and so many different toys, it was amazing! Once we had finished at Hamley's, we decided to make our way over to Hyde Park's Winter Wonderland, something that I have wanted to visit for years!
Hyde Park Winter Wonderland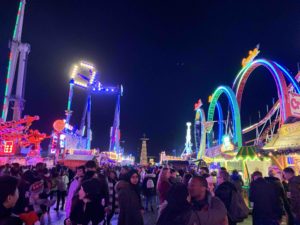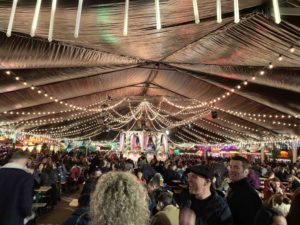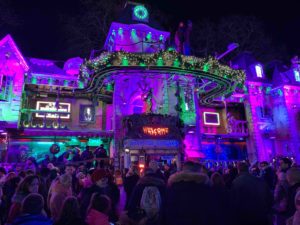 Winter Wonderland was absolutely packed! There were so many people but the atmosphere was fantastic! We had a little wander around to get our bearings before treating ourselves to some delicious food! We started off with Mini Pancakes with Nutella and Whipped Cream (these were incredible!)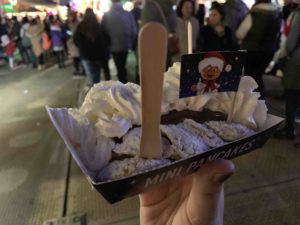 Once we had finished our Mini Pancakes, we made our way to the Magical Ice Kingdom! The Ice Kingdom was the one thing I really wanted to make sure we saw when we went to Winter Wonderland, It's basically a giant igloo filled with beautiful Ice sculptures. I knew it would have to be cold in there so that the sculptures wouldn't melt, but I was not expecting the temperature it actually was. As soon as we walked in, it was like walking into the North Pole! We had only been in there for 5 minutes and already my feet were numb 🥶if you are planning on visiting the Ice Kingdom, make sure you wrap up warm! I had a jumper, coat, gloves and boots on and I was still frozen! 😂
The Magical Ice Kingdom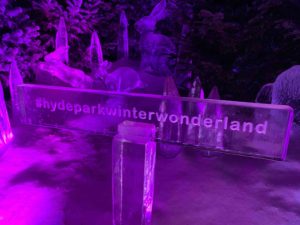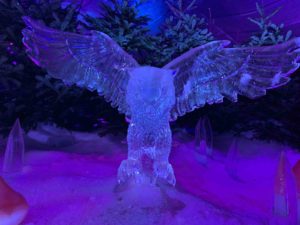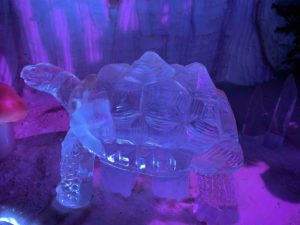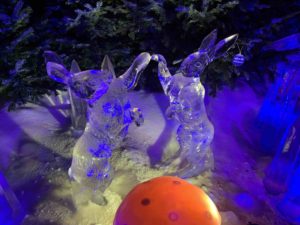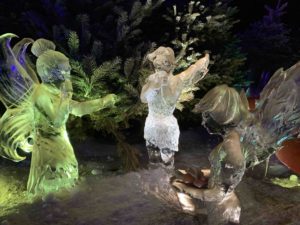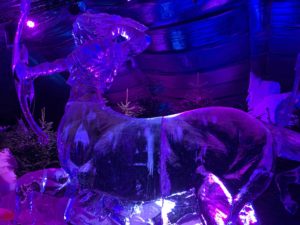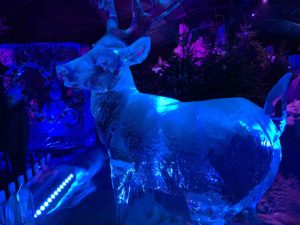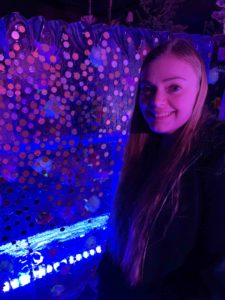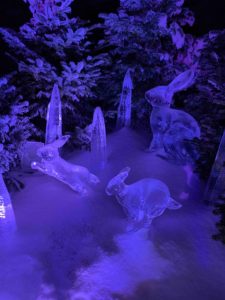 On our way out of Winter Wonderland, we stumbled across a Chocolate fountain stall which we felt was rude to just pass by. They had 4 different chocolate fountains to choose from, Milk, Dark, White and Nutella. Lee opted for a cup of marshmallows with melted Nutella chocolate and I went for a cup of Strawberries with melted milk chocolate. They were incredible and we ate them on the way back to our hotel.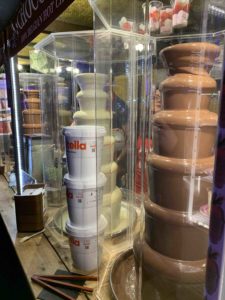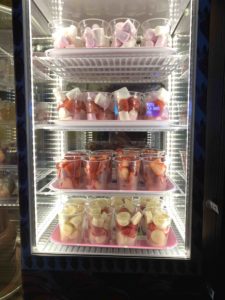 This weekend was the best fun and I feel so lucky to have been able to accomplish so much in such a short time!
So, that was my weekend! This will be the last post from me until after Christmas so I want to wish you all the best Christmas ever, I hope you have a magical time!
See you next time for the final post of Blogmas 2018!
---
Related