Hello everybody!
Welcome to Blogmas #1! It's finally December which means that Christmas is coming! This year I've decided to do my first ever Blogmas but in a slightly different way. For those of you who don't know, Blogmas is usually a Christmas Blog challenge to post a new blog update every day in December up until Christmas day, however, since I work full-time, this would be one heck of a mission for me! Instead, I have decided to do my own take on Blogmas and will attempt to publish a new blog post every Wednesday and Saturday up until Boxing Day which means that's 8 posts in total! I'm very excited for the next few weeks ahead and can't wait to share all my festivities with you 🎄
Advent Calendars
To kick things off, I thought I would show you my Advent Calendars! I usually only have 1 Advent calendar but this year I seem to have acquired 4? My favourite is the beautiful wooden Harry Potter Christmas Countdown that Lee bought for me…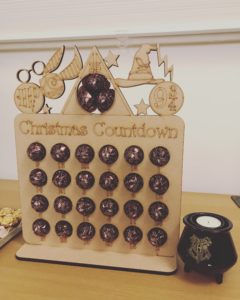 each day holds one of my favourite flavour Ferrero Rocher chocolates inside for me to scoff! I love the detail in the wood burnings and think it is such a lovely thing for me to be able to bring out and use year after year 😊
My next two advent calendars were both from Superdrug and I just couldn't resist them, they are Disney's Snow White and Mickey's 90th Birthday bath and body 12 days of Christmas advent calendars.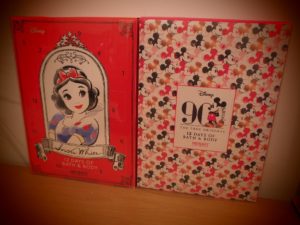 They each have 12 windows with either a bath or body care product inside. I originally only intended to get 1 of these as they were £14 each in Superdrug, until I went in one day and they were reduced to half price at £7, so I ended up treating myself to both of them which is great because now with 24 windows, they will take me right up to Christmas Eve 🎄
My last advent calendar is actually a countdown to New Years. Revolution Beauty were having a cheeky little Black Friday sale on their advent calendars which were all dropped down to half price! I picked this one up for just £12.50 online and am very excited to start it on boxing day. You get £25 worth of Revolution Beauty products, so for £12.50 that was an absolute bargain!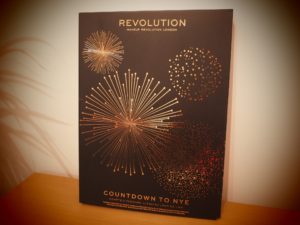 So, that's this year's advent calendars sorted, so what else have I been up to recently?..
Festive Events
Well, there have been a few festive events going on lately, what with the Christmas light switch-ons and the Coca-Cola truck kicking the festivities off back in November, I'd say I've already been getting into the festive spirit!
I think we can all agree that once the Coca-Cola advert graces our TV screens, Christmas has officially begun! 🥃🚒The truck visited Exeter on the 10th and 11th of November and it was super festive! There were Christmas songs, Christmas lights and free Coca-Cola! (which, we didn't actually get because they queue was humongous) instead, we enjoyed the atmosphere and did a little bit of Xmas shopping.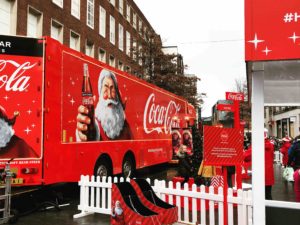 Exeter's Christmas Market started on the 15th November this year so we took another trip to the city and had a nosey around the market. It was also the day of their official Christmas light switch-on in the evening but due to other commitments, we weren't able to stick around for that! 😊We had a lovely look around Exeter Market which included lots of food stalls, Christmas decorations and gifts to buy as well as a semi-outdoor ice rink! The market was really really crowded though as it was the first weekend of it being open so we didn't stay for too long.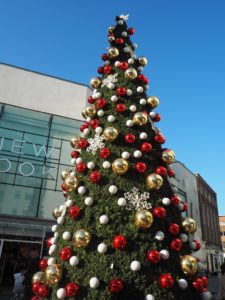 We then went to B&M (amazing shop) and I can confirm that the Christmas Shopping officially began at this point! We have done a lot more Xmas shopping since, however, I am holding off on wrapping anything for now until after the tree is up. (Which is a massive struggle for me as I love wrapping and am getting impatient! 😩)
I won't have to wait much longer though as we are putting up the tree and decorations tomorrow! I cannot tell you how excited I am, I have been waiting for this since we got back from Disney in September and now the time is finally here!
So, that's what I've been up to so far and with all this excitement to come, I will see you on the 5th with Blogmas #2!
Bye!
---
Related