Hello everyone! I can't believe it's almost December, how exciting is that?! My Christmas shopping is already well underway and I can't wait to enjoy all the festivities that the next few weeks will bring! Today I will be sharing my Festive Reading List with you.
As you will know if you read my Goodreads Tag, I set myself a goal of 20 books in the 2018 Goodreads Reading Challenge, but have failed miserably so far having only read 3 books this year! I don't think I've ever had so little time to read than this year, last year I read 13 out of the 50 books I set as my target for the 2017 challenge so thought that by dropping my target down to 20 that I might just manage. However, after transitioning from part-time to a full-time job, time unfortunately hasn't been on my side! It also helped that my previous job was working in a library as a library assistant, so It meant that I was constantly surrounded by wonderful books! So, I have reset my goal to just 5 books this year as there's not exactly much time left to read any more than that really! Here are my Festive picks…
One Day In December – Josie Silver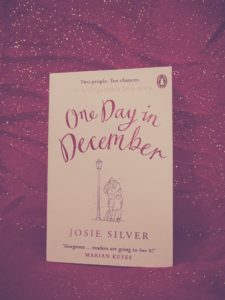 Laurie is pretty sure love at first sight doesn't exist. After all, life isn't a scene from the movies, is it?
But then, through a misted-up bus window one snowy December day, she sees a man who she knows instantly is the one. Their eyes meet, there's a moment of pure magic… and then her bus drives away.
Laurie thinks she'll never see the boy from the bus again, but at their Christmas party a year later, her best friend Sarah introduces her to the new love of her life. Who is, of course, the boy from the bus.
Determined to let him go, Laurie gets on with her life.
But what if fate has other plans?
Doesn't that just sound like the most delicious Christmas read? I've started reading this one already and it's making me feel all festive, The blurb alone is enough to make anyone grab a blanket and a hot chocolate and curl up on the sofa to get reading. ☕️📚
The Christmasaurus – Tom Fletcher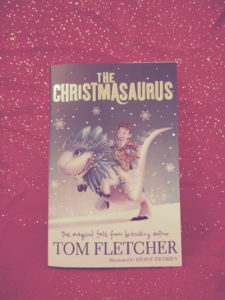 Forget everything you thought you knew about the North Pole, pop a crumpet in the toaster and get ready to meet:
a boy called William Trundle;
his dad, Mr Bob Trundle;
Santa Claus (yes! the real Santa Claus!);
an elf named Snozzletrump;
Brenda Payne, the meanest girl in school (possibly the world);
a nasty piece of work called the Hunter;
and a most unusual dinosaur…
Yes, I know it's a children's book, but sometimes we all need to lose ourselves in a little I went to see the Christmasaurus Live last Christmas in London and I have never felt more festive than I did after seeing that show! It only seems right to read the book that it stemmed from 🦖Also, I am such a huge fan of the Fletcher's, their music, youtube videos and their books, I can't wait to read another!
A Christmas Carol – Charles Dickens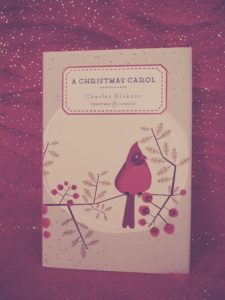 Ebenezer Scrooge is a miser, penny-pinching with no care for his own happiness or those of any others.
Then, one Christmas Eve, he is visited by three ghosts: the ghosts of Christmas past, present and future. As they turn the clock back on Scrooge's own life, it's tragedies and misdemeanours, and reveal the shadow of the life that is yet to come, they reveal to him the true meaning of Christmas.
An absolute classic. I don't think I know anybody who doesn't know the story of A Christmas Carol, it's simply such a great story and is even one of my favourite Christmas films (The Muppets Version of course!) I did actually read this last Christmas but can't resist reading it again this year! 🎄
Harry Potter and the Chamber of Secrets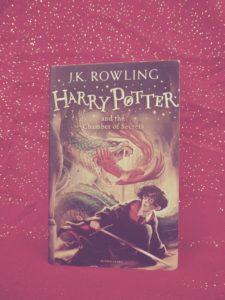 'There is a plot, Harry Potter. A plot to make the most terrible things happen at Hogwarts School of Witchcraft and Wizardry this year'
Harry Potter's summer has included the WORST birthday ever, doomy warnings from a house-elf called Dobby, and a rescue from the Dursleys by his friend Ron Weasley in a magical flying car! Back at Hogwarts School of Witchcraft and Wizardry for his second year, Harry begins to hear strange whispers echo through empty corridors – and then the attacks start. Students are found as though turned to stone… Dobby's sinister predictions seem to be coming true.
Who doesn't love a good Harry Potter book?? I am currently re-reading The Chamber of Secrets, no matter how many times I read this series, I always pick up on something new. You miss out on so much vital information in the Harry Potter series if you don't read the books, as I always say with pretty much all the series' I've read, the books are always better than the movies! 🔮
So there we have it, my reading list for the end of the year! Hopefully, I can get through most of, if not all of these by January, I will keep you posted!
What will you be reading this Christmas? Let me know in the comments below!
See you soon!
Beth x
---
Related Posts