Hello everyone! Welcome back to my blog, If you're new here then welcome in general! Today I'm talking Disney again, more specifically about the Disney Dining Plan and whether or not it's actually worth adding to your booking. Lee and I have never actually had the Dining plan ourselves but it's something I would love to try in future if we ever book when the free dining option is available!
Factors to consider
The cost of theme park food
Theme park food is notoriously more expensive than food outside of the parks, as you can probably imagine, with the cheapest food items starting from around $2 and ranging upwards of $9 per snack.
The weather
Sounds silly, but if like us, you live in a cooler climate and aren't used to the kind of heat that Florida sees, then you probably won't have too much of an appetite. We found, being used to cold weather in the U.K that we didn't want to eat much when we were in the 30C Florida weather, So really, how much you actually manage to eat plays a big part in whether or not the Disney Dining Plan is worth it for you.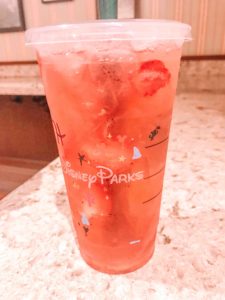 Cost of the dining plan
The cost of a Disney quick-service dining plan for 3 weeks is £39.99 per adult per night coming to a total of £1679.58 for 21 nights. This is the cheapest dining plan that Disney offers and includes:
2 Counter service meals per person, per night
2 snacks per person, per night
1 refillable mug (for the duration of your stay)
your refillable mug can be used for unlimited refills in your resort hotel for the entire duration of your stay.
1 meal credit includes:
1 entree (these usually come with a side as standard too)
1 dessert
1 non-alcoholic beverage
alternatively, 1 meal credit can be broken down into 3 snack credits, so you could just have 1 meal and 5 snacks if you wanted to, considering a lot of the snack items at Disney are pretty generous anyway, this is a great option to have!
Our Personal Cost:
As I mentioned before, Lee and I have never had the Disney Dining Plan and have always just paid as we go. On our most recent trip, we spent $861.54 on food for the entire 3 weeks (That's a $818.04 saving on what the Dining plan would have cost us!!!)
Now, that what we spent might seem really extortionate, however, I saved up for well over a year for this trip and I wasn't going to skimp whilst we were there! I wanted to try so many snacks at Disney this time, which we did! We ate whatever we wanted when we wanted and ate both within and outside of Walt Disney World. Sometimes we got UberEats to deliver food from outside of the Walt Disney World Resort such as Domino's pizza and IHOP (which was insanely good, why we don't have them in the U.K. is beyond me)
So for Florida and Disney and for eating from restaurants and takeaways the entire time, this was technically pretty cheap!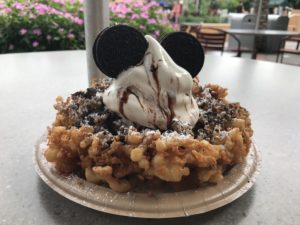 The rest of my family booked a few months before we knew if we could go or not so they managed to get the free dining with their package. By the end of their 2-week trip, they still had quite a few dining credits left between the 6 of them. In the end, they had 4 meal credits and 36 snack credits still left to use, so my mum and stepdad ended up gifting us the rest of their credits which totalled 4 meals and 6 snacks (or 12 snacks) we ended up using all the credits on a meal for both of us, ice creams and then a lot of packaged snacks so we could bring them home with us at the end of our trip. My brother, his girlfriend and my stepbrother had the remaining 30 credits left to use so they spent as many as they could on their last day but still had some leftover that they didn't manage to spend.
Had we not stayed the extra week, these credits would have gone to waste completely which, had you paid for the dining plan, would have been pretty annoying!
Pros and Cons of the Disney dining plan
Pro's
Food and drink are pre-paid so any money you take with you can be spent on as much merchandise as you like!
Plenty of food and drink credits so you'll never go hungry
lots of different food options (in the sense that you can eat from any restaurant on Disney property and go for the most expensive items without having to worry about how much it's going to cost!)
Credits are flexible so you turn 1 meal credit into 3 snack credits if you wish.
Cons
So expensive! (if you pay to add the dining plan to your booking)
Too much food, waste is highly likely and you may feel pressured to eat as much as you can so that you don't waste food/credits.
Limited on food options (in the sense that you can only eat from restaurants on Disney property, anything you may want to try outside of the parks is from your own pocket!)
Conclusion: Is the Dining Plan worth it?
In conclusion based on our experience, no, the dining plan isn't worth paying extra for. It is, however, absolutely worth booking your trip when the free dining offer is available as you won't have to worry about paying for food when you're there. I for one really want to try and get the free dining offer when we book our next trip (whenever that may be!) I definitely would never pay extra for it though, It's just too expensive!
What are your thoughts on the Dining Plan? Let me know in the comments below! 😊
---
Related
Everything We Tried At Epcot's Food & Wine Festival 2019
Week One Photo Diary – Florida 2019
Week Two Photo Diary – Florida 2019