Hello hello, long time no see! There is so much to catch you all up on and so I thought I would do a 3-part Photo Diary to re-cap our vacation day by day! We have now been back from Florida for over a month (oops!) and we've been non-stop ever since! So, I've only recently had time to start putting together blog posts and I've really missed writing! Anyway, we had such a great holiday, So much has happened and its all very exciting! I've always enjoyed seeing other bloggers do a photo diary, they're such an easy way to show and tell what you got up to on your trip! Let's start from the beginning, here's a diary of what we got up to on week 1…
Travel Day Diary – Sunday 15th September 2019
Diary 1 – We arrived in London the day before to settle into holiday mode and ensure we had enough time to prepare for the flight the next day. We stayed at the Hampton by Hilton at Gatwick's South Terminal and decided to go and explore the terminal itself the night before so that we knew where we were going the next day. After dinner and a drink at The Beehive, we headed back to the hotel to get some sleep!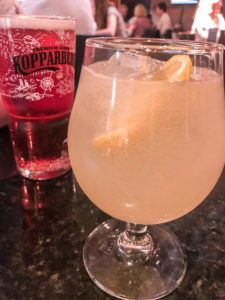 Woke up at around 7:30am, didn't sleep very well and found myself feeling pretty nervous for the flight (thanks Anxiety!) We checked out of the hotel at around 10am and headed straight for the terminal! After arriving in departures, we were one of the first people to check-in and drop off our luggage. It was a pretty busy flight so it was a good job we got there early as we didn't have to queue at all! Finally, we cruised through security and then went for some breakfast at Wetherspoons in the departures lounge. I was feeling pretty nervous for the flight so I just had a light breakfast of a fruit bowl and an Apple Juice.
We wandered around departures for a while, picking up a couple of bottles of water while we waited for the gate to open. Once the gate opened at 12pm, we headed straight over to board. The flight was scheduled for 1pm but we ended up taking off about 40 minutes late (off to a great start!) I love Virgin Atlantic flights because you get so many snacks and great food! We started the flight off with some Penn State mini sour cream and chive pretzels which are my absolute fave, a can of lemonade and then later some orange juice. Lunch consisted of Mac & Cheese with a side salad, cheese and crackers and a Gu pot for dessert. The entertainment choices weren't as good this time around but I had some games on my phone and a book with me to pass the time. I did listen to a few headspace exercises as my anxiety started to build a little about 2 hours into the flight, takeoff was a little bumpy but I've never liked takeoff anyways, so I just kept telling myself that we would soon be there and that we, of course, wouldn't be on the plane forever, although it did seem like the longest flight in the world!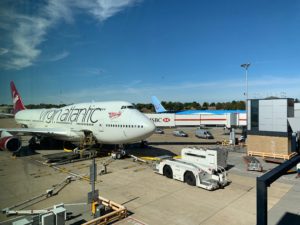 We had to avoid old' humberto on the journey over as he was sneaking on in. We had a really nice guy sat next to us on the plane who travels to Orlando once every month on business (dream life), we were all looking out for the hurricane as he said we should be able to see it out the window as we got closer, but we didn't in the end – Phew!
Landed safe and sound in Orlando, cruised through security and headed straight to the magical express!
Day 1 – Monday 16th September
Diary 2 – Early start for our first day! We hadn't adjusted to the 5-hour time difference so ended up being awake at about 4am. It was no use trying to get back to sleep so we got up and by 06:45 we were at Magic Kingdom! The first ride we went on was Space Mountain and then we jumped into our fast passes! We managed to do a couple of things we never got around to doing last year, such as the Tiki Room which was a lot of fun!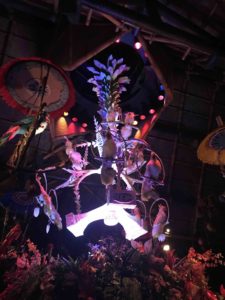 after that, we were feeling a little peckish so decided to try some of the spring rolls on our food bucket list! We went for the pepperoni pizza spring rolls form the Adventureland kitchen cart, they were delicious!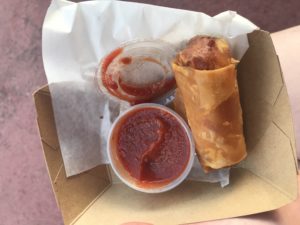 We then decided to head back to the hotel so that we could get an Uber to the nearest Walmart for some snacks and essentials.
Once we got back, we headed back to Magic Kingdom to watch Happily Ever After!
Day 2 – Tuesday 17th September 2019
Diary 3 – Day 2 was Animal Kingdom! We jumped straight into our FastPasses which were: Na'vi River Journey, Expedition Everest and Kali River Rapids. Once we had done all of those, we decided to grab some lunch from the Yak & Yeti cafe and had their famous Honey Sesame Chicken and Fried Rice to share – seriously one of the best meals!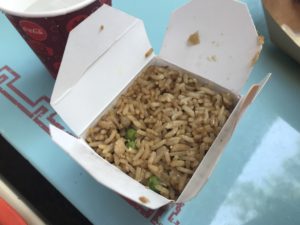 We then headed over to ride DINOSAUR and saw a Crocodile nearby which we had never noticed before!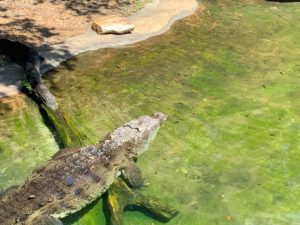 For the evening, we headed over to Epcot! I love that Epcot has its own aquarium, I'm a big fan of what they do there in the sense that they rescue, rehabilitate and release (exactly what they say in Finding Dory!) and I love marine fish so we always enjoy looking around the Seas Pavilion! In the Aquarium we saw the scuba divers having a little dive around the main tank, some sea turtles which are one of my favourite animals, sharks, dolphins and we got to watch feeding time for the Manatees and learned lots of cool things about them.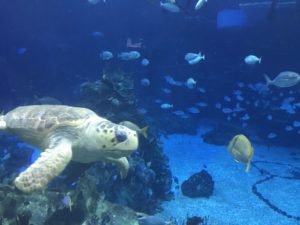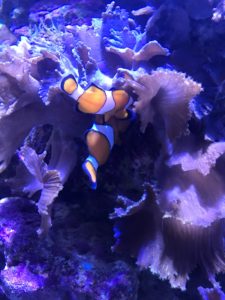 We then headed over to the world showcase for some food from the food and wine festival, we tried a dish from the Thailand booth: Marinated Chicken with Peanut Sauce and Stir-fried Vegetables. Unfortunately, It sounded a lot nicer than it actually was! After a stroll around the world showcase, we decided to make our way to the exit and head back to the hotel. Along the way we grabbed a Strawberry Lemonade Sunset with Vodka –  it was delicious and I don't ever drink alcohol so this was somewhat of a treat (although, I'm pretty sure they didn't even put any alcohol in!)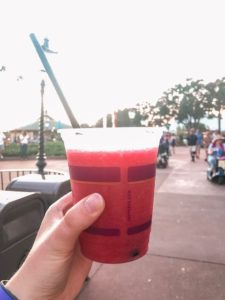 Day 3 – Wednesday 18th September 2019
Diary 4 – Today we had originally planned to go to Epcot but went to Hollywood Studios instead since we'd been to Epcot the night before! We were lucky enough to snag a Fastpass+ for Slinky Dog Dash which was so much fun, I forgot just how much I loved that ride last year! We then had lunch from Woody's Lunch Box in Toy Story Land, we were still making our way through our food bucket list so we decided to split the three-cheese grilled cheese sandwich with a side of tater tots and it was the best damn grilled cheese I've ever had in my entire life. I still think about it now that we're home! We also tried a Mystic Portal punch which was on our food bucket list as well, but I went one step further and got it in a souvenir alien cup (which was on my merch list!) The drink was really refreshing, I would definitely get it again. (We did get more tater tots than in the picture, but we couldn't help ourselves before taking the photo!)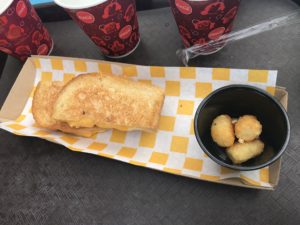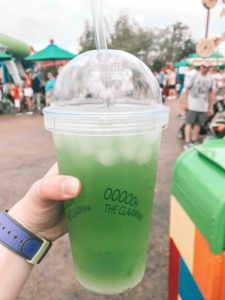 Next we decided to head over to Galaxy's Edge for the first time to see what we thought. I myself have seen almost all of the Star Wars movies (bar the most recent) however Lee has never even seen one of the films, so this was a cool experience for both of us! We got to ride Smugglers Run which was kind of like a mixture of Star Tours and Mission: SPACE, we were engineers (which I personally think is the best role to get on Smugglers Run)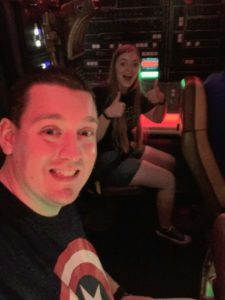 Once we came off the ride, we explored Galaxy's Edge a bit more and even managed to get some magic shots with a Porg and the Millenium Falcon which is ridiculously impressive. Overall, we thought Galaxy's Edge was so cool, whether you like Star Wars or not, you can definitely appreciate the detail that they put into the land, it truly makes you feel like you are on another planet! We also tried green milk whilst we were on Batuu, I had heard that the green milk was nicer than the blue so we tried that first. I personally thought it tasted like plants! It was nice, just tasted a little grassy!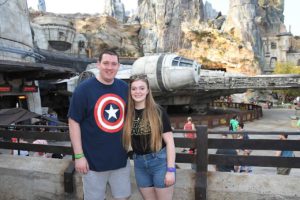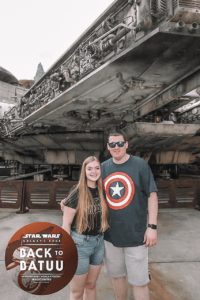 After Galaxy's Edge, we headed over to watch MuppetVision 3D. I am a big fan of the Muppets so I always love seeing MuppetVision! I am always disappointed in the lack of Muppets merch in the parks but I was lucky enough to find a Muppet Babies pin this year so I scooped that up straight away! After MuppetVision, we were starting to feel hungry again as we had split the grilled cheese earlier in the day, we decided to once again stick to our food bucket list and were happy to find that PizzeRizzo was open, It was closed last year when we came so we missed out on trying it. We opted for a classic margarita pizza with a caesar side salad – it was soooooo good!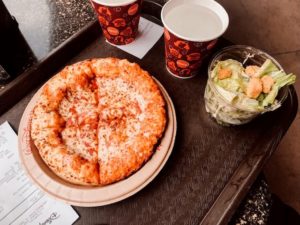 We then headed over to Pixar Place which was also closed last year for refurb. We got to meet Edna Mode and spotted lots of Jack Jacks's around the street. We also met Mike & Sulley in Walt Disney Presents.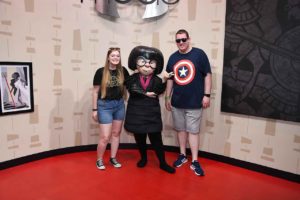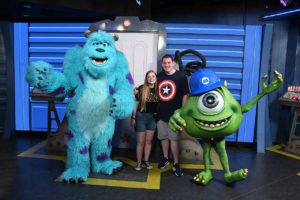 We got back to the hotel at around 2pm and went for ice cream, we tried rainbow sherbet which was the most unusual but delicious flavour! It was kind of like a zingy sorbet crossed with ice cream, it's hard to describe but it was so GOOD.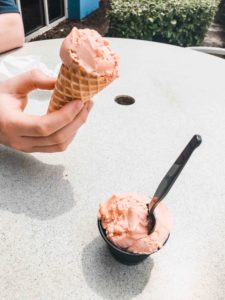 Day 4 – Thursday 19th September 2019
Diary 5 – Today we went to Hollywood Studios again, There is so much more to see here now that Galaxy's Edge is open too! It did make us wonder what was really here before they introduced Toy Story Land last year and now Galaxy's Edge this year. Anyway, today was more of a show day, we went to the Frozen Singalong which was honestly so hilarious! The historians are genuinely some of the best entertainers you will find at Disney. After the show we decided to grab a Chocolate and Vanilla swirl ice cream from Dinosaur Gertie's Ice Cream of Extinction, it was really good!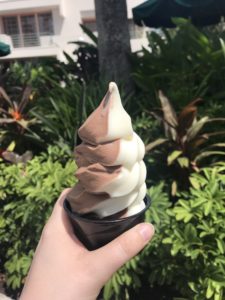 We then watched Voyage of the Little Mermaid before heading back to the hotel. I love the Little Mermaid, Under The Sea is one of my all-time favourite Disney songs!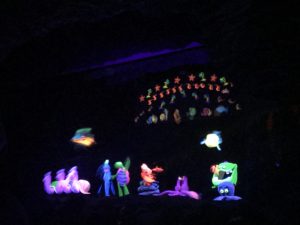 Once we got back to the hotel, we decided to grab some snacks. I got a giant snack pickle from the food court (which I highly recommend) I love that American's have giant pickles for snacks!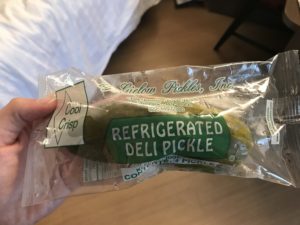 We then got an Uber to go on our first ever trip to Target, it was pretty good! We bought some snacks to keep in the hotel room as well as some gifts and clothes before heading back for a chilled evening!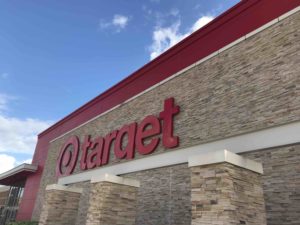 Day 5 – Friday 20th September 2019
Diary 6 – Today we went back to the Magic Kingdom! I just can't get enough of Magic Kingdom, it is absolutely my favourite park! We crammed so much into the day, we managed to ride Dumbo, Small World, Splash Mountain and Pirates of the Caribbean. We had a quick look around the Storybook Circus Big Top Gift shop and found some really cool Lego which I didn't even know existed, I just wish Lego wasn't so expensive!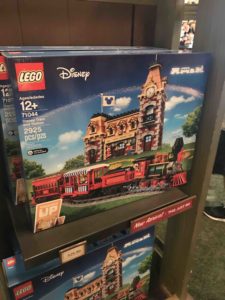 We then stayed to watch the Festival of Fantasy parade before heading over to Adventureland to try a Redd's Revenge Float (which was amazing!!)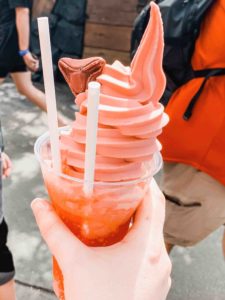 whilst sitting enjoying our float, Lee noticed a hidden mickey in the wall.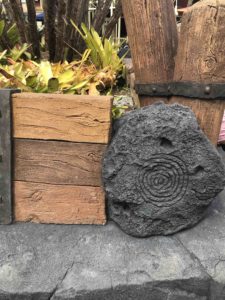 We then made our way back to the hotel to chill for a few hours before heading back out to the parks. We decided to spend some time in the arcade and then headed over to Animal Kingdom for the evening! We went on a few rides such as Expedition Everest and Kali River Rapids before watching Rivers of Light. This was our first time seeing Rivers Of Light as we never got to see it last year! I absolutely loved it, it was so beautiful to watch!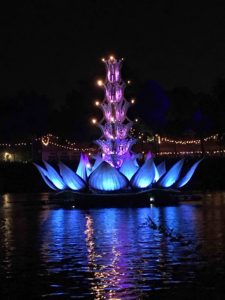 Once Rivers of Light finished, we all made our way over to Pandora to see the land glow in the dark. It was so cool!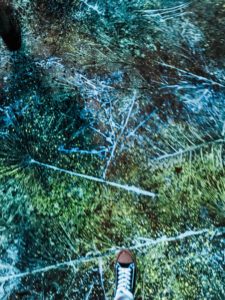 After seeing Pandora, it was park closing time so we headed back to the hotel to get some sleep ready for the next day!
Day 6 – Saturday 21st September 2019
Diary 7 – Today we went back to Animal Kingdom again as we had a FastPass+ for Flight of Passage, It's such an incredible ride! After we rode FOP, we headed over to Satu'li Canteen for some lunch. We had the grilled chicken noodle bowl to share and it was bloomin' lovely!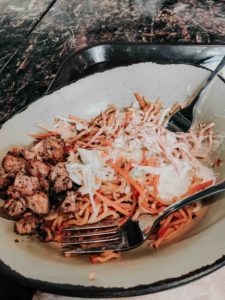 we also carried on with my food bucket list and tried a Night Blossom from Pongu Pongu. It was so delicious and refreshing! I highly recommend trying one, and you get a light cube to keep!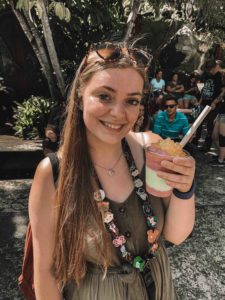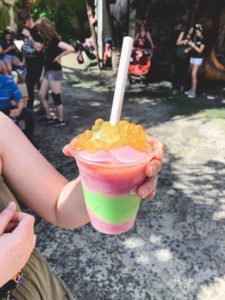 we then headed over to the theatre in the wild to watch my favourite show at Walt Disney World, Finding Nemo the Musical! I absolutely love this show, the music is fantastic and the show is so much fun to watch!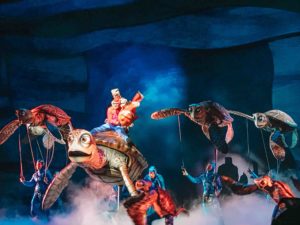 We were pretty tired by the time we came out from the show (the Florida heat had taken it out of us!) so we went back to the hotel for a nap. We decided to just have a chilled evening at the hotel so we grabbed some dinner!
I had baked chicken with mashed potatoes and green beans and Lee had chicken tenders with fries (our favourite go-to meal!)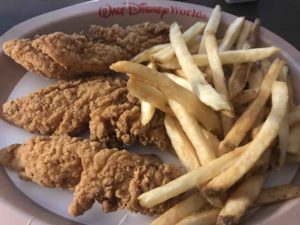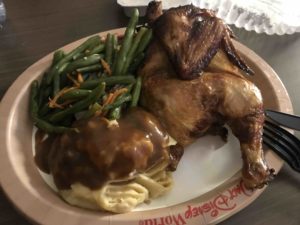 We then sat by the pool for a little while with a drink before heading to bed!
Day 7 – Sunday 22nd September 2019
Diary 8 – Today is the day we went to Mickey's Not So Scary Halloween Party! We went to Magic Kingdom in the morning to do our FastPass+ for Seven Dwarfs Mine Train and a few other rides.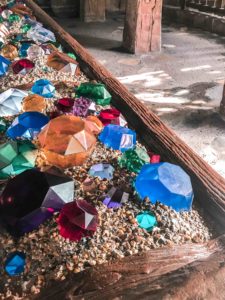 We also managed to fit in a few snacks such as the Mickey Iced Donut and a Cheshire Cat Tail from the Cheshire Cafe! They were both super tasty and I would definitely recommend trying them!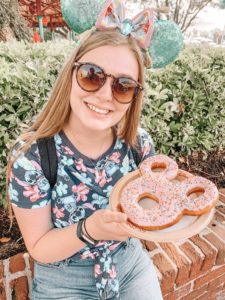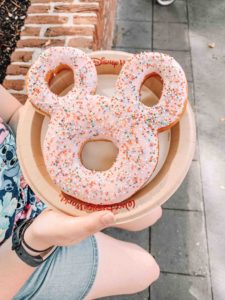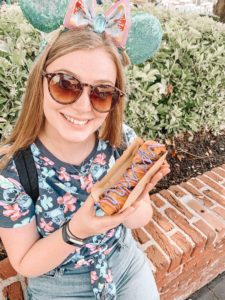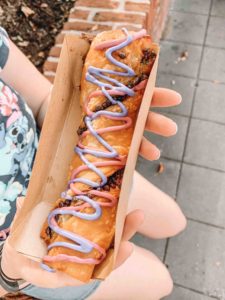 we then went back to the hotel for a quick nap to recharge before the evening's events.
After our nap, we got ready for the Halloween Party! I had bought a really cool 'Nightmare Before Christmas' tee from Target and decided to wear that instead of the Ariel bound I had originally planned. Lee also bought himself a really cool Mickey Mouse tee which he wore to the party, we then hopped on a bus to Magic Kingdom!
Once we arrived at Magic Kingdom, we decided to grab some dinner before the party started so we went to Cosmic Ray's Starlight Diner (one of our favourite places to eat!) We split a chilli cheese dog and fries and tried a berry drink which wasn't as nice as it looked, the chilli cheese dog was yummy though!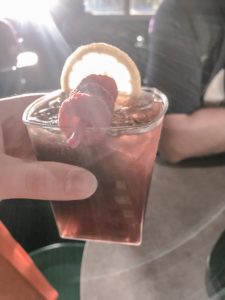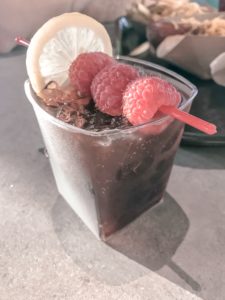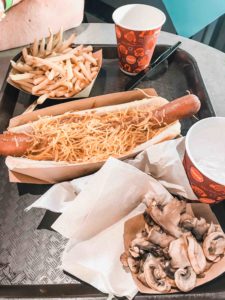 First, we picked up our wristbands and trick-or-treating bags!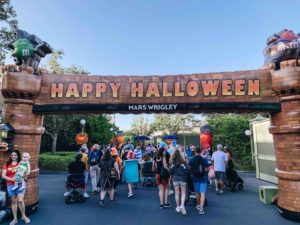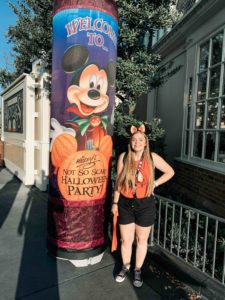 We watched the Boo To You parade (it's honestly the best parade at Disney!)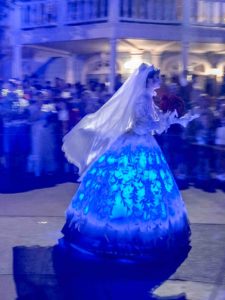 did some trick or treating and even managed to watch the Halloween Fireworks!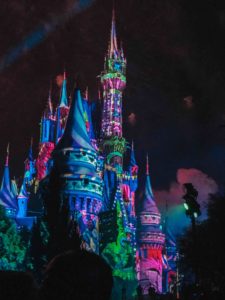 We also managed to make use of some of the photo pass opportunities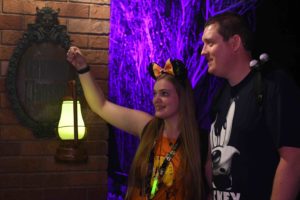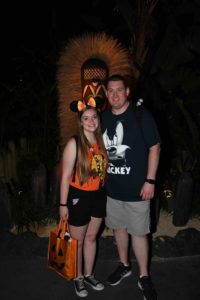 I will admit though, we were a little disappointed with MNSSHP this year. We still didn't get chance to watch the Hocus Pocus Villain Spectacular and the park was SUPER crowded. It just really felt like a money-making ploy this time around, they crammed so many people in for the party, it just wasn't as much fun. We also felt like the cast members weren't being as generous with the treats this year and for the price you pay for a ticket to the party, getting the free treats is the only way you can make the most of your money! We decided this year would potentially be the last time we did Mickey's Not So Scary Halloween Party, we were just a bit disappointed! We would love to maybe go to Mickey's Very Merry Christmas Party one year but we will have to wait and see!
So, that was our first week's diary of our trip to Walt Disney World this year! Check back soon for week 2 and weeks 3's photo diary. Bye!
---
Related