Hello everyone! Welcome back to my blog, if it's your first time here then welcome in general! Following last weeks announcement, we're now only days away from our second-ever trip to Walt Disney World in Florida and I could not be more excited! Today I'll be showing you everything I'll be taking with me this year now that we've been before and have a little more knowledge on what we found useful to take with us. Come along and pack with me!
Luggage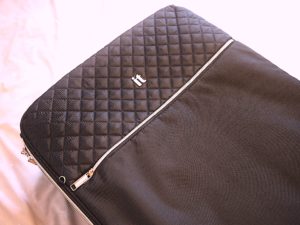 This year I decided it would be a good idea to buy a bigger suitcase. Last year, I took my medium-sized stripy IT luggage suitcase, this year, I found a gorgeous black and rose gold large IT Luggage suitcase which is going to be perfect for bringing back lots of goodies!
I will, of course, be taking my trusty Mickey Mouse cabin-size suitcase that I bought from Typo for last years trip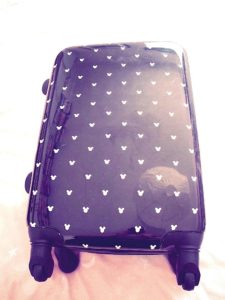 The handy IKEA packing cubes are making an appearance this year again, they are just so useful for keeping everything together and conserving space in your case!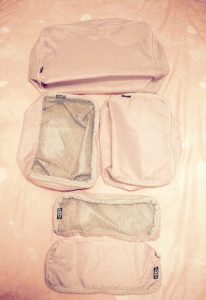 Dresses
Now we move on to the clothes! This year I'll be taking some new Disney themed clothes as well as some old favourites!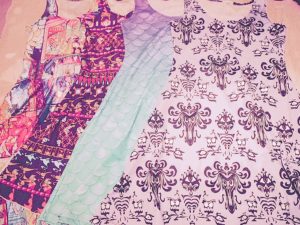 This year's additions in terms of Disney-themed dresses are the Little Mermaid and Haunted Mansion inspired ones above. I will also be taking my Beauty and the Beast and Aladdin dresses that I took last year. (All dresses from eBay stores) I absolutely loved my Beauty and The Beast and Aladdin dresses last year, however, I'm not massively keen on the cut/shape of the new Ariel and Haunted Mansion dresses as they are not as fitted as my original favourites so we'll see if these two get worn or not!
Playsuits
I have also decided to pack a few playsuits this year as I find them super comfortable and they're always an easy outfit to throw together.
Red polka dot playsuit – ASOS
Yellow, grey and white stripe playsuit – New Look
Green polka dot playsuit – SHEIN
Yellow and white stripe playsuit – Primark
Tan chiffon playsuit – SHEIN
Black floral playsuit – New Look
Khaki green playsuit – SHEIN
Shorts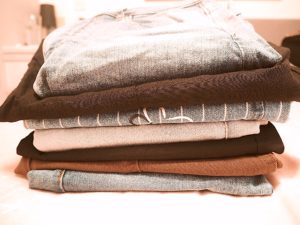 In terms of shorts, I will be taking 7 pairs to mix and match with different tops to create different outfits.
Top to bottom:
Blue Denim Shorts – New Look.
Black Linen Shorts – H&M.
Denim Mickey Mouse Shorts: Primark.
Light Blue Denim Shorts – New Look.
Black Cotton Blend Shorts – George at Asda.
Khaki Denim Tie-Waist Shorts – Primark.
High-Waisted Denim Shorts – M&S)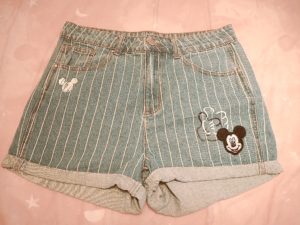 I will also be packing 2 pairs of cycling shorts for when I wear dresses – to stop the chub rub!
Tops & Tees
Now we come to the tops & tees! Again, I'll be taking some old favourites as well as some cute new Disney tees this year.
Black Rainbow Mickey Tee – Primark
Grey & Gold Mickey Tank Top – Walmart (purchased on last year's trip)
Star Wars Tee – Primark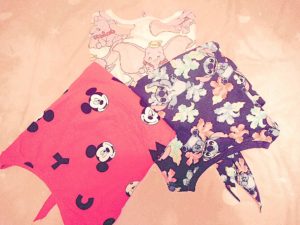 Red Mickey Knot Waist Tee – Primark
Dumbo knot Waist Tee – Primark
Stitch Knot Waist Tee – Primark
I will also be taking a few more Disney vest tops and tees (not pictured), as well as some generic Aztec/animal print tees for some Animal Kingdom inspired outfits! (example below!)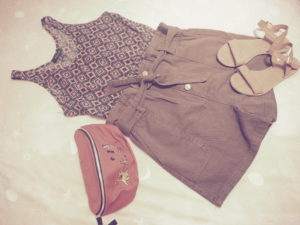 Pyjamas
Now onto Pyjamas! I will be taking 3 Pairs of Disney Pj's as well as a couple of nightshirts (not pictured)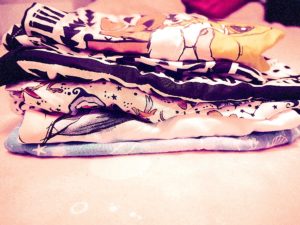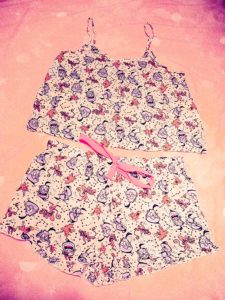 Aladdin Genie Pyjama Set – Primark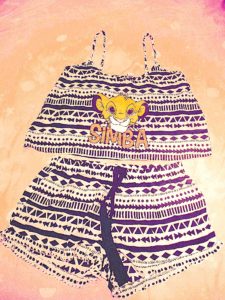 Simba Aztec Pyjama Set – Primark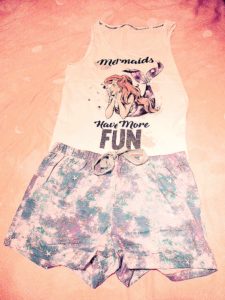 Little Mermaid Pyjama Set – George @ Asda
Swimwear
Onto swimwear… Now, we only went to the pool once last year, however, this time I am planning to hopefully chill by the pool a bit more in the afternoons before heading back to the parks for the evening. I have packed 2 one-piece swimsuits and a red bikini for a dip in the pool or if we decide to go to one of Disney's waterparks. I've also packed a few basic bikini's which I have planned to wear under my clothing on days that we go on water rides such as Kali River Rapids or Splash Mountian so that I don't ruin/shrink any bras/underwear!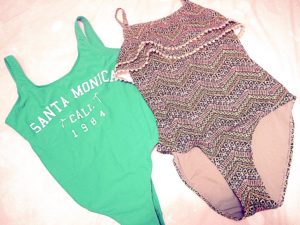 Santa Monica One-Piece – Primark
Aztec One-Piece – Primark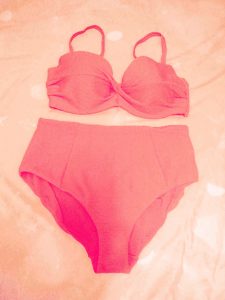 Red High-Wasit Bikini – H&M
Shoes
Next, are the shoes! Last year I took the top 2 Pairs of sandals and they were the comfiest sandals I've ever worn! The only issue was that we walked so much, I ended up actually walking the white pair off so I had to buy some new ones for this trip! I love this style of sandal, they are super comfy and they look really cute so I've sort of stuck to what I know in terms of style! I'll also be packing some cute Lilo & Stitch flip flops for when we just need to nip to the food court at the hotel or just for lounging about the hotel in general.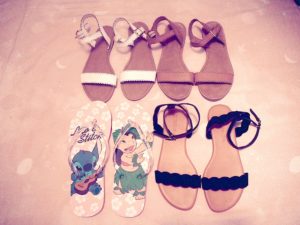 Accessories
Accessories next! This year I'll be taking 3 pairs of sunglasses:
Gold Mirror Sunglasses – Primark
Black Sunglasses – Primark
Tortoise Shell Sunglasses – Primark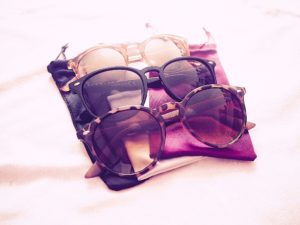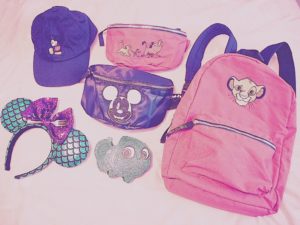 I will also be taking the above accessories/bags. These include:
Mickey Mouse Cap – Primark
Ariel Dinglehopper Ears – Sparkles In The Castle – Etsy
Lion King Bum Bag – Primark
Mickey Mouse Bum Bag – Primark
Pascal Purse – The Disney Store
Toiletries
Now we move onto the toiletries! I'll be taking my trusty mint green toiletries bag from Flying Tiger – this thing is like a Tardis! It's compact (slightly bigger than an A5 Notepad) but you can pack so much stuff into it!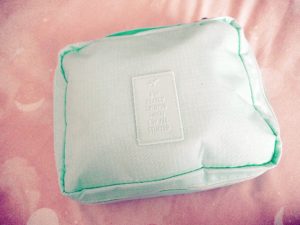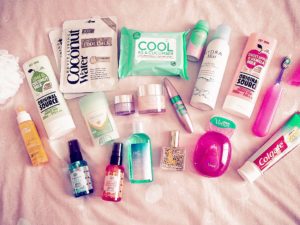 I've packed a couple of Original Source shower gels in some delish scents – Lime & Coconut Milk and Sweet Apple & Vanilla Milk which both smell amazing.
Some of the amazing coconut water foot packs we took last time, these things are AMAZING! They really helped refresh our feet after the first week of walking, making them ready for another week of trekking around the parks!
Some cucumber facial cleansing wipes
A mini Mitchum deodorant spray so that I can have a quick refresh around the parks
Hydra Mist cooling spray
Toothbrush & toothpaste (of course!)
A travel-sized Milkshake Incredible Milk 12-in-1 leave-in hair treatment (my absolute favourite hair care product ever and it smells amazing!)
Mitchum Deodorant stick
Mini Clinique cleansing balm
Clinique 72hr Hydrator
Maybelline Lash Sensational Waterproof Mascara
The Body Shop Calming Coconut and Energising Mandarin facial mists (these also smell amazing!)
Hand sanitiser
Disney's 'The Lion King' perfume (I always like to have a new perfume each time I go on holiday so that the scent reminds me of the memories I made!)
Travel razor and replacement razor head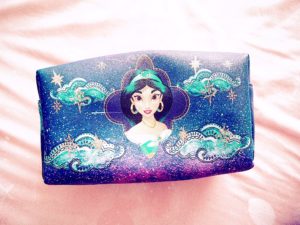 I will also be taking this lovely Princess Jasmine makeup bag that I found in Primark for all the bits that I need in my hand luggage rather than in the hold (such as mascara, moisturiser toothbrush, toothpaste etc) basically, anything I'll need on the morning of the flight!
Sunscreen 
Super important stuff, especially if you're like me and have very fair, sensitive skin! I got this cute travel bag for free with a Boots order and thought it would be perfect for packing all my SPF's in as it's waterproof and they all fit perfectly!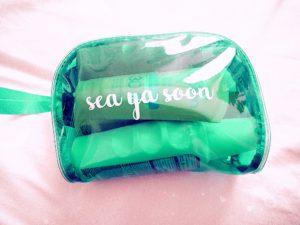 I'll be packing a little bundle of suncreams for both myself and Lee to use to stay protected in the relentless Florida sun! I normally use SPF 50 (especially when we've got the kids around!) and I will also be taking a Nivea SPF50 with me, Boots just had a better deal on their SPF30 products and I've been doing some research into it and there's only about a 1% difference in protection between SFP30 and SPF50, so they work about the same anyway.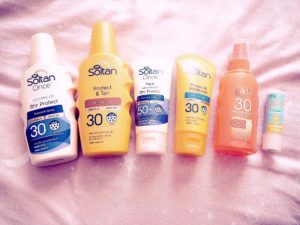 Boots Soltan Once 8hr Protect Suncare Spray (SPF 30)
Soltan Protect & Tan Suncare Spray (SPF 30)
Boots Soltan Once 8hr Protect Facial Suncare Cream (SPF 50)
Soltan Protect & Moisturise Suncare Lotion (SPF 30)
Asda Protect Head & Scalp Spray (SPF 30)
PS… Sun Protect Lip Balm (SPF 50)
Extras
Now on to the extras! This year I decided to invest in a decent fan! This one has 3 speed settings and even has a torch function which will come in handy when walking back to the hotel room in the evenings.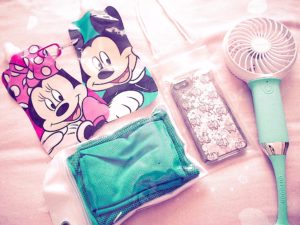 Mickey and Minnie foldable water bottles – to make sure we've always got a drink around the parks!
Cooling towels (these are one of the best purchases I've ever made, so good in the Florida heat!!)
A waterproof phone pouch to keep my phone safe and dry on those water rides!
A fan to help stay cool in the heat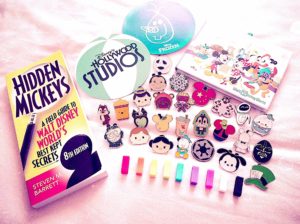 Finally, we have the last few extras I'll be taking with me!
Hidden Mickeys book – to help us scavenger hunt for all those hidden Mickeys!
An autograph book so that I can collect some more autographs from characters around the parks (you're never too old!)
Tradeable pins – This year I really want to try Pin Trading. I'm an avid Disney pin collector so I wanted to give trading a go as I have a lot of pins that I don't really care too much for so I'm hoping to be able to trade for something a little more to my taste!
MagicBand bands – these just help to keep your MagicBand on securely so that it doesn't pop off on the rides (I had a few near misses last year!)
I will, of course, be packing some travel adapters, mosquito bands, my camera, phone charger and my mini travel first-aid kit as well as a couple of books and some snacks for the plane!
So, that's everything I'll be taking with me on my trip! This will be my last blog post until I get back from Florida so head over to my Instagram @bethroseblog where I'll be posting regular updates and pics of our trip!
See you real soon!
---
Related
Walt Disney World: What To Pack In Your Parks Bag
What's In My Suitcase? – Walt Disney World 2018