Hello everyone! The wait is almost over, We're going to DisneyWorld next week! Eek!!! It's gone so quickly since I found out Lee was taking me for my birthday back in April and now the day is finally almost here! With all that in mind, I decided to do a little 'what's in my suitcase?' post so you can see all the things I'm taking with me! Let's start with the luggage I'll be packing into shall we?…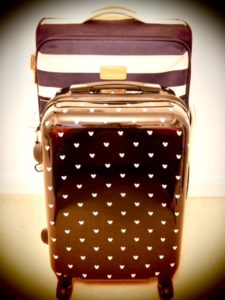 These are the suitcases I'll be taking with me. We're allowed 1 hold luggage suitcase up to 23kg each, 1 cabin bag/case each and 1 backpack each to take with us, which I thought was pretty generous!
Hold Luggage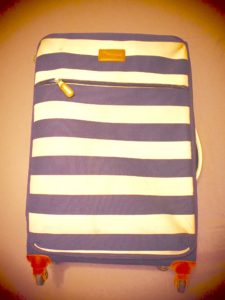 This is my lovely nautical IT Luggage suitcase, It's so pretty and classy and reminds me of the Newport Bay Club Hotel in Disneyland Paris. This will be my main suitcase that will go in the hold on the plane and is actually still half empty after packing everything (read on to see the finished result!)
Cabin Luggage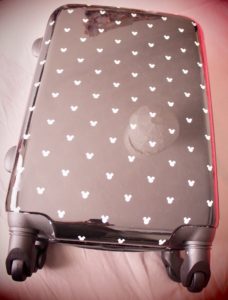 This is my cabin case, It was £40 (with a discount voucher) from Typo and is just the cutest! It has tiny little Mickey Mouse prints all over it and I just can't wait to be rolling it through the airport, I LOVE it! This is currently completely empty which does allow me to bring lots of  goodies home with me!
Backpack
This is the matching backpack for my suitcase, also from Typo (£20) and I don't care if I look like a fool with a matching backpack and suitcase, I LOVE THEM! ❤️🎒
Packing Cubes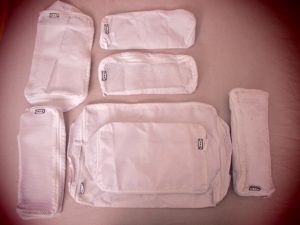 These little gems are from IKEA and make packing so much easier! You can basically fold or roll up all your clothes into the various little zip bags and it ensures your clothes stay exactly as you packed them and help you conserve space in your case. These are great for when you aren't packing enough clothes to fill the suitcase completely and want to keep everything together (like I have!)
Clothes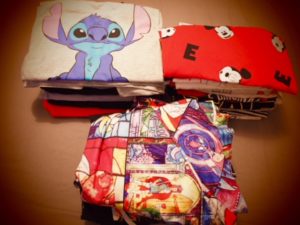 I'm not taking masses of clothes for our 2-week trip as I'm planning to use the laundry service so that I can conserve space in my case to bring lots of goodies back with me! Here are the clothes I have packed for my trip…
Shorts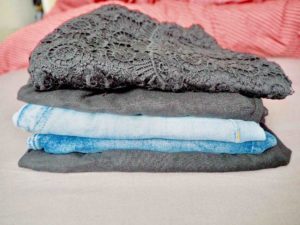 I'm taking 2 pairs of H&M blue denim shorts in light blue denim and a darker blue denim and 3 pairs of black shorts from Primark in 3 different styles. All of the tops I've packed in my case, I've already planned outfits for using these shorts interchangeably.
Skirt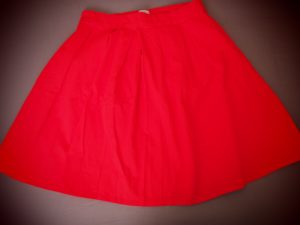 I'll be taking this lovely red skirt from New Look with me which I have also planned outfits for using some of the tops below…
Tops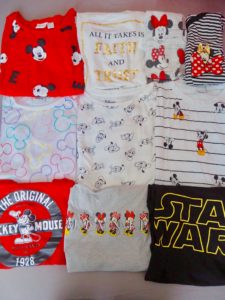 I have chosen 10 of my newly purchased and a few of my old favourite Disney tops for my trip. The majority are Mickey and Minnie but I also have a Peter Pan one (top row second one in) a Donald Duck tee (centre) and my Star Wars t-shirt which I have worn to the release of the last few Star Wars movies at work! All from Primark.
Dresses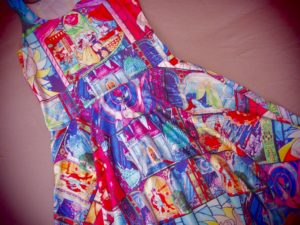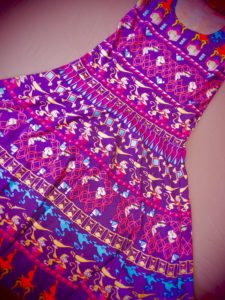 I've always been quite self-conscious and never really had the confidence to wear dresses, however as I'm getting older, I'm starting to care less about what other people might think and just wear whatever I feel good in! I bought my Disney dresses (above) a couple of years ago from a store on eBay but have never had the confidence (or the nice weather for that matter) to wear them. I absolutely adore them and I can't wait to finally be able to wear them on my upcoming trip to DisneyWorld! I have the 'Tale As Old As Time' Beauty And The Beast stained glass window dress and the 'Arabian Nights' Aladdin dress which has Abu, Genie, Aladdin, Jasmine, Jafar and the lamp all over it as well as pretty Arabian patterns. The blue floral cold shoulder dress I have packed is from ROMWE and the black floral cold shoulder dress is from Peacocks.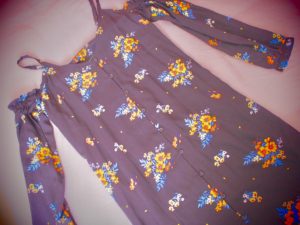 Pyjamas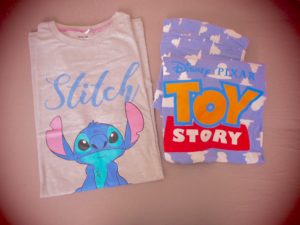 I decided to go out and buy some brand new pyjamas specifically to take to DW with me. I tend to buy all my pyjamas from Primark as they are really cheap and they always have Disney PJ's in store, I picked up this adorable Stitch nightdress for £5 and some super cool Toy Story pyjamas for only £8.
Swimwear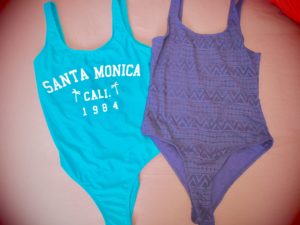 It's not likely myself and Lee will do much swimming while we're at DW but I want to be prepared 😉 just in case! These are 2 of my favourite swimsuits both from Primark (of course!) I love the colour of them both and the pattern of the navy one on the right! x
Shoes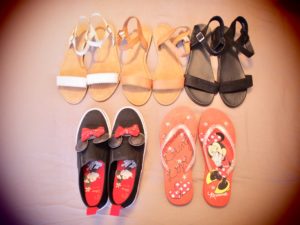 Now, onto the shoes! It is SO important that you pack the right shoes as the average walking distance people cover in just 1 day at Disneyworld is 10 miles 😱 You do not want your feet to be aching by the end of the first day, so I've packed my comfiest sandals (white and tan coloured pairs from SHEIN, Black pair from ASOS) and my Minnie Mouse shoes (Primark) to keep my feet in good shape as well as my Minnie Mouse flip flops just in case my feet do just need a squishier sole, and they were only 90p! Again, from Primark – Bargain!
Bags/Accessories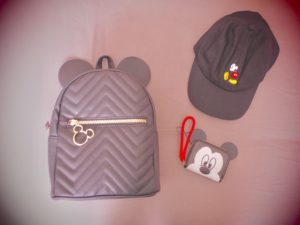 I'm taking my mini Mickey Ears Backpack as my parks bag and this really cute Mickey Mouse purse I got in the sale for £2.00! I usually only wear winter hats but I saw this lovely Mickey Mouse Cap and just had to get it! Bag £12, Purse £2, Cap £5 all from Primark.
Makeup & Toiletries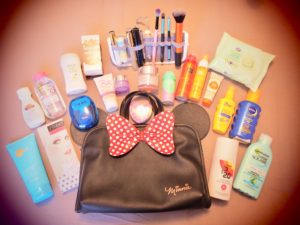 This is most of the toiletries and makeup I'll be taking with me to DisneyWorld, in my favourite travel makeup bag:
PS… SPF50 Lip Balm
Garnier After Sun Lotion – My Favourite!
Solait After Sun Lotion
PS… Sunset Goddess Perfume
Satin Care Shaving Gel (Mini version, not pictured)
Superdrug Black Castor and Shea Shampoo and Conditioner Mini's
Studio London Day to Night Eyeshadow Palette
I will of course also be taking a toothbrush, toothpaste, loofah etc but felt there was no need for a pic of these essentials! 😋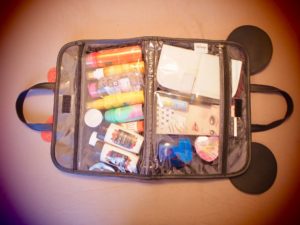 Useful Extras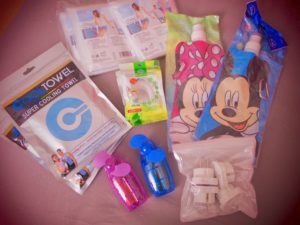 These are the little extras I'll be packing for myself and Lee, they include:
So, there we go! That's everything that I will be taking with me on my trip, I will, of course, be taking my camera, FitBit (to count those steps!) iPod, a book, my passport and important documentation such as booking confirmations and travel insurance papers.
With that, I'll see you on the other side with I'm sure, a much fuller suitcase!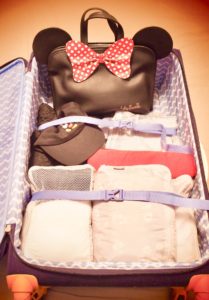 ---
Other Related Posts: