Hello again! I am aware that I have been pretty slack of late with my blog, this is all for very valid reasons, of which I will update you with soon. But now I'm back! And I want to tell you about my trip to Disney!
So, for those of you who don't know, one of my biggest lifelong dreams has been to visit Disneyland and DisneyWorld, and this year, part 1 of that dream finally became reality!
On September 1st this year, my fantastic boyfriend Lee surprised me by planning a secret trip to Disneyland Paris! It all started a few days before when Lee asked me if I could get from the 1st-4th September off work, bearing in mind it was the 28th of August when he asked, so I was unsure of whether I would be allowed or not! Anyway, they let me have the time off, which was lucky really as it turns out, Lee had pretty much already booked everything by this point 😱 When I asked him why, he put me off the scent by telling me he had a work meeting in London and wondered if I would want to come and keep him company (this has happened before so I thought sure! Plus, London is my favourite place and much more exciting than work) So as soon as we had both finished our shifts at the theatre (23:00 at this point) we got in the car and drove straight up to London. I'll be honest, I had a hunch he was up to something! Upon arrival in London, our hotel (which had only been booked for the one night might I add) was conveniently only a 5 minute walk from Kings Cross/St Pancras International, Coincidence? I think not…
Anyway, we woke up the next morning and headed to the McDonalds opposite the station for a healthy and nutritious breakfast (lol) before heading to the "work meeting" We then went back to the hotel to get our luggage and set off to the "meeting" Lee continued his off-putting by booking a taxi to take us to the train station (you know, the one that we had literally walked to not 30 mins ago to get breakfast) to make me think that we really were going to another part of London for this meeting. So, we got to the station and by this point I'm thinking, we are DEFINITELY going on the Eurostar (cue me hoping to god he had my passport else we wouldn't have gotten very far – haha!) Luckily he did have it, which if i'm honest, I had noticed it was missing a few days earlier when I was filing some paperwork. I didn't think anything of it at the time as I assumed i must not have taken it out of my suitcase yet from my holiday back in June.
Fast forward an hour later and we're boarding the Eurostar! I was absolutely buzzing with excitement thinking, I'm finally going to Paris! (another one of my lifelong dreams) I still had no idea we were going to Disneyland at this point. We settled into our seats and off we went. Once we got to the other end I still didn't really know whereabouts we actually were, other than we were somewhere in France. Lee then pulled the paperwork he had hidden in my backpack for safe keeping on the train, and asked me to read it to see where we needed to go. I could have died. the paperwork was full of Disney booking confirmations for a 3 night stay in a Disneyland hotel and 4 day park tickets.
I really just didn't know what to say. Although, the amount of kids on the train with Mickey and Minnie mouse ears should have been a massive giveaway, but Lee insisted we were just going to Paris, so to find out we were actually going to Disneyland, I was so excited!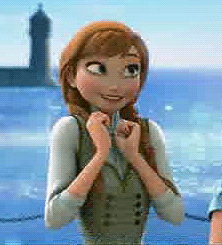 As soon as we walked through the gates, everything was just amazing. Lee had booked us into the beautiful Newport Bay Club Hotel which was only a 10 minute walk from the park and a 5 minute walk from the Disney Village. As much as we wanted to go straight to the park, we had to check in at the hotel and drop our luggage off first. After 40 mins of listening to the very chatty receptionist, we were finally checked in and heading to the park! Now, when I say everything was themed, I mean EVERYTHING was themed. The shampoo bottles had Mickey ears, the soap was Mickey Mouse themed, heck, even the toilet rolls had Disney characters on them! Everything was so beautifully detailed!
Our first day in the park was amazing, we did most of the rides in the Magic Kingdom (we had done them all by the next afternoon!) and stayed in the evening to watch Disney's Illuminations, which was one of the most magical things I have ever witnessed. As soon as the castle lit up, I was brought to tears!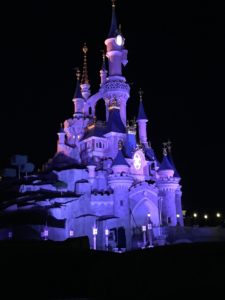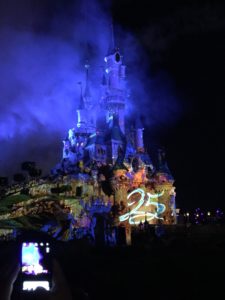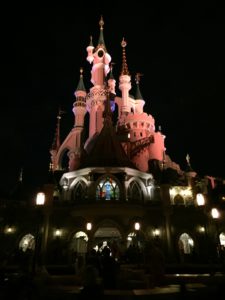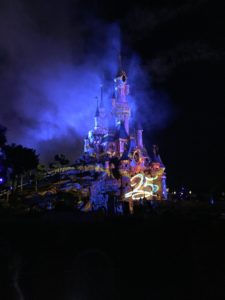 The next day we did much of the same and managed to squeeze some shopping in too (which we did lots of by the end of our trip!) We watched illuminations every night and saw the Disney stars parade twice during our trip. On the third and final full day we explored the Disney Studio's park (where Lee found his favourite ride, which we then went on about 7 times) we also saw loads of characters such as Moana and Darth Vader and the Stormtroopers. We didn't stay in the studios long as there weren't as many rides, and the rides that were there had incredibly long wait times. We did however do all of the rides we most wanted to do, including Crush's Coaster and Aerosmith's Rock 'n' Rollercoaster. We also had the opportunity to watch a short live theatre show in the Disney Studio's called 'Mickey and the Magician' which was technically and visually astounding. Once we had seen all there was to see in the Disney Studio's Park, we headed back to the Magic Kingdom.
Before we had to leave on our last day, we had time to do a few more rides and a little more shopping! I bought lots of lovely souvenirs for myself and gifts for my family members, though by the time we had to leave, we were worried we wouldn't have room in our cases for everything!
All in all we had the most amazing time! I am so grateful to my boyfriend Lee for planning the whole trip as a surprise for me, as I never thought I would ever get to go to Disney. Its been a stressful few years and this mini-break was exactly what we both needed. So Thank-you Lee, I hope you enjoyed it as much as I did. Here's to Florida next! 😉
I would like to end this post by saying I am by no means trying to brag, I simply want to share my experiences with my readers, and use my blog as a sort of diary for myself to look back on memories.
After all, It just goes to show that a dream that you wish really will come true
Beth x
Our top rides:
Big Thunder Mountain
Aerosmith's Rock 'n' Rollercoaster
Crush's Coaster
Hyperspace Mountain
Pirates of the Caribbean
Phantom Manor
(Guilty Pleasure: It's a small world)