Diary Day 15 – Monday 30th September 2019
Today we went to Disney Springs to do a bit of shopping, I really wanted to get a Spirit Jersey and had my eye on the plain black one, we went to several different stores and even looked within the parks too but we didn't have any luck! ☹️ Instead, I opted for the back-up option on my merch list which was the Haunted Mansion spirit jersey, I love it!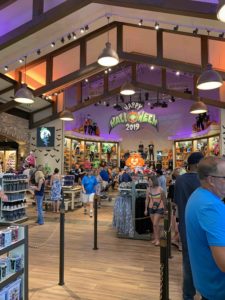 Once we had visited a few stores including the World of Disney and the Coke store, we went for lunch at Chicken Guy, ticking another item off of our food bucket list! The food there was SO GOOD. We ordered a Triple Choc Mint Milkshake, Chicken Tenders, Seasoned Fries and chose Brown Sugar BBQ and Special Sauce as our sauce options! It was absolutely delicious!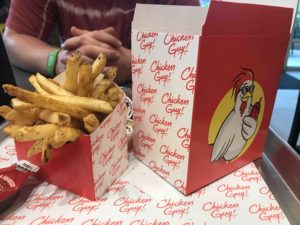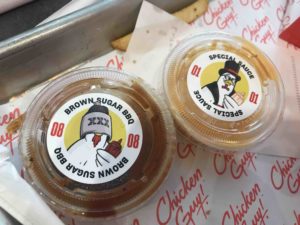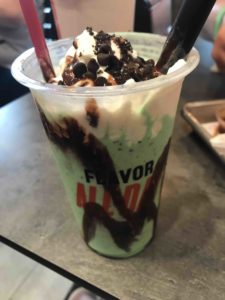 For the evening, we decided to head to Magic Kingdom! We decided to grab some dinner at Cosmic Ray's Starlight Cafe which is one of our favourite places to eat in Magic Kingdom thanks to the toppings bar! We tried a really cool Mickey Mouse burger with cheese sauce and hot cheetos- it was surprisingly good!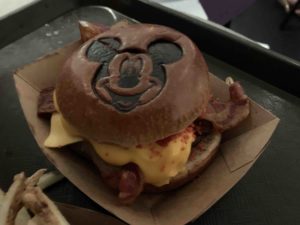 We rode the people mover and a few other attractions before watching Happily Ever After from the Tomorrowland bridge (in the rain!)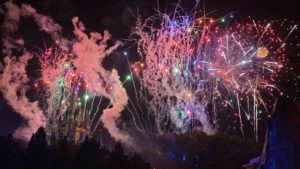 Diary Day 16 – Tuesday 1st October 2019
Today we had a bit of a lie-in before starting the day's activities! We decided to spend the day at Magic Kingdom again so hopped on a bus and off we went…
Once we got to Magic Kingdom, it started to absolutely chuck it down! We decided to nip into the Emporium to take cover until the rain passed!
Once it had finished raining, we walked over to Adventureland and got in line for Pirates of the Caribbean. When we came off pirates, we took a stroll into Frontierland where the creepy Country Bears were roaming around!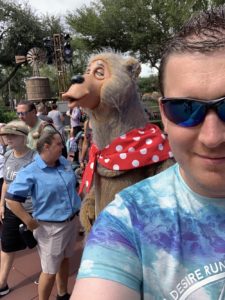 whilst in Frontierland, we heard of there being an alligator loose in the Frontierland lake, so we headed over to see if we could spot it, sure enough, we found him!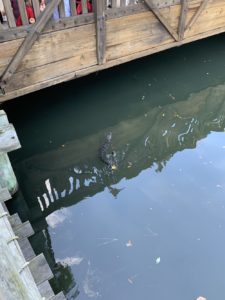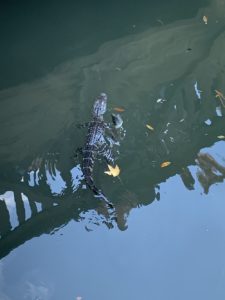 We were soon moved on by a cast member for safety reasons which suited us as we were getting pretty hungry by this point. We decided to stop by Casey's Corner for lunch. We shared a meal of corn dog nuggets and fries which was pretty tasty…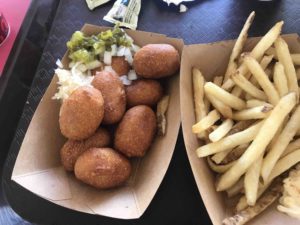 Our first time trying a corn dog was in Frontierland last year and I just thought they were super tasty! I don't know of anywhere in the U.K. that sells them so I need to get them whilst I'm in America! lol We then went to look at the collectables in Art of Disney. I collect the Jim Shore Traditions figures so wanted to add a new one to my collection to remember our second trip! I couldn't find one I liked in the Magic Kingdom so we park hopped to Epcot on the monorail and had a look in the Art of Disney store there.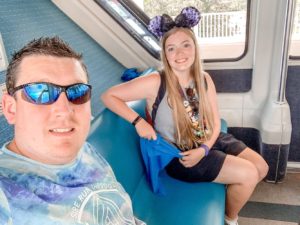 I ended up buying a really lovely Belle and Maurice figurine which I absolutely love!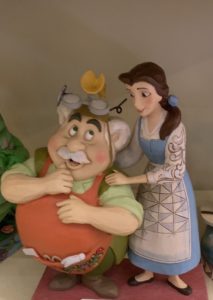 After a long day at the parks, we headed back to the hotel for a late-night Pizza from the food court for dinner, this included the giant pizza you see below, a large Caesar salad and breadsticks!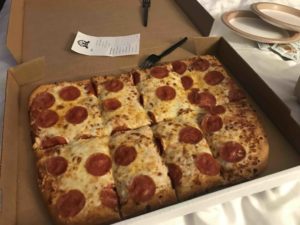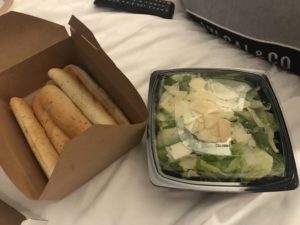 Diary Day 17 – Wednesday 2nd October 2019
Here's the one you've all been waiting for, the best day ever!!
We woke up super early (around 05:30) which wasn't great for me as I was really tired which meant I was pretty grumpy! We got to Magic Kingdom for about 7:30am and I was starting to get hungry which on top of the tiredness was not a good combination! We made our way over to Starbucks where I got a Strawberry Hibiscus Cooler which was absolutely dreamy and a slice of iced lemon cake, again, dreamy.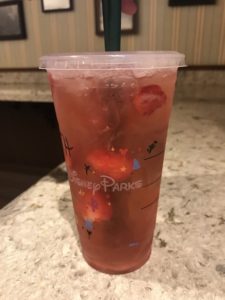 Lee didn't want anything to eat or drink at this point which I thought was odd because he always has breakfast, looking back now I can see that he was just super nervous! After I'd finished eating, we went on the Haunted Mansion which I think, deep down, is my favourite ride!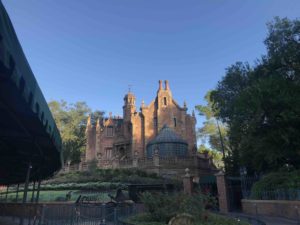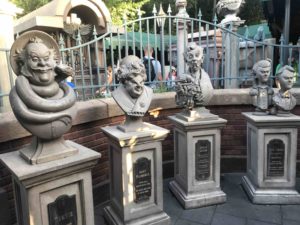 After we came off the ride, Lee suggested that we go for a walk, we ended up 'stumbling across' a gorgeous pergola that is hidden away in Liberty Square (turns out, it's where Princess Tiana does her meet and greets) After admiring the scenery, I turned around and Lee bless him, was down on one knee and with that, we were ENGAGED!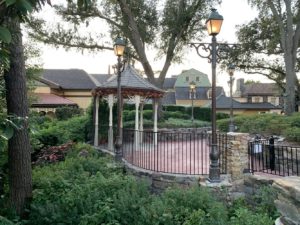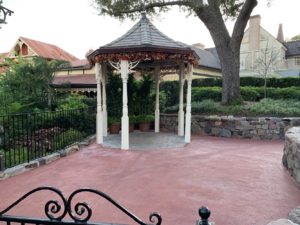 Now, if you know us personally, you'll know that we have been together for quite some time now so after years of thinking a proposal would be coming soon and never happening, I'd given up on the idea altogether, so I was surprised when it finally happened! He couldn't have done it any more perfectly, It was quiet, there was nobody around to watch and it was just a perfect moment for the two of us! I'm definitely an introvert and quite shy so the idea of anyone being around to see, clap or cheer terrifies me 😂I really don't like being the centre of attention! It was so much nicer than the old cliche of proposing in front of the castle and now we will always have that special place to visit and remember that day.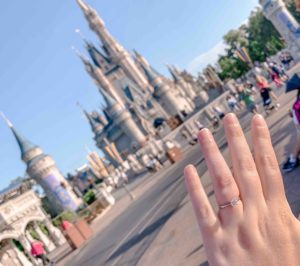 After the initial shock/surprise over what just happened, we made our way over to Tomorrowland, butterflies and all! On the way, I texted all our family and friends to let them know the happy news! After riding Space Mountain, the People Mover and Autopia and feeling on cloud nine, we stopped off at the Cheshire Cafe for a drink and a Cheshire Cat tail for Lee! The drink was grape flavoured and I really don't like grape flavour as it just tastes super artificial to me, but Lee insisted we tried it. (needless to say, I didn't like it!)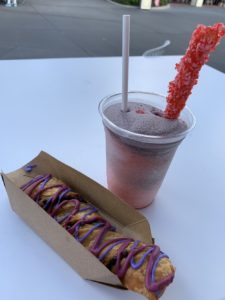 As we were leaving the Magic Kingdom to head to Typhoon Lagoon for the rest of the afternoon, we stopped off to get a really cool magic shot (see below!)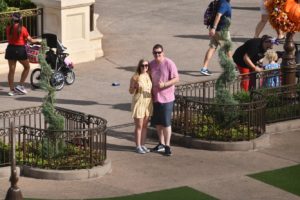 We then decided to head back to the hotel and get changed to go to Typhoon Lagoon for the rest of the day! When we got back to our hotel, we went to the gift shop where we were given Happily Ever After buttons to celebrate our engagement! The girls in the shop were so lovely and were really excited for us! Lee had lots of surprises in store for the rest of the day, starting with some pins he had bought a few days prior (he actually gave these to me straight after he proposed!)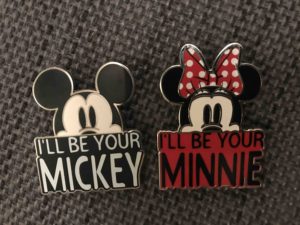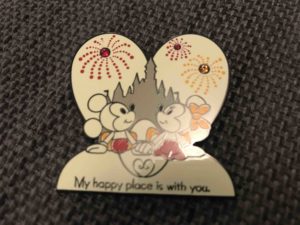 He had also booked us a celebratory dinner that evening at my favourite restaurant, 'Ohana – I was so excited!
We spent the rest of the day at Typhoon Lagoon before heading back to the hotel to freshen up and get changed for our celebratory dinner. After we got engaged, I kind of didn't really want to go to Typhoon Lagoon because it meant I had to take off my engagement ring! I was too scared to wear it around the waterpark in case it came off or something so I had to leave it in my bag in the locker, which felt strange. I'd only just gotten it, I didn't want to have to take it off! lol
When we got back to the hotel after a fun day relaxing at Typhoon Lagoon, Lee had another surprise for me in the form of a cute Disney Traditions figurine of Stitch that I had seen a few days earlier which was really sweet of him!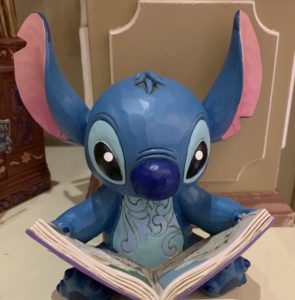 Once we were ready, we took the bus over to Magic Kingdom as we had some time to kill before our dinner reservation. We decided to head over to where Lee popped the question and take some photos to remember the moment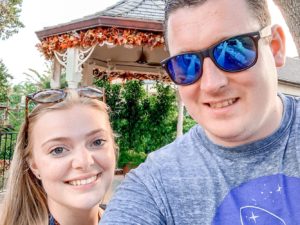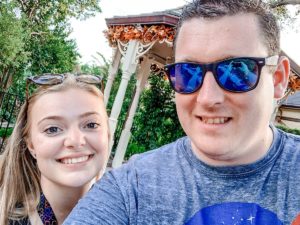 Once we'd spend a bit of time in Magic Kingdom, we made our way over to the docks to get the boat across the Seven Seas Lagoon and over to the Polynesian Resort. It just so happened that it was just past the golden hour as we were halfway across the lake which made for an incredibly beautiful sunset!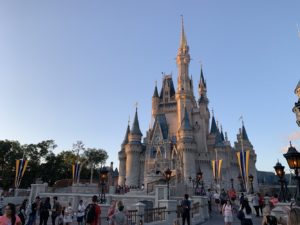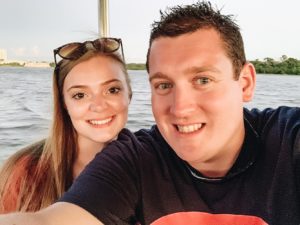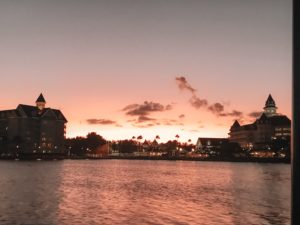 Last time we went to the Polynesian for dinner, we noticed lots of people walking around wearing Lei's, so while Lee checked in for our dinner reservation, I noticed a cast member giving them out so I decided to head over and get us both a Lei!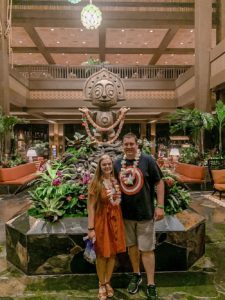 We had a drink each whilst we waited for our table, mine was super delicious!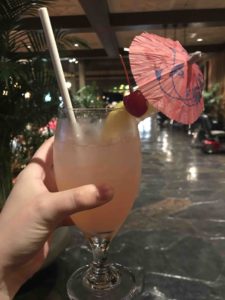 After we'd had a nice chat with some other guests waiting for their table, ours was finally ready! 'Ohana is the best meal at Disney in my opinion, they have great food, great entertainment and if you time it right (as Lee did!) you can finish the day by watching Happily Ever After form the top of the Polynesian resort – it was the perfect ending to a perfect day!
Diary Day 18 – Thursday 3rd October 2019
Today we had Mickey waffles for breakfast and then headed over to Animal Kingdom!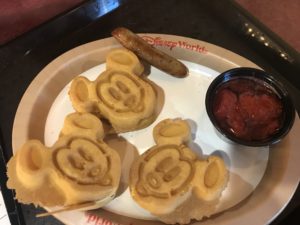 I grabbed myself another Night Blossom from Pongu Pongu in Pandora (seriously, my favourite drink at Disney)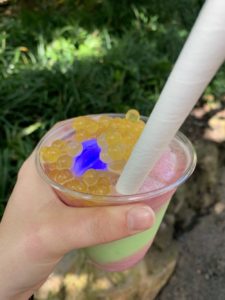 we then made our way over to Africa to watch The Festival of the Lion King which we never got around to doing on our last trip!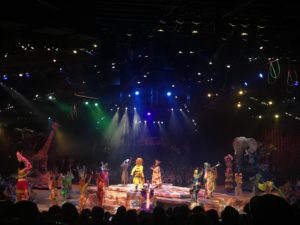 After that, we met Mickey and Minnie who got so excited when they noticed my engagement ring!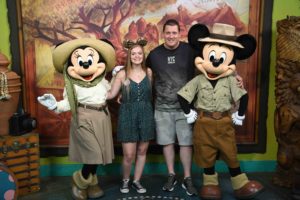 after getting some lovely photos, we went to see 'It's Tough To Be A Bug' before heading back to the hotel (I absolutely hate It's Tough to be a Bug! I really don't like 4D cinema experiences that make it feel like there are things crawling around you!) Once we got back to the hotel we went to the pool for a few hours to relax!
After a nice afternoon at the pool we decided to head to Epcot for the evening to watch the new fireworks show 'Epcot Forever' (interesting choice of name considering it's a temporary show) We went to the cool wash slush station which we had heard of via Instagram a few days earlier, it was basically a build-your-own slushie station, we opted for orange and blue raspberry with pretty much every topping you were allowed (candy pebbles, boba pearls and popping candy)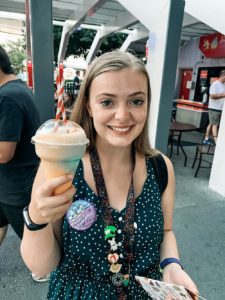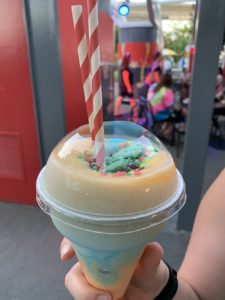 It was good, but not the best slushie I've ever had (hello, Tango Ice Blasts) After we finished our drink, we headed over to the Epcot experience to see what it will look like once the refurbishment is complete. It looks pretty cool and I can't wait to go back in a few years time to see the finished result!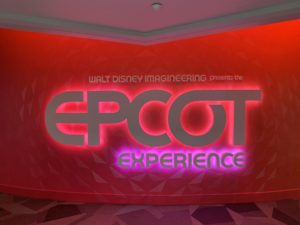 After the Epcot experience, myself and Lee grabbed a cider from the Food & Wine booth in the Epcot Experience and headed over to the World Showcase. We tried to get in line for Frozen Ever After when we got to Norway but it was down so we carried on and tried some more Food & Wine Festival dishes!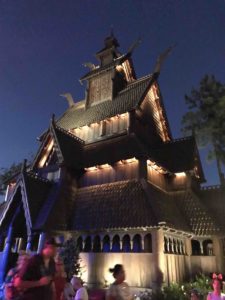 We then watched 'Epcot Forever' which I thought was really good (much better than Illuminations!) and then we headed back to the hotel for a good night's sleep!
Diary Day 19 – Friday 4th October 2019
Today I had a blueberry muffin for breakfast and it was the best damn blueberry muffin I've ever had! After breakfast, we decided to go to Epcot. Whilst there, we tried another Food & Wine Festival dish, we then decided to head back to the hotel as it was super hot and I started to feel a bit dizzy in the heat! (pre-warning for anyone who hasn't been to Walt Disney World before, Epcot is the hottest park out of them all!)
On our way out, we decided to visit the gift shop to take advantage of the aircon and see if they had the plain black Spirit Jersey I had been looking for. I could only find really big sizes in it and so decided to ask the lady behind the counter if they had any in the size I needed and she was so rude to me! It upset me a little because we'd never had any bad experiences in Disney before and she really let them down. Lee wasn't in the shop with me at the time so when I met up with him outside and told him what had happened, he was just as shocked at the way she spoke to me. We considered making a complaint at guest services but didn't want to be those people so we just let it go (if you pardon the pun)
Once we got back to our hotel room, we were met with a lovely in-room celebration from my mum! I knew she was up to something when she asked what room number we were in and told us not to go back to the hotel between 12 and 3 haha!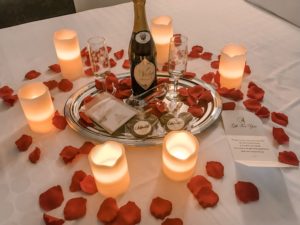 After scoffing our chocolates, we went to Typhoon Lagoon again and then onto Hollywood Studios in the evening! We got to experience Galaxy's Edge at night which was really cool and even had an encounter with some Storm Troopers (I spent every time we were in Galaxy's Edge trying to avoid them, they absolutely terrify me!)
We also tried Blue milk this time, which I actually preferred to green!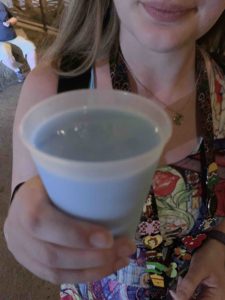 Diary Day 20 – Saturday 5th October 2019
Last day of the trip! 🙁 We decided to bookend our trip as we usually do by spending our last day in Magic Kingdom! We were pretty tired by this point so didn't do too much. I wanted to get a nice photograph of where we got engaged, so we walked over to Liberty Square to get some nice pics!
Whilst we were in the vicinity, we decided to tick off another thing from our food bucket list and ordered a legendary Turkey Leg! In my honest opinion, it was more like ham than turkey which got a bit gross after a while so we didn't finish it! It's more of a novelty thing really!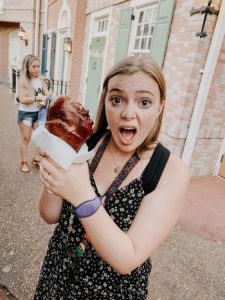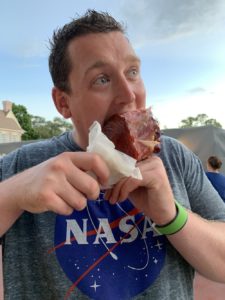 After a full day at Magic Kingdom, we went on Haunted Mansion again and decided to get in line for a lantern photo like we did last year. Whilst Lee held our spot in the queue, I took a trip to the Christmas shop in Liberty square to buy a tree ornament and some pins!
We then had our lantern photos…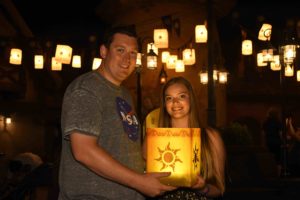 And then headed over to Fantasyland to tick off another food bucket list item, the Peter Pan Float! It was good, the lime dole whip was really refreshing!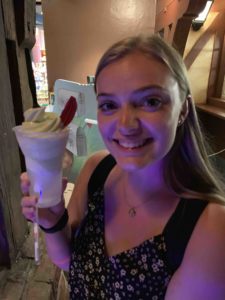 After that, we watched Walt Disney's Carousel of Progress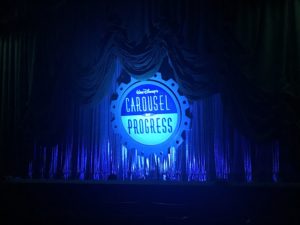 Once we got out, Happily Ever After was just starting, so we hopped on the people-mover and watched the fireworks from there! We then went on the Astro Orbiter and walked past where we got engaged one last time before watching 'Once Upon A Time' from the bridge at the side of Cinderella's Castle. We decided to chill at Magic Kingdom until closing and then started making a slow walk out of the park to the buses, we took some more pics on the way out of Magic Kingdom and then finished our final day with ice cream from the food court at the hotel!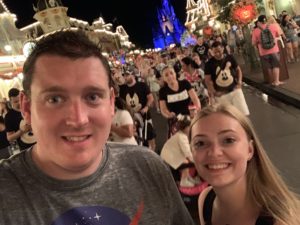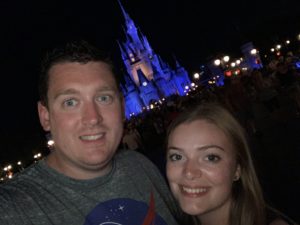 Return Day Diary – Sunday 6th October 2019
Today was our return travel day! In a way, I was glad to be going home because we'd had such a lovely time, It didn't feel like there was anything left for us to do on this trip! I was also excited to get back to our own home and relax!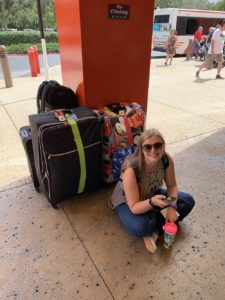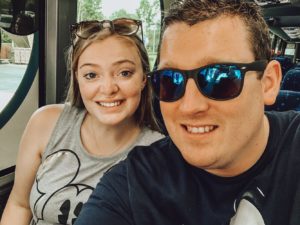 The tragical express to the airport picked us up at 13:15 and we arrived at Orlando International at around 14:30. We checked in our bags and due to all the souvenirs we bought, mine had to have a 'heavy' sticker put on it, oops! Luckily, we weren't charged for the weight!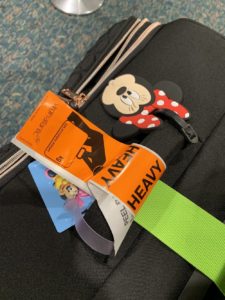 Security was absolutely rammed so we ended up being in the queue for ages! Once we got through to the terminal, we had some time to kill so grabbed a Burger King and made our way through to the gate seating area.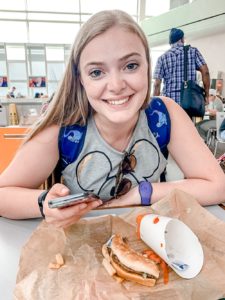 The plane next to the one we were on was a Star Wars plane which was so cool!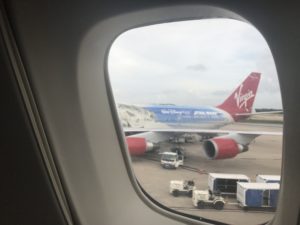 I'll be honest, the flight home was horrendous. We had the worst turbulence I've ever experienced and I genuinely thought we were going to die! (no exaggeration!) for someone who gets nervous on flights anyway, this didn't sit well and I felt a panic attack coming on. Luckily, Lee kept his cool the entire time which was really reassuring (although, he even admitted after we landed that he thought we were going to die on that flight!) It was horrible but we were met with an absolutely beautiful sunrise on the other side at Gatwick.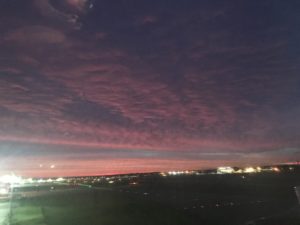 The flight was 8 hours and 15 minutes in total, of which we got absolutely no sleep as usual 😴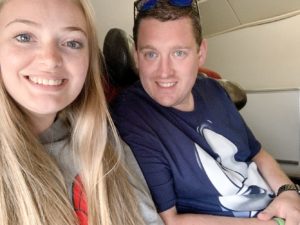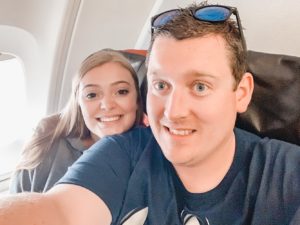 Once we had landed, we collected our luggage from baggage claim and proceeded to pick up the car from the valet. After splitting the drive home with plenty of rest breaks to nap after not having slept for around 20 hours, we finally arrived home and stayed up as long as we could to get to bed at a normal time and get back into the UK timezone!
So that's everything we got up to on week 3 of our trip to Florida this year! I hope you enjoyed reading my photo diary and I'll see you soon with some more fun, Disney-themed posts!
---
Related
Week One – Photo Diary, Florida 2019