So, you're back for another round of my Florida Photo Diary eh? Well, you're in luck! Here's what we got up to on the second week of our 2019 trip to Florida!
Diary Day 8 – Monday 23rd September 2019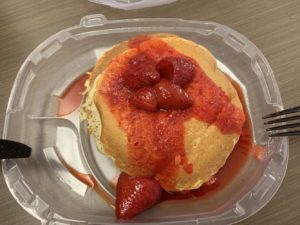 Today we ordered breakfast from iHop on the Uber Eats app (we used this a lot over our holiday!) I ordered strawberries and cream pancakes and Lee had an omelette! They were seriously the best pancakes I've ever had in my entire life! After breakfast, we head over to Hollywood Studios for the morning. We went to Galaxy's Edge again to explore a bit more and even got a really cool 360 degrees photo pass!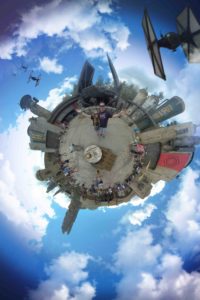 We also got to meet BB8…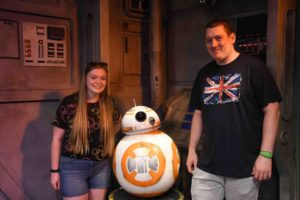 After doing a few rides, we decided to head back to the hotel at around 14:00.
Once we got back to the hotel room we decided it would be a good idea to hire a car for a few days so that we could explore outside of Disney, we booked a hire car to pick up the next day.
We had a pretty chilled rest of the day as we had a late night at the Halloween Party the night before, so we just chilled at the pool for a few hours, ordered a Domino's Pizza and got an early night!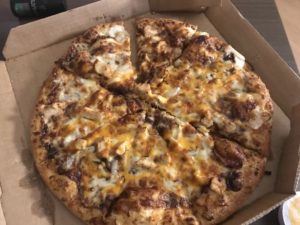 Diary Day 9 – Tuesday 24th September 2019
First of all today we sat by the pool for a bit before we had to go pick up the hire car! We were due to pick it up at 12:00 so we booked an Uber for 11:30 which took us to the car hire centre. We were allocated a Burgundy Kia Sorrento which was such a good car! It was glorious to get in and cool down in the air-con.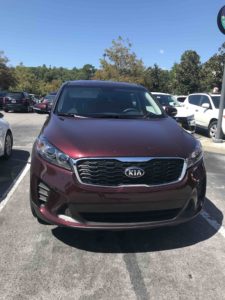 The first thing Lee had to do was get used to driving on the other side of the road, that didn't take long but the most confusing part was the different road signs that the USA has! We didn't really know what most of them meant but after a quick google by myself, we soon realised that they meant the same as UK signs they just had different pictures to explain!
First stop was the Vineland Premium Outlets! I'd heard of these from watching TheTimTracker and couldn't wait to explore them and find some bargains!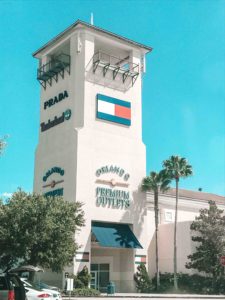 We went to the Disney Character Warehouse where I bought 2 tees, 2 pairs of Minnie ears, a drawstring bag and an iron-on patch for $40 (that's the price that one of the tees would have been in the parks!)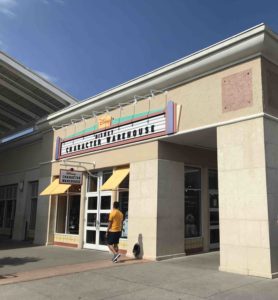 We also went to the Under Armour outlet and managed to buy some UV tees for when we go to Typhoon Lagoon or the pool at the hotel. Whilst at the Outlets, we decided to grab some lunch, we each had a burger from AW American Food, which was actually pretty good! After visiting the outlets, we decided to head to the nearest Publix as we'd only ever been to Walmart before, we much preferred Walmart in the end as they just seemed to have a much better selection and the atmosphere in Publix seemed a little dull!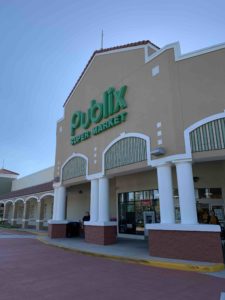 After Publix, we went to Target and found some very interesting choices for Halloween costumes…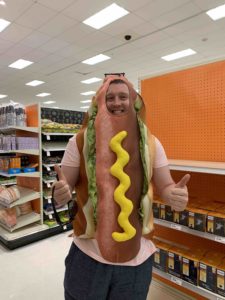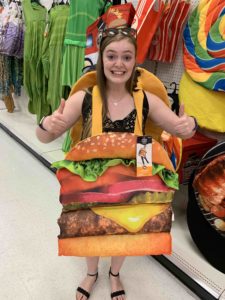 We then head back to the hotel for some dinner!
After dinner, we picked up my mum, stepdad and sister from their hotel and took them to Target and a few of the gift shops on route! We loved looking at all the touristy gifts and had a nice evening exploring!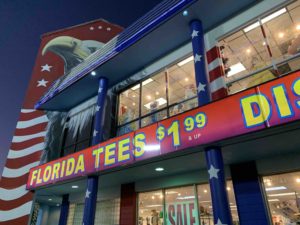 just a note, we didn't find a single t-shirt at $1.99 😂
Diary Day 10 – Wednesday 25th September 2019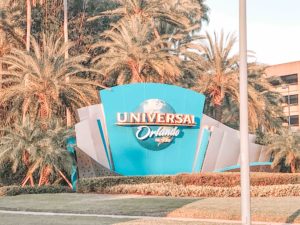 Today is the day we took our first-ever trip to Universal Orlando Resort! We all had tickets to one of the parks and after a bit of research decided on Islands of Adventure as the reviews seemed to say it was the better park. I'll admit, I was pretty disappointed! There just didn't seem to be much there to do? The Jurassic Park ride was good and I loved looking around Hogsmeade, but in general, it was nowhere near as good as Disney. I did love the Christmas shop though!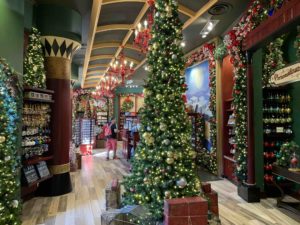 To be fair, I had a pretty rough day anxiety-wise which made it really hard to enjoy myself. I had a really bad panic attack in the queue for the Skull Island ride (not related to the ride at all, my heart just had a massive palpitation and it scared the hell out of me!) so after the Skull Island ride, I didn't ride anything for a few hours in an attempt to settle my anxiety, which meant sitting out of the Harry Potter Forbidden Journey ride first time around.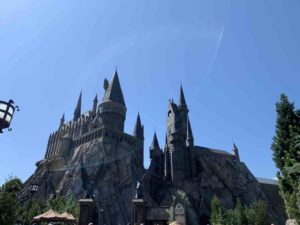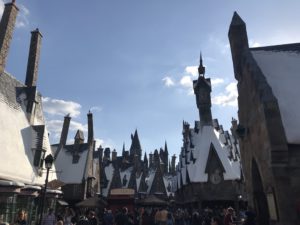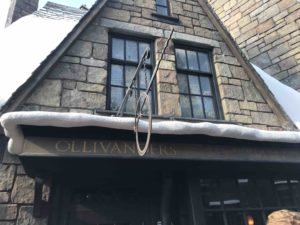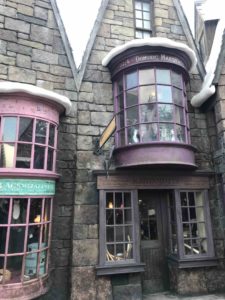 Eventually, I felt a lot better and was able to go on all the rides I sat out on first time around, I loved the forbidden journey ride and flight of the Hippogriff (I do love Harry Potter!) We got absolutely soaked on RipSaw Falls, and rode Jurassic Park a few times!
My little sister also wanted me to go on the Pteranodon Flyers with her which was pretty fun! (I also think dinosaurs are really cool, Jurassic Park is one of my faves!) My mum bought us all lunch and re-fillable souvenir cups which was cool. I bought a Hufflepuff pin in Hogsmeade and finished the day with the Hulk ride!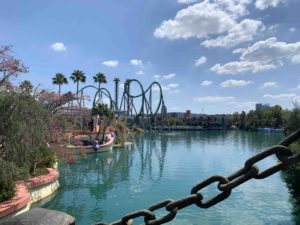 Diary Day 11 – Thursday 26th September 2019
Today we went to the Florida Mall in the morning and, much like Universal, we found it pretty disappointing other than the Christmas shop!
We decided to head to the outlets again to look around a bit more, It was such a hot day though that we ended up heading back to the resort and pay another visit to Typhoon Lagoon!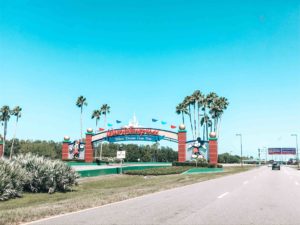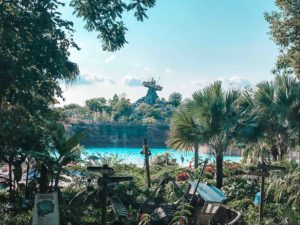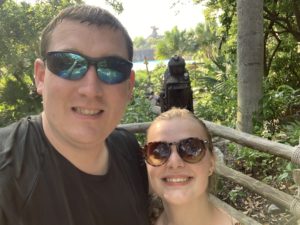 After a fun afternoon at Typhoon Lagoon, we decided to head to Epcot for the evening and try some food and wine dishes! Whilst at Epcot, we managed to get some really nice Food & Wine Festival photo pass opportunities!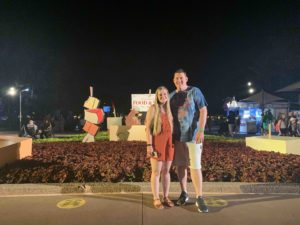 After trying a few food and wine dishes, we then found a spot to watch Illuminations from but we've never really been big Illuminations fans so we left early to get to the buses before the crowds hit!
Diary Day 12 – Friday 27th September 2019
Today we had a pretty chilled morning, we decided to find the nearest 7Eleven so that we could top up the fuel in the car before we dropped it back off at the car hire centre and also to try a famous Big Gulp Slurpee! (How very Heathers!) it was actually really good, I can see why these are so popular!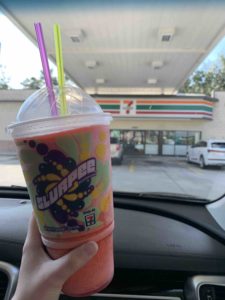 We then visited a few more gift shops before dropping the car back. Once our Uber dropped us back off at the hotel, we had some lunch before hopping on a bus to Typhoon Lagoon for the afternoon.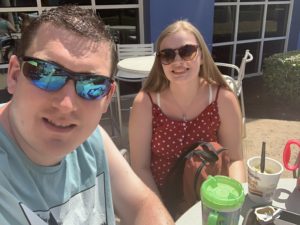 Whilst at Typhoon Lagoon, we tried a really yummy drink called a Strawberry Colada which was so good! Unfortunately, being in a water park, we didn't have our phones on us so couldn't snap a pic!
In the evening we had a table booked at T-Rex in Disney Springs for a family meal all together. It was such a cool restaurant but unfortunately, the service wasn't great! I did get a souvenir cup with my drink though so, you know, every cloud!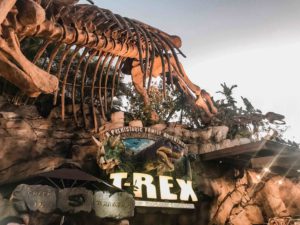 After our meal, we explored Disney Springs for a bit, including my favourite store, the World of Disney, before heading back to the hotel!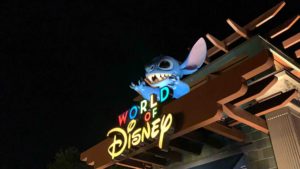 Diary Day 13 –  Saturday 28th September 2019
Today we went to the Magic Kingdom and spent some time with the fam as they were flying home later that day.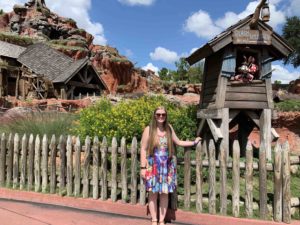 Whilst we were at Magic kingdom we decided to do some of the Pirates Adventure maps. We managed to do every single one which was a great achievement! After we finished the maps, we grabbed a dole whip and decided to head back to the hotel (it was a really hot day and I was not coping very well, to be fair, I'd pretty much felt a bit off the entire week so far)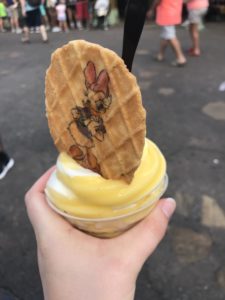 Whilst waiting for the bus back to the hotel, the Disney ducks came over to say hello!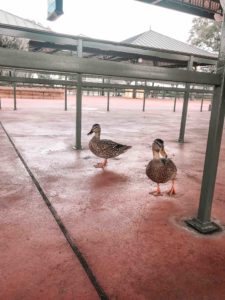 Once we got back to the hotel, we decided to go to the pool for a while to cool down!
After a few hours of chilling, we went to grab some food before heading to Hollywood Studios for the evening!
We got to Hollywood Studios with a bit of time to kill before Fantasmic! We decided to explore Hollywood Studios a little and took some impressive pics of the Tower of Terror…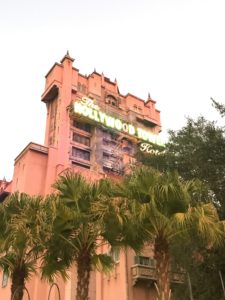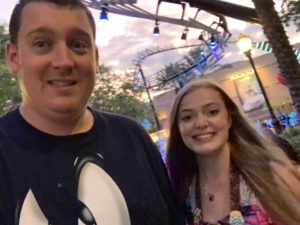 It was soon time to take our seats for Fantasmic, which we absolutely love! I like that the way the auditorium is set out means that it's a perfect opportunity to do a pretty impressive Mexican wave!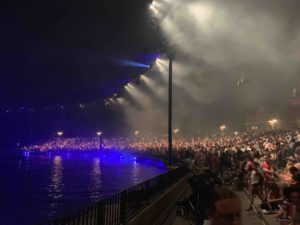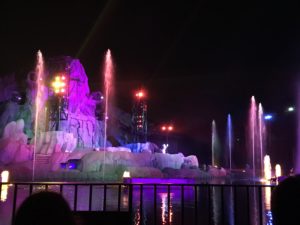 Since the rest of my family were heading home, my stepdad gave us his MagicBand as they still had around 15 meal/snack credits left. Happily made full use of those once we got back to the hotel, we had a meal each and used the rest of the credits to buy lots of treats!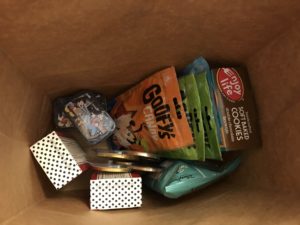 We got a cupcake each, Lee chose a Mickey one, I chose Minnie (the Mickey one was way better!) we also got sweets, cookies, chocolates and mints!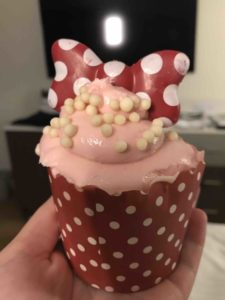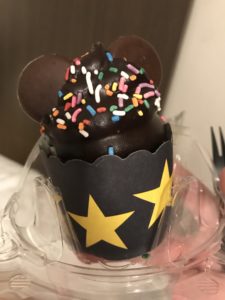 Once we got back to the room we went to bed, fully expecting to fly home the next day.
Diary Day 14 – Sunday 29th September 2019
Sneaky twist of events, turns out we were not going home today, but actually, staying another week! Hooray! I was so excited to get to spend even more time in the happiest place on earth.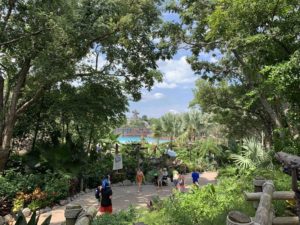 We decided to head to Typhoon Lagoon again for a chilled day! We just cruised along the lazy river and worked on our tans. I was surprised that Lee even wanted to go to the water parks in the first place as we never even considered going last time. Lee loved Typhoon Lagoon so much that We ended up going so many times this trip, I actually started to get a bit sick of it! lol
We were a bit sad that Blizzard Beach was closed for refurbishment as we wanted to see what it was like.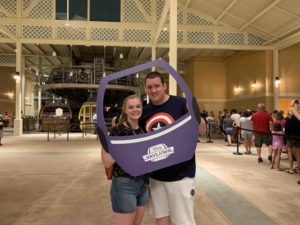 Today was also the opening day for the Disney Skyliner so once we had finished at Typhoon Lagoon, we hopped on a bus to Hollywood Studios and gave it a go! They were surprisingly cool considering they don't have air-con.
We went over and explored Art of Animation resort and then POP Century before heading back to the hotel for an early night! We were so excited to be able to say we went on the Disney Skyliner the very first day it opened, it will be a great story to tell our future kids in years to come haha!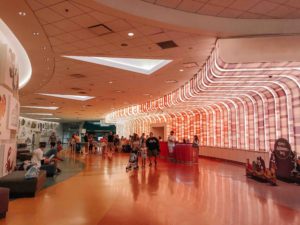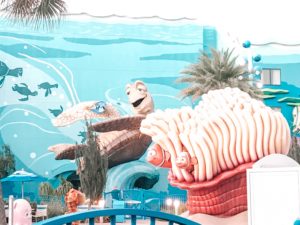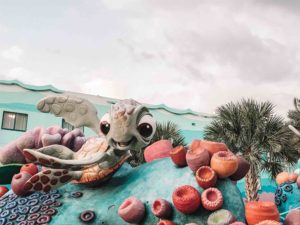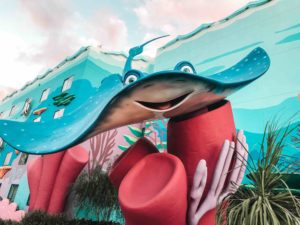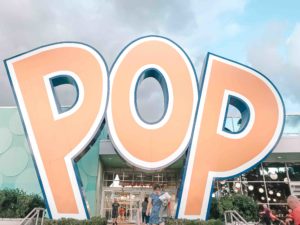 Only one more photo diary to come from this year's trip, stay tuned, it's the most exciting one yet!
---
Related