Hello everyone! So, Epcot's Food & Wine Festival 2019 has officially finished and made way for Festival Of The Holidays! Today I thought I'd share with you everything we tried at Epcot's Food & Wine Festival this year…
Hawaii – Kaluaa Pork Slider with Sweet-and-Sour DOLE® Pineapple Chutney and Spicy Mayonnaise – $5.25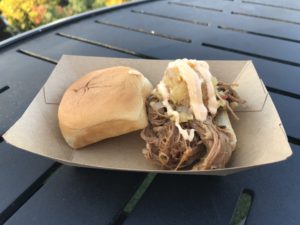 The first thing we tried was this Pork slider from the Hawaii booth. This was one of Lee's picks, I'm not a huge fan of Pork but I gave it a go anyway! It wasn't really my cup of tea but it looked good and I think it could have been a favourite with food and wine festival-goers this year.
Rating: ⭐️⭐️⭐️
Thailand – Marinated Chicken with Peanut Sauce and Stir-fried Vegetables – $5.00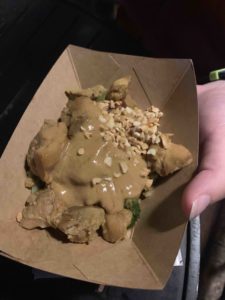 I'll be honest, this sounded a lot more exciting than it was, Asian food is my absolute favourite so I was sad to not enjoy this! It didn't taste bad, it just didn't excite the tastebuds! I'd say the only decent thing about it was that the veg was perfectly stir-fried with just the right amount of crunch! One thing I will mention is that I didn't feel the chicken was cooked thoroughly enough and I was not very well after I had this so I'm not sure if this may have been the culprit…
Rating: ⭐️⭐️
The Alps – Warm Raclette Swiss Cheese with Baby Potatoes, Cornichons and Baguette – $5.00
This was literally my favourite dish that we tried at this years Food & Wine Festival. It was so delicious! Couldn't really go wrong with this one, I love cheese, I love pickles and I love baby potatoes so there was no denying I was going to enjoy this! I just wish we'd have tried it more than once and managed to get a photo. I think we both pretty much agreed that this was the only thing we would have ordered again this year!
Rating: ⭐️⭐️⭐️⭐️⭐️
Africa – Kenyan Coffee Barbecue Beef Tenderloin with Sweet Potato and Corn Mealie Pap and Kachumbari Slaw – $5.75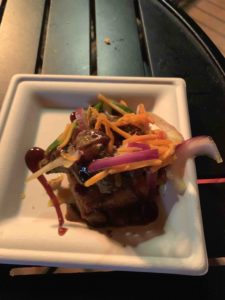 This was an odd one! I couldn't taste the Coffee but there was definitely a barbecue-y flavour, just not the kind of Barbecue I'm used to! It was pretty tasty though and the Kachumbari Slaw was crunchy and delicious!
Rating: ⭐️⭐️⭐️
Spain – Spanish-style Paella with Botifarra and Roasted Chicken – $5.50

This was one of Lee's choices, I wasn't too keen on trying it originally as I'm not a fan of sausages, however, it was actually really tasty! I usually don't try Paellas as I've always known them to have seafood in, but this one just had Chicken and Botifarra so was a pleasant surprise!
Rating: ⭐️⭐️⭐️⭐️
Germany – Roast Bratwurst in a Prop and Peller® Pretzel Roll – $5.75
I remember getting a photo of this one but I cannot for the life of me find it! First of all, the sausage to bun ratio was way off here (if you google a picture of this dish, you'll see what I mean!) The Pretzel roll was really good but all in all, it was just a fancy hot dog!
rating:⭐️⭐️⭐️
Belgium – Beer-braised Beef served with Smoked Gouda Mashed Potatoes – $5.50

This dish was delish! It was a bit heavy for the Florida heat but would be perfect for a cold winter day here in the UK! I may need to see if I can find a similar recipe so that I can try making this in the slow cooker this winter. It was kind of like a rich beef stew and the beef was perfectly cooked and really tender, the mashed potatoes were perfect, cheesy, creamy and super yummy!
Rating: ⭐️⭐️⭐️⭐️⭐️
Canada – Le Cellier Wild Mushroom Beef Filet Mignon with Truffle-Butter Sauce – $8.00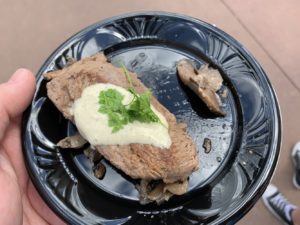 I've heard a lot of people say that they've never had a decent steak from Canada in Epcot, but I think ours was really good! The truffle butter sauce was really earthy and the steak was perfectly cooked and tender.
Rating: ⭐️⭐️⭐️⭐️⭐️
Italy – Traditional Sicilian Cannoli: Crisp Pastry filled with Sweet Ricotta, Chocolate, and Candied Orange – $4.25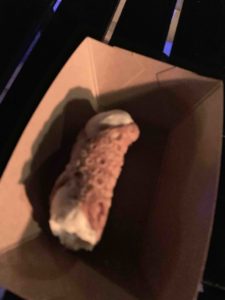 Another one of Lee's choices! We didn't try many desserts at this years festival, but this cannoli from the Italy booth is something we did try! We had never tried a cannoli before so I was excited to try something new! It was crispy on the outside and the ricotta, chocolate and orange filling was beautifully light! A very tasty dessert option.
Rating: ⭐️⭐️⭐️⭐️
So that is everything we tried at Epcot's food & wine festival 2019! Overall, I didn't think the options were as good as last years festival but there were a few tasty additions to this years menu. My main issue with the food and wine festival is the cost. The dishes are extremely overpriced for the portion size you get (hello, $8 for a tiny filet of steak?) I know it's Disney and everything is expensive, but they could at least make their prices for the festivals a little more realistic.
We had a great time exploring this years food & wine festival and tried lots of dishes from different countries and cultures! Did you go to this years festival? What was your favourite dish? if not, what from the above would you have liked to try?
Bye for now!
---