Hello everybody, welcome to Blogmas #2! I've been so excited to write this post as I have been waiting eagerly for this day to arrive, we have finally put up our Christmas Tree! Yes, the Christmas feels are in full swing in our household! Driving to and from work lately and around on our weekend travels, we have seen so many houses with Christmas trees up since about the 18th of November. I'll be honest, that's a bit too early, even for me! It did make me even more excited to put ours up though 🎄So, here are a few photos of our decorating antics…
The Tree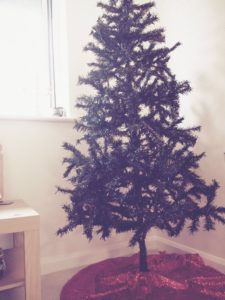 Ever since I was little, Christmas has always been my favourite time of the year. I just love the happy atmosphere and the warm fuzzy feeling of excitement as Christmas day draws near. My absolute favourite thing to do is prepare for the holiday by decorating the house! I have always loved decorating the Christmas Tree, I have even been known to drag the decorations out of the attic myself and get everyone together to decorate! We have a black Christmas Tree which mostly stems from the fact that Lee is a theatre technician which means that pretty much everything must be black (any theatre lovers will understand this) It's no issue for me as it goes perfectly with our Mickey & Minnie/Disney theme! It also looks amazing with all the lights on. I had been anticipating the day I could put up my Christmas Decs for such a long time now, I was so excited to finally get to it!
The Lights
I'm not a big fan of tinsel on a tree so what we don't use in tinsel, we make up for in lights! We use 3 sets of Christmas lights on our tree, I originally just had the pink LED's as I saw them in a shop called Buyology last year and fell in love with them. I then bought some white ones to go around the living room but decided to put these on the tree instead and once we had done those, Lee's instinct as a theatre technician felt like it was still missing something and decided we needed 1 more set of lights. We opted for a set of bright blue LED's and popped them all on last year. Lee did also decide it needed even more lights this year so we actually bought another set! This time, we got some purple ones. It may sound like an odd mix but put together on the tree, they look spectacular! For me, Christmas lights are probably one of my favourite things about the season, they just make everything look so pretty! I love driving around trying to find houses with lots of Christmas lights outside too, it's such a fun thing to do before Christmas.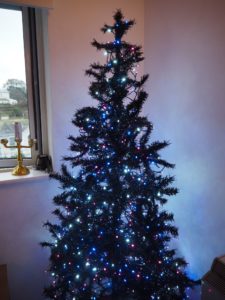 The Baubles
After the lights go on, it's time for the baubles! We have a Disney-themed Christmas tree (of course!) and have a tradition whereby we get a new Disney tree ornament each year. Last year was the start of this tradition as it was the first year we had Christmas in our own place, so I started it off with the Disney baubles from Primark (I actually bought another pack of these this year too) As well as Disney, we also have a few Harry Potter tree decorations as I am also a big HP fan! Our collection is slowly growing, here are this year's additions:
Mary Poppins Bauble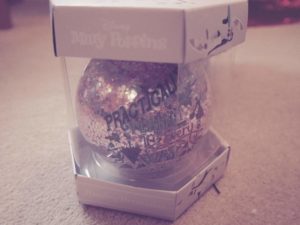 I love this Mary Poppins bauble from Primark. I'm so excited for the sequel to come out on the 21st December, I'll definitely be seeing it at some point! The bauble has pink sequins and glitter inside and has the quote 'Practically perfect in every way' scribed onto the glass. Even the box it came in was cute, it had penguins all over it!
Tink Bauble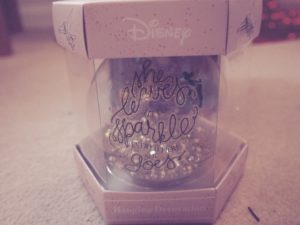 Another Primark bauble, this one has tiny gold stars inside and says 'she leaves a little sparkle everywhere she goes' with a little picture on Tink on it!
Baymax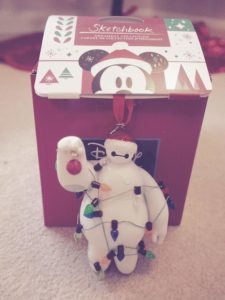 Big Hero 6 is Lee's favourite Disney movie, and Baymax is one of my favourite Disney characters so I just couldnt resist getting this adorable tree ornament from the Disney Store. They were having a 25% off sale at the time so was a great bargain at just £10.40.
Enchanted Rose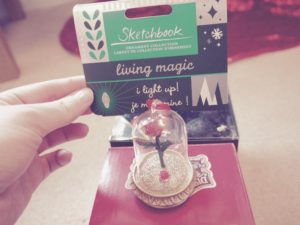 Another Disney Store sale bargain! Beauty and the Beast is my absolute favourite Disney movie and all-time favourite movie in general. I originally saw this on Amazon and absolutely fell in love with it, however, the price on Amazon was £75.00! I decided to have a look on the Disney website and they had it in the sale for just £12.00! It's so beautiful and even lights up! I need to be really careful when putting this on the tree though as it is glass and I don't want it to fall and break.
Mickey & Minnie Bauble Set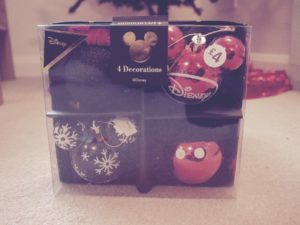 Ah, my trusty Primark Mickey and Minnie baubles! I loved these last year so decided to get another pack this year, they are just so cute and really affordable at only £4.00 a box!
Harry Potter Bauble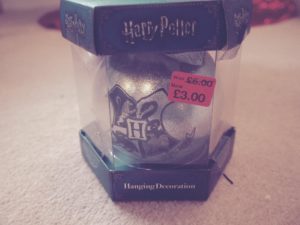 This one was on offer in Primark for only £3.00! I just had to get it to go with last years HP bauble!
Hagrid & The Hogwarts Express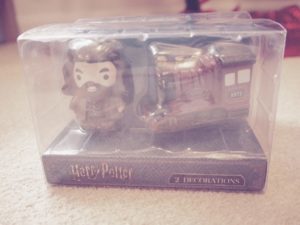 This set was also from Primark and includes Hagrid and the Hogwarts Express. The Harry Potter bauble duo's are £5.00.
Harry & Hedwig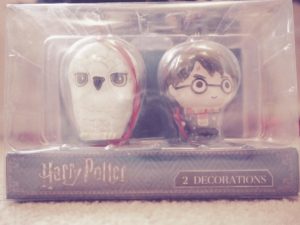 Another Harry Potter decoration set, this one includes Harry and Hedwig, they are so cute!
Rapunzel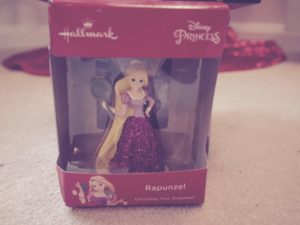 If you are a follower of my blog you will have seen this one before! I bought this one back in September when we went to DisneyWorld, it was $7 from Walmart and I just love it! Rapunzel is one of my favourite Disney Princesses.
Bashful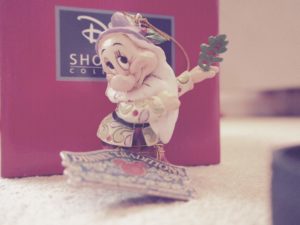 Bashful is one of my favourite of the Seven Dwarfs, How cute is this little Christmas Tree ornament of him? 😍
I didn't realise just how many we had until we got them all together! I absolutely love each and every one of them, Soooooooo Christmassy!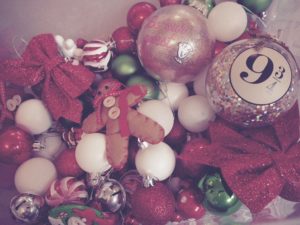 Handmade Decorations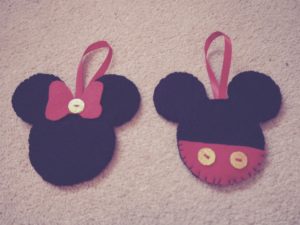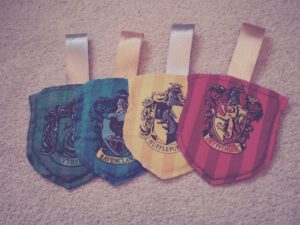 So, this is a little craft project I did back in October. They were super easy to make and the materials cost next to nothing!
The Finished Result!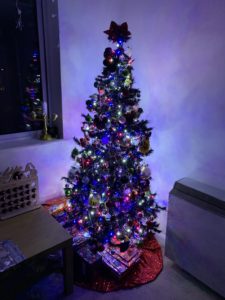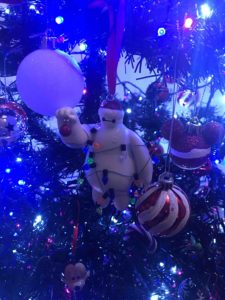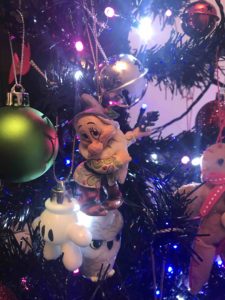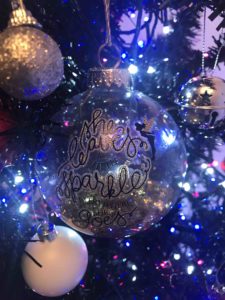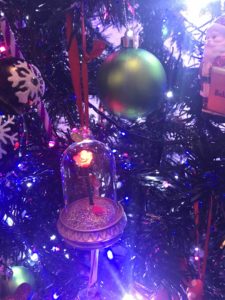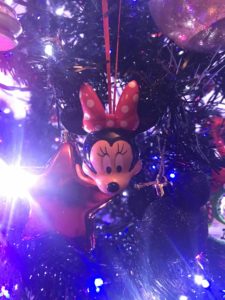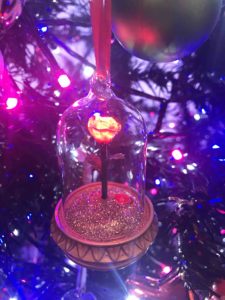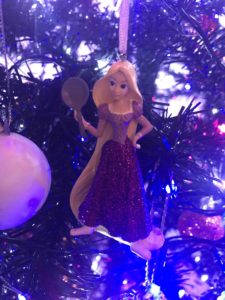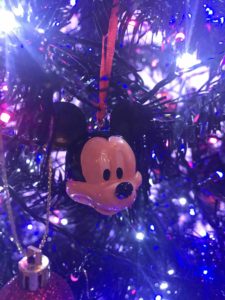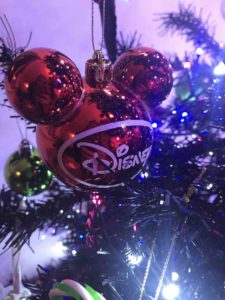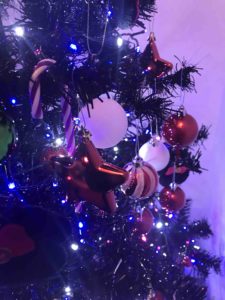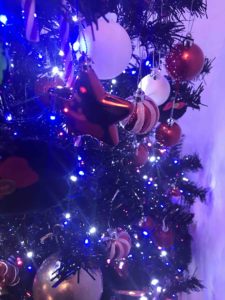 So there you have it, our Christmas Tree for 2018, I absolutely love it and am so happy we finally have it up! As well as putting up the tree, we also got to put on the Christmas bedding that I bought a few weeks back…
Christmas Bedding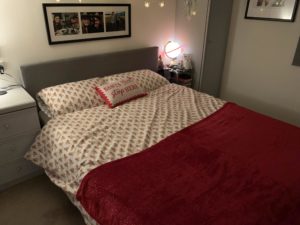 I bought all of the components for this bedding look from Asda, the sparkly red blanket is absolutely stunning and so Christmassy! I also really love the Gingerbread duvet covers, they are reversible and have little Christmas puddings on the other side so we can switch it up when we feel like a change! Feeling super festive now, it really is beginning to look a lot like Christmas!
Roll on December 24th, let the excitement begin!!!
🎄🎁🎅🏻🤶🏻🦌⭐️
UPDATE:
DISASTER STRUCK! Our Christmas Tree decided to go and break, didn't it?! To be fair, the tree did look a bit wonky (the joys of a cheap tree) and the legs ended up snapping off! It does mean that we are currently awaiting the arrival of our new and much improved Christmas Tree! We have opted for a 7ft-er this time around and it does mean we get to decorate all over again I suppose! We also decided to get some more lights (opted for some Purple ones too!) I'll keep you updated and provide pics of the new tree when it's done 🎄
---
Related Posts