So, we've come to the final month of the 2019 reading challenge, It feels like only yesterday that I started! I've read some really great books this year and can't wait to do my reading challenge round-up next month! For now, here's the final book of my 2019 challenge…
Rewrite The Stars – Emma Heatherington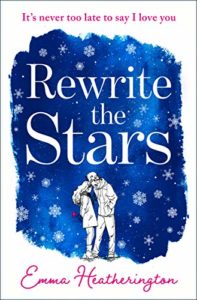 Blurb
From the moment they meet one December day there's something between Charlotte Taylor and her brother's best friend, Tom Farley. But Tom's already taken and Charlie has to let him go…
It's another five years before their paths cross again only a secret from the past forces Charlie to make a choice. She promises herself she'll never look back…
The years pass and Charlie moves on with her life but she can never forget Tom. He's always there whispering 'What if?'
Can Charlie leave the life she has built for one last chance with Tom? Or is the one that got away not really the one at all…?
First of all, let me start by saying I really don't like not finishing books! I'm not sure if this one even counts for the reading challenge because I didn't actually finish it, but I want to give an honest review anyway.
I got seven chapters into this book before calling it a day. I just found the entire story a bit wet. It was idealistic and cheesy and just felt like all the main character Charlotte did was sit around pining over a man she met for a few hours one time. I also found it slightly creepy and extremely rushed. Tom was instantly gushing over Charlotte's talent and a bit too much if I'm honest, it was a bit like grooming, just very creepy.
I was really disappointed to have not liked this book as the premise for the story sounded promising but I felt like it had been written by a teenage girl who had dreamed up a whole scenario about her crush and planned a life with him in her head 😬 Every other sentence was about how much she loved him but couldn't be with him and the exchanges between the two characters were sickly sweet. There didn't seem to be a lot of development in their relationship, it just seemed to go from first meeting to acting like they'd been married for years, it was all just a bit too fast! It also seemed like every single thing she said she was going to do, she never actually did. One minute she was planning on starting her music career, fast forward to the next chapter and she's a teacher sat in her classroom yet again asking 'what if?' The front cover is also very misleading, I know they say not to judge a book by its cover but looking at it, you'd think it would have a festive or Christmassy feel to it, but I got 7 Chapters in and Christmas was only really mentioned once.
I don't know, It's not very often that I give up on a book, perhaps I'll look into it again in the future, it just wasn't what I was looking for in a book right now!
Rating: ⭐️⭐️
---
Related
2019 Reading Challenge – Sept/Oct/Nov Edit
2019 Reading Challenge – August Edit
2019 Reading Challenge – July Edit