Hello everyone! Welcome back to my blog, if it's your first time here then welcome in general! August is now nearly over which means another book review for the 2019 Reading Challenge! This month I decided to read another Paige Toon book as I just love them and I've never not enjoyed one. 'Five Years From Now' was no exception, so let's jump right to the review!
Five Years From Now – Paige Toon
Genre: Women's Fiction/Chick-Lit/Romance/Contemporary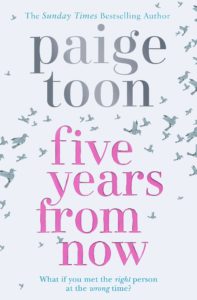 Blurb
Nell and Van meet as children when their parents fall in love, but soon they are forced worlds apart.
Five years later, they find each other. Their bond is rekindled and new feelings take hold, but once again they must separate.
For the next two decades, fate brings Nell and Van together every five years, as life and circumstance continue to divide them. Will they ever find true happiness? And will it be together?
'One day, maybe five years from now, you'll look back and understand why this happened…'
First off, let me start by saying this book is absolutely DIVINE! I've decided it's actually my favourite Paige Toon book that I've read so far. I live in Devon which isn't so far from Cornwall where the majority of the book is set, so for me, it's a very local setting in which I can really relate to. Nell and Van are two beautifully complex characters whose bittersweet story is sure to stay with you for a long time upon finishing the book. The two share a lovely friendship between the ages of 5 and 10 until a tragic event tears them apart and Van gets sent to Australia to live with his dad. At first, I was a bit confused as to why the blurb of the book says the name as 'Van' as the first few chapters he is referred to as Vian and I did begin to wonder whether they had made a typo on the book cover! You soon discover that he changed his name to Van not long after moving to Australia because his dad basically forgot his name and called him this by mistake. At first, I did think that the relationship between Nell and Van when they were teenagers was a little bit odd, however, as they get older and you realise, actually, they were apart longer than they were together, It makes total sense for them to see each other in a different light once re-united.
I was surprised by how the book ends but it was definitely the right way in my opinion. I really liked the reintroduction of some characters from earlier in the book and how their stories played out in the end, however I felt quite sorry for Nell because although she looked happy on the outside, I don't think the way things planned out genuinely made her happy at all, I think, in the end, she probably settled for what she had rather than going for what she truly wanted because she knew it could never work. Nell came across to me as quite a lonely character, she went through so much over the years of her story (her mum not being around, losing her best friend, her dad's illness, a broken marriage etc) there's just something in her story that I think every reader can relate to on some level and that's a quality that makes for great reading material.
**SPOILER ALERT**
Nell's dad's death really gets to you as the reader. You learn more and more about his character throughout the book and he is just so likeable that when his illness gets the better of him, it really hits you in the feels! It's just beautifully written and makes you stop for a second and appreciate the people you have in your life as it could all be gone so quickly.
Overall, 'Five Years From Now' was definitely my favourite of Paige Toon's books so far. I loved every single page and as I find with all of her books, you simply don't want to stop reading! I loved the style of the book whereby it tells the story in periods of 5 years. It's the kind of book that made me not want to reach the end because I didn't want it to be over! Just a beautiful read which I would highly recommend if you haven't already read it, and even if you have, read it again! ❤️
Rating: ⭐️⭐️⭐️⭐️⭐️
---
Related
2019 Reading Challenge – July Edit
2019 Reading Challenge – June Edit