Hello! Welcome back to my blog, if this is your first time here then welcome in general! Well, another month, another book! I did fall into a bit of a reading slump this month but I was determined to finish a book, which I managed (and in good time too!) This month's read was another chunky hardback (possibly one of the reasons why I fell into a reading slump) I really must stop buying hardback books! Anyway, onto this month's read…
Some Kind of Wonderful – Giovanna Fletcher
Genre: Women's Fiction/Chick-Lit/Romance/Contemporary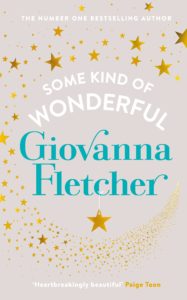 Blurb
Lizzy and Ian have been a couple since their first day at university. Now, after celebrating a decade together, everyone thinks they're about to get engaged. A romantic escape to Dubai is the perfect moment, but instead of the proposal Lizzy hopes for, Ian reveals he's not sure he even wants her anymore.
Lizzy is heartbroken. But through the tears, she realises this is her chance to seize the opportunities she missed as Ian's other half. But what does she want? How much of her is really Lizzy, and how much was Ian's influence? Determined to discover who she is at heart, Lizzy sets out to rediscover the girl she was before – and in the meantime, have a little fun . . .
I was so excited to start reading this one, I pre-ordered a signed copy before the book was released so I've had it on the shelf for a little while! As you can see from the blurb, 'Some Kind Of Wonderful' centres around 29-year-old Lizzie. The book starts in Dubai where Lizzie and Ian (her long-term boyfriend of 10 years) are taking a couples holiday. Understandably, Lizzie is adamant that this will be the time where Ian will finally propose to her, after all, it's about time, right? However, Lizzie's dreams of a proposal are shattered when Ian gets sloppy drunk and ends up breaking up with her with the ring in his hand. The book then goes on to show how Lizzie copes with and then moves on from her breakup.
I really loved the premise for this story and felt so sorry for Lizzie. I can't imagine being with someone for 10 years, being so ready to spend the rest of my life with them, then getting to the point where they are going to propose and then being dumped just like that. Horrific! The way Ian handled it as well was just pathetic and I'm really glad he was kind of forgotten for the rest of the story. I loved how the book focuses on Lizzie's life post-Ian and how she finds her way back to herself again. My one critique would be that I did feel there was an awful lot going on. Firstly, going through heartbreak, Lizzie trying to find herself by making a list of all the things she used to do and things that she could do again, then meeting Natalia and changing/chasing her career, the conversation she has with her dad and his backstory, her sister having a baby, joining the choir, moving back in with her parents, deciding to move out of her parents' again, deciding to travel, meeting another guy etc it just seemed like there were an awful lot of plot points that singly could have been the main part of the story, but were all put in at once and ended up feeling a bit rushed?
I was also a little disappointed with the ending of this one. Why do all chick-lit books obsess over the main character needing a man? I think the book would have been perfectly fine without Lizzie ending up with another guy, especially since she wasn't interested in finding another man at any point throughout the book. There were, however some really lovely moments in the book, including the conversation she has with her dad halfway through and another with her sister later on in the book just after she gives birth that makes the story so heartwarming, and I love her family's dynamic as well, just really sweet!
So aside from falling into a bit of a reading slump, and feeling as if some parts were a little rushed or lost on the main story, 'Some Kind Of Wonderful' was an enjoyable read!
RATING: ⭐️⭐️⭐️
---
Related
2019 Reading Challenge – May Edit
2019 Reading Challenge – April Edit
2019 Reading Challenge – March Edit
Reading Challenge – February Edit