Hello everyone! I hope 2019 is treating you well so far?
We are a full month into 2019 and I am currently on my 4th book of the year! I am steaming ahead with my reading challenge and I don't want to jinx anything, but I think I might even manage to read more than the 10 books I've pledged for this year! So far, I have read: 'One Day in December' by Josie Silver, 'The Language Of Kindness: A Nurse's Story' by Christie Watson and 'Dare To Dream' by Izzy Judd. Today I thought I would do a mini-review on each of the 3 books whilst they're still fresh in my mind…
One Day In December – Josie Silver
Genre: Women's Fiction/Romance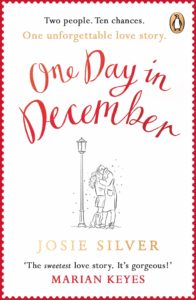 One Day In December sounded like the most perfect, festive, cosy Christmas read, and it didn't disappoint! It tells the story of Laurie and Jack whose eyes meet one snowy December day and path's cross frequently over the next 10 years. With twists and turns throughout, One Day In December is a modern day love story with loveable characters and a great story to boot. My only criticism is that Jack (the male protagonist) began to annoy me a little bit towards the end of the book (if you've read it, you'll know what I mean!) I just felt like yelling at him to grow up and stop acting like a child. Also, The ending of the book did seem a little far-fetched to me so that's where this book loses 1 star but other than that, it was a great Christmas/New Year read!
Rating: ⭐️⭐️⭐️⭐️
The Language Of Kindness: A Nurse's Story – Christie Watson
Genre: Non-Fiction/Autobiography/Memoir/Medical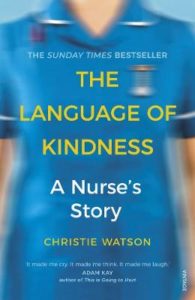 I have always found nurses and midwives so inspiring, how they can selflessly take care of complete strangers no matter what the circumstance and help to save and nourish lives. 'The Language Of Kindness' is a real eye-opener to the real-life situations Nurses and hospital staff find themselves in the middle of. I love that Christie writes so honestly and in detail, she doesn't sugar coat anything and explains everything so well; her experiences as a student nurse, the lessons she learned along the way and how she handled her first experience with death (and every one thereafter)
I have always thought in the back of my mind that I might want to become a nurse or midwife at some point in my life, I love the idea of being able to help make people better. I did start my studies in healthcare a few years ago but had a lot going on in my personal life at the time and had to stop to focus on myself. Reading this book taught me so much of what real nursing involves and inspired me to maybe go back into healthcare studies one day.
Rating: ⭐️⭐️⭐️⭐️⭐️
Dare To Dream – Izzy Judd
Genre: Non-Fiction/Autobiography/Memoir/Medical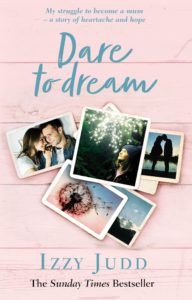 I have really been loving a bit of non-fiction lately, Dare to Dream by Izzy Judd was my latest read and what a story she has to tell. Izzy is the wife of McFly drummer Harry Judd. Her first book 'Dare To Dream' tells the story of their relationship, Izzy's experiences with anxiety and their fertility struggles as a couple. It's easy to think that pregnancy is something that every woman will simply experience as soon as they are ready, but as Izzy explains, this isn't always the case. It can be incredibly difficult, especially when your body and mind have already been through so much, such as PCOS and severe emotional trauma in Izzy's case. Izzy tells her story with such admirable openness and honesty, everything from the day they decided to try for a baby, to the birth of their daughter Lola and every hope, hiccup and heartbreak in-between.
I thoroughly recommend reading her book if like Izzy, you suffer from anxiety, PCOS or fertility struggles, or even if you just love reading non-fiction or autobiographies. I personally really related to the anxiety side of the book, I experience a lot of the same things with my anxiety as Izzy does. It's very difficult to find someone who understands what you're going through when it comes to anxiety unless they have experienced it themselves, it was really nice to read a book in which the writer has been through the same things and understands how you feel. Anxiety can be a really lonely condition in that way so it was nice to know I'm not alone in the symptoms of anxiety that I have experienced. I'm so happy that Izzy got the happy ending she so desperately wanted but it broke my heart to read everything she had to go through to get there. A stunning read.
Rating: ⭐️⭐️⭐️⭐️⭐️
So there are my first 3 books for the 2019 Goodreads Reading Challenge! Have you read any of the above? What were your thoughts? Leave me a comment below and let me know 😊
See you next time!
---
Related
Festive Reads – My November/December Reading List