For those of you who remember, I had a double whammy of theatre tickets for Christmas this year (thoroughly spoiled!) part 1 was Waitress tickets (you can read my Waitress review here) and part 2 was long awaited Hamilton Tickets. After 4 long years of wanting to see this show, I was so excited to have received the tickets for Christmas and we finally saw the show this Saturday just gone at the Victoria Palace Theatre in London's West End (THE most beautiful Theatre I've ever been to!) Here are my thoughts on the critically acclaimed Broadway and West-End hit…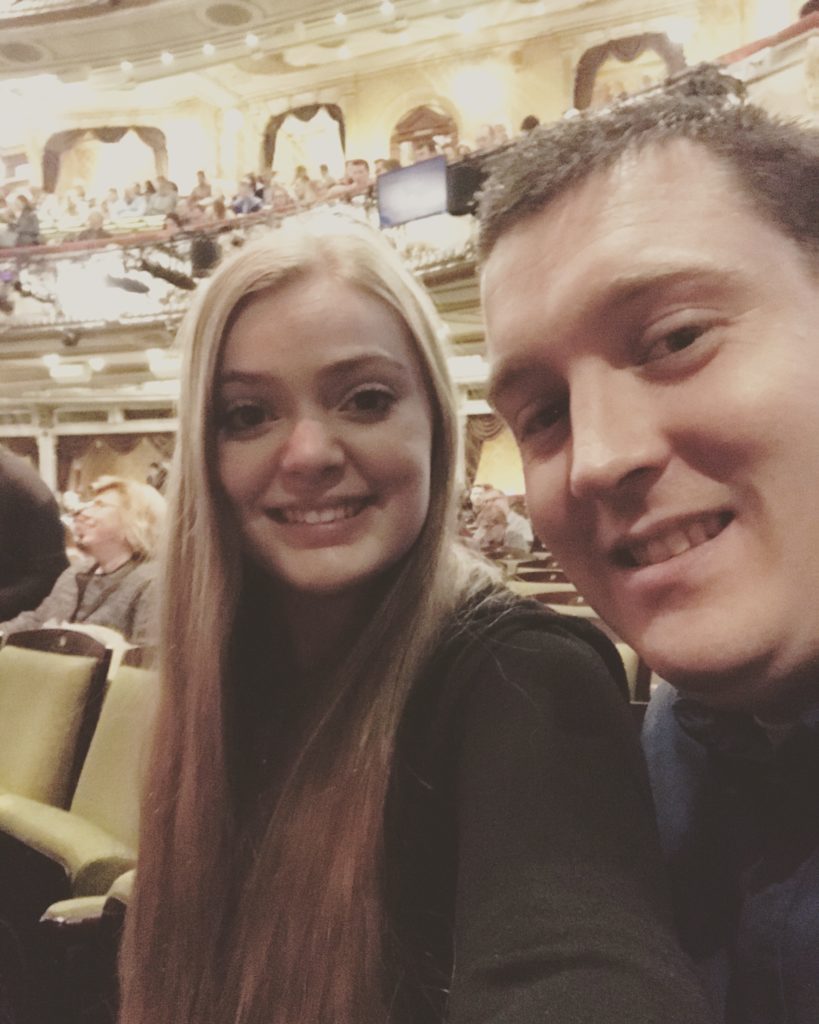 Running Times
The below running times are exact based on the performance we saw.
Act 1: 19:32-20:47 (1hr 15 mins)
INTERVAL: 15 mins
Act 2: 21:02-22:20 (1hr 18 minutes)
The Cast
We had 3 understudies/alternate cast members:
Alexander Hamilton: Karl Queensborough
Peggy/Mariah Reynolds: Sharon Rose
John Laurens/Phillip Hamilton: Stephenson Ardern-Sodje
Aaron Burr: Sifiso Mazibuko
Angelica Schuyler: Allyson Ava-Brown
Eliza Schuyler: Rachelle Ann Go
Marquis De Lafayette/Thomas Jefferson: Jason Pennycooke
Hercules Mulligan/James Madison: Tarinn Callender
King George: Jon Robyns
George Washington: Dom Hartley-Harris
The entire cast for Hamilton is incredible. From the ensemble to the principals they all gel together so well as a company. I think with shows such as Hamilton where there are such big characters all with a story to tell, it's important to get the casting right. Overall, I thought the casting was really spot on, I would just like to highlight Allyson Ava-Brown's performance as Angelica Schuyler, her voice is insanely good! She bought so much soul and sass to the show every time she was onstage and I just loved her. Another highlight I have to make is Tarinn Callender as Hercules Mulligan/James Madison, He was an absolute joy to watch and you can just tell he has so much fun when he is onstage.
All round, an incredibly talented bunch of performers!
Thoughts
There is no denying it, Hamilton a masterpiece of theatre. It's visually, technically and creatively stunning. Coming from theatrical backgrounds ourselves, me and Lee paid close attention to each detail throughout the show from the set and costumes to the lighting and sound, and the entire show was practically flawless. I loved the simplicity of the ensemble's costumes yet they looked so incredible and the detail was just perfect. The Principal cast members' costumes were stunning and I loved the modern touches that were kept in such as Hercules Mulligan wearing a beanie hat in Act 1!
The lighting for Hamilton is probably some of the best lighting design I have seen in any West End show. Never before have I felt the atmosphere shift as much as I did with the lighting changes in Hamilton. The warm lighting state that frequently occurs throughout the show just looks incredible against the wooden tones of the set and the lighting rig itself was a pretty impressive sight to behold.
Another thing I couldn't help but notice is that, even though the set is the same throughout the entire show, the impeccable storytelling, props and scenery all transform the look of the stage for each scene, so even though the bulk of the set is static and not much really changes, you feel like you have been transported somewhere else entirely. For instance, you experience Hamilton's office, a cabinet meeting, a ball and a battlefield all on the same stage with minimal props and set changes. Just goes to show how much the storytelling really takes over!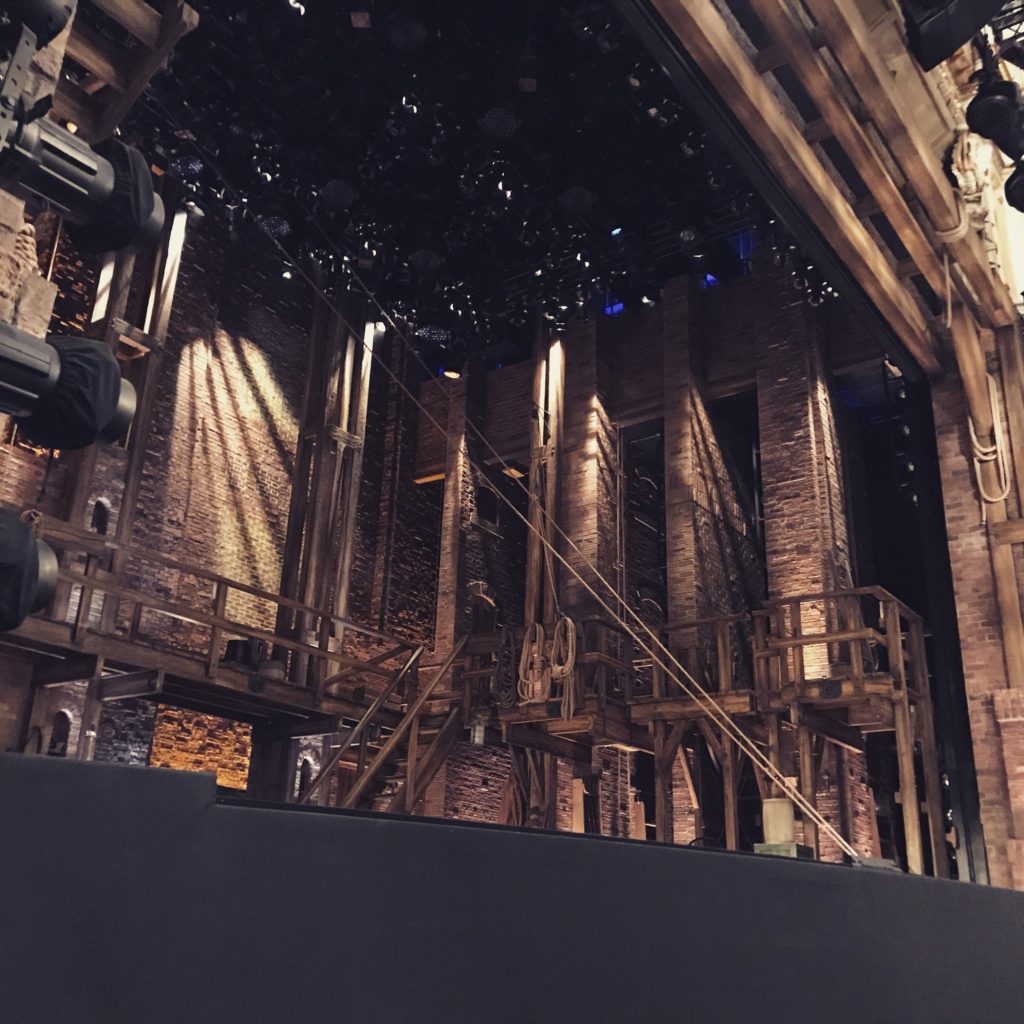 My only criticism would be that Hamilton is a long show. It runs at 2 hours 45 minutes including a 15-minute interval. I know some HamilFans will take offence to this, and there is no doubting that it is a genius piece of theatre, but, I personally felt that some of the songs weren't absolutely necessary i.e didn't add a lot to the story and could have been removed to make the length of the show a little more manageable. 😬 Still an absolutely incredible piece of theatre and a must-see at least once in your lifetime, however, when I hear some people saying they've seen it 10, even 20+ times, I just don't know if it's that loveable to want to sit through such a lengthy show so many times. I do feel the hype built up over the show was incredibly overwhelming, That's not to say it doesn't deserve it, Only in the sense that I had heard so many good things about the show and the hype surrounding it that the bar was potentially set a little too high with my expectations. Don't take this the wrong way, Hamilton is INCREDIBLE and I am just as obsessed with the music as I was before seeing the show, maybe even more so, however, I do think that those who have seen it 10+/20+ are either doing so for bragging rights or genuinely do love it and have taken out a mortgage to keep returning.

For such a vocally and physically demanding show for the cast, I know they are professionals, but I did feel a bit sorry for them when they only have a 15-minute interval to break up two 1hr 15 minute acts. How they do it 8 shows a week I will never know, they absolutely deserve awards for that stamina alone!
Highlights
Cabinet Battles – I'll admit, I kind of overlooked the Cabinet Battles when listening to the soundtrack as I feel like they're ones that you really have to watch to appreciate fully. Very clever and so funny at times!
King George – Hilarious. I will admit that I did find his appearances a little pointless at times but he was a great source of comic relief! DA DA DA DA DAAAAAAA!
Burn – beautifully done. One of the key times where the lighting atmosphere completely changed the dynamics of the show. Burn has always been one of my favourite songs from the show, one I really connect with and after seeing it performed right in front of me, it's now completely solidified somewhere in my top 10 favourite musical theatre songs.
It's Quiet Uptown – If Burn didn't have me welling up (it did) then 'It's Quiet Uptown' certainly did the trick! (even more-so) Eliza Schuyler Hamilton was too good for this world.
Overall, Hamilton truly is a remarkable show and a definite must-see for any fan of musical theatre or theatre in general. You will laugh, you will cry and pretty much everything in between. Make sure you get a ticket to be in the room where it happens!
RATING: ⭐️⭐️⭐️⭐️⭐️
DISCLAIMER: I am in no way sponsored by anyone to create my content/reviews. All views, thoughts and opinions are my own.