On the 16th of February 2019, myself and Lee went to see Waitress at the Adelphi Theatre in London. When I found out that Waitress was making a West End transfer, I was so excited! I was even more excited when I received tickets for the show from my boyfriend for Christmas (#bestboyfriendever). The day came around so quickly and I was really looking forward to seeing a show that I had been obsessing over for around a year. I'd learned all the songs, listened to them 1000 times each and built up my personal hype for the show. Upon watching it, I was not disappointed.
Waitress isn't just a show, it's an experience. From the second we walked into the theatre foyer, we were welcomed by the scent of freshly baked pies and a buzz of excitement by other audience members who had started to accumulate near the auditorium doors. We headed for the box office to collect our tickets and once we had them, I made a beeline for the merch stand. The merch was glorious, they had pins, mugs, magnets, posters, clothing, pass holders and even a Waitress the Musical cookbook! I would have bought everything if I had the money! Unfortunately, they had sold out of pins ☹️ but I was able to get up the rest of my usuals: I picked up a programme (£5), fridge magnet (£6) and a poster (£7).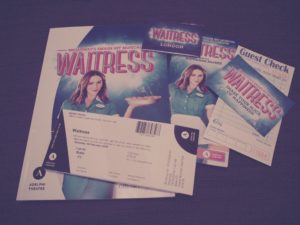 Soon it was time to head into the auditorium and I was so excited! We were lucky enough to have tickets in the stalls, we had really great seats (Row F, Seats 3 and 4) 10/10 would highly recommend. Unfortunately, being 5ft'2 it was typical that I should be seated behind an absolute skyscraper of a man. Not to worry, he ended up slouching in his seat for most of the performance (possibly dragged along by his GF) which gave me a great view!
I had seen a picture of the house tabs a few days earlier on Instagram but this still didn't prepare me for just how amazing they were in real life, the house tabs were indeed, a giant Cherry Pie.
30 minutes later, 'What's Inside' started and the show had begun!
Plot
Waitress tells the story of Jenna Hunterson, an incredibly talented pie baker who bakes and serves fresh pies at Joe's Pie Diner where she works alongside her friends, Dawn and Becky. Jenna is in the midst of a very unhealthy marriage at the start of the show, Her husband Earl takes control of all her earnings, mentally manipulates and even turns abusive towards her, She soon learns that she is pregnant after a drunken night with her husband and although terrified, makes the decision to keep the baby.
Jenna's dream is to enter the Springfield Pie Contest and win the grand prize of £20,000, which she hopes will give her the opportunity to leave her abusive husband and buy herself and her unborn child a new life. At first, Jenna is not exactly thrilled about her pregnancy or her new doctor for that matter (points she makes clear upon their first encounter) However, a few more appointments later and the pair start to experience feelings for each other. As the pregnancy starts to come to an end, and Jenna's plan starts to fall to pieces, she has to find the courage to do what is right for her and her baby's future, even if that means, going it alone.
The Cast
The casting for this show was probably the best cast I have witnessed for any show ever. Katharine McPhee plays our leading lady, Jenna Hunterson. I loved Katharine in Scorpion so was super excited to hear she would be making the West End transfer with Waitress. She was incredible, her rendition of 'she used to be mine' was absolutely stunning, It's one of my favourite songs in the show and I don't think there was a dry eye in the house. She absolutely set the bar high for future London Jennas!
Next, we come to David Hunter a.k.a Dr Pomatter. I first saw David 3 years ago as Charlie Price in Kinky Boots (also at the Adelphi) and thought he was fantastic! He has such an incredible voice and I loved his take on Dr Pomatter, he was hilarious. His facial expressions and characters shy, nerdy awkwardness throughout was a real delight to watch!
It really felt as though everyone was made for their characters, Laura Baldwin played the perfect Dawn, so sweet and clueless and so funny! Her rendition of 'When he sees me' was so brilliant and made the whole audience fall in love with her character. Marisha Wallace plays Becky, the feisty, sassy and confident member of the trio of Waitresses. Marisha's character brought so many comedic moments to the table and had the audience absolutely spellbound when she sang 'I didn't plan it' she was amazing. WHAT a voice!
Jack McBrayer stars as Ogie, Dawns lovable, funny and awkward love interest. They share so much in common and are such a sweet couple! Jack also brought so much humour to the show and had the audience practically peeing themselves at his antics ('the British are coming!')
We all loved to hate Earl played by Peter Hannah, an incredible portrayal of the bad guy with Sean Prendergast and Stephen Leask rounding off the principal cast with their excellent performances as Joe and Cal (the owner of the diner and the Cook)  The show is also packed with a great ensemble to boot and it was great to see Olivia Moore in her second West End show after seeing her in 'Heathers' at The Other Palace last June before its transfer to a West End Theatre.
Thoughts
Firstly, hats off to Sara Bareilles who brought the 2007 original movie to life with her music written for the show. Her songs are truly incredible and it's so refreshing to see a show in which the entire creative team are female. (Not to down-tread male creatives, but it's about time women were recognised a bit more in the production industry) Revolutionary.
The range of merchandise was really, really good. They even serve tiny pies in the interval, which I just had to try! They were £6 each which was slightly pricey and mine didn't seem to have any pastry/crumble on the top, it was literally just the pie filling but it was still good!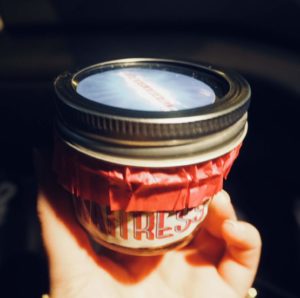 Waitress has easily become my new favourite show, overtaking it's predecessor 'Kinky Boots'. I really felt that I could relate to the story and characters a lot more and the music is just everything I look for in a Musical! I laughed, cried and sang along to the finale when the show received a much-deserved standing ovation. I loved everything about this show, and that's not an overstatement. The set, the costumes, the story, the characters and the humour were just so good! I really wasn't expecting the show to be so funny but it was absolutely hilarious. 'Bad Idea Reprise' had the audience howling with laughter! The comedy was just so unexpected which made it all the funnier, I just can't express how much I love this show. I will 100% be seeing it again, hopefully before they have their first cast change!
All in all, Waitress was just amazing. It was everything you need in a show, great music, great story, emotion, comedy. I didn't see a single person walking out without a huge smile on their face after the show (or bawling their eyes out!) I love love LOVE it!
If you see any show this year, make sure it's Waitress.
RATING: ⭐️⭐️⭐️⭐️⭐️
DISCLAIMER: I am in no way sponsored by anyone to create my content/reviews. All views, thoughts and opinions are my own.