Planning a trip to Walt Disney World can be pretty overwhelming if you're not a seasoned Disney-goer and especially for first-timers. Today I thought I would share my top-tips that might make your trip a little bit easier!
Bring as much luggage as your flight will allow but DON'T overpack.
It's a good idea to bring as much luggage as your flight will allow in preparation for souvenirs and merchandise you want to bring home. For example, we flew with Virgin Atlantic and we were allowed 1 hold size suitcase (23kg), 1 cabin bag (1okg) and 1 backpack each. That's quite a lot when you think about it, and believe me, you will underestimate just how much stuff you will end up bringing home!
If you see something you like, buy it. Don't wait.
Learned this one the hard way! If you see something you want to buy at some point during your trip, buy it when you first see it. Merchandise changes and sells out so quickly that It may not be available if you wait until later.
Bring your own water bottle.
Don't pay $3+ for a bottle of water in the parks, bring your own bottle and you can refill it at any Quick Service restaurant or Starbucks. Also, the water from the drinking fountains around the parks doesn't taste great!
Alternatively…
Buy a refillable mug.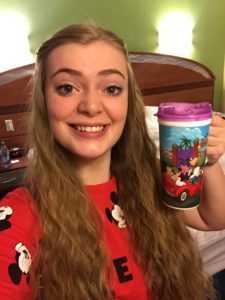 The Disney refillable mugs are actually really good value. They are $18.99 (March 2019) and you get free refills for the duration of your stay. The only catch is, you can currently only get refills at the Disney resorts, not in the parks. (But again, you can fill these up with water from any QS restaurant or Starbucks)
Make the most of using MDE (My Disney Experience)
If, like me, you like to plan your trip from start to finish, or you just want to have some guaranteed ride times, then use the My Disney Experience app/website. They're not the most reliable of applications (they tend to shut down a lot) but when they work, you can book your dining reservations and FastPass+ reservations in advance (to guarantee a spot on the best rides) You can also personalise your trip on MDE, such as choosing which colour Magic Band you want.
Plan on your transport to the parks taking longer than you expect.
The parks aren't as close together as you'd think, and neither are the resorts for that matter. The buses can take a little while depending on where you are staying, so make sure you plan ahead with your journey times.
Take a trip to the nearest Walmart/Publix and buy snacks there.
Unless you have a Disney Dining Plan, food will most likely be the biggest outlay of your trip. To make things cheaper, take a trip to the nearest Walmart/Publix to buy some snacks. It will be much cheaper than buying stuff in and around the parks and you can even get Disney-themed snacks and some great merchandise at a fraction of the park prices.
Try to get to the parks early.
Rope drop (park opening) is one of the quietest times of the day to visit the parks. It's a great way to avoid heavy queues and the midday heat, you can do a few rides then head back to your hotel for a bit to rest then make it back for the evening events.
But, in saying that…
Take everything at your own pace.
If you know you're going to need that extra few hours sleep in the morning, then do it! This is your holiday, don't push yourself to be at the parks from rope drop to fireworks, you will end up tiring yourself out and you're less likely to enjoy your time when you're tired!
Pin trading.
Pins in the parks cost from around $6.99 upwards each, which means Pin Trading can become pretty costly. If you're interested in pin trading, my top tip would be to buy a starter pack before you go. You can get genuine Disney starter packs and bundles of pins for really great prices on eBay, this means you can save money on pins in the parks.
Use mobile ordering.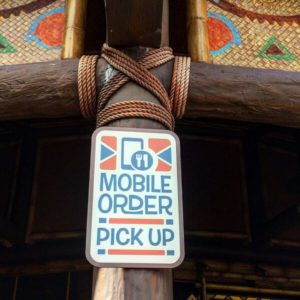 Trust me! There was a queue almost to the entrance of Country Bear Jamboree when we went to Aloha Isle for a Dole Whip and the mobile ordering queue was empty. We were able to skip the entire queue and got served quicker. 😊
Prepare yourself for bag check/security.
Every time you try to enter a park, you will have to go through security and bag checks first. Make sure you are prepared by having your bags open and ready for inspection, or better yet, consider not taking a bag to the parks and then you can get in much quicker 😊
If you're staying on-site, make the most of the EMH (Extra Magic Hours)
Extra Magic Hours are available to those staying on-site at a Disney resort. They are set for different parks each day and allow you to either enter the parks before they open to the public or stay later after the parks have closed. EMH are a great way to experience the park when they are much quieter.
So there are my top tips for first-timers at Walt Disney World, do you have anything you would add to the list? Let me know in the comments below!
Until next time!
---
Related
One-And-Done Disney Attractions