Hey Everyone, welcome to November! I know it's been a while since I last posted but unfortunately work seems to have consumed all the time in my life lately! I've been super busy and then end up just wanting to chill when I get home! Speaking of, home life has been better than ever! I've been getting back into my crafting and since I recently left my job at the Cinema I worked at part-time, I'm slowly getting more and more time for my hobbies again. I'm sad to have left the cinema as it was such a great place to work and the people were the loveliest team to work with, I just felt that working full time during the day and then part-time a few evenings a week was really tiring, so sadly, I made the decision to leave. But as I said, It does mean that I do now have a little more spare time on my hands!  Anyway enough rambling, it's November!!
That's right, November is here and that means it's now officially acceptable to start getting excited for Christmas! (well, it is in my books anyway!) As you will know if you have followed my blog since the beginning, Autumn (October, November and December) is my favourite season of them all. Days get shorter, nights get cosier and the festive feels are in full swing! Not to mention nature's beautiful transformation 🍂🍁And the fact that it's officially hats, gloves, scarves, boots, coats and jumper season! My favourite attire!
There is something to look forward to each month now until the end of the year, we have just passed Halloween which always makes me excited because it kicks off the first of the upcoming festivities with a spot of Pumpkin Carving. This year I decided to stray from my tradition of doing a Jack Skellington pumpkin and try something new. Never fear, I didn't stray far and did an Oogie Boogie pumpkin instead! I'm quite pleased with how it turned out and have now left the pumpkin out in the garden for the squirrels and birds to feast on, as many others have in the woods where we sometimes walk…

Tonight is, of course, Guy Fawkes Night. I know they're not exactly good for the environment but I absolutely love fireworks. They are just so pretty and make me feel all excited for Christmas, I also love that you can feel the boom of the really loud ones! 🎆 Along with Guy Fawkes Night comes some delicious snacks such as cinder toffee/honeycomb and toffee apples, YUM. What's not to love?? There have been lots of fireworks going off this past weekend, but we hopefully will be going to see an official display tonight!
Even though I know that Bonfire Night tonight is next, In my mind, Christmas has been next since I got back from Disney and I'll tell you why. The parks were decorated ready for Halloween and we were lucky enough to attend Mickey's Not So Scary Halloween Party in September, so I felt like we'd covered Halloween after that, We also saw a Fireworks show almost every night that we were at Disney, so felt like we had passed Firework Night too, and that just leaves Christmas!
Christmas is my absolute favourite time of the year. The lights, the music the food, everything just feels and looks better around Christmastime! People are happier and in good spirits and I just love the anticipation leading up to Christmas day. I will be sure to keep you all posted with wrapping tips and maybe even a tutorial on some Christmas crafts I've been making lately…
I'm hoping that I can spend my time over the next few weeks blogging, going for nice Autumn walks, taking lots more Autumnal photographs before the leaves completely fall off of the trees (see the few I managed to take on a recent food shop below) and start preparing for the most magical time of the year! I have so many ideas for blog posts and so much I want to do this Christmas, I'm hoping I get the time and chance to do it all 😊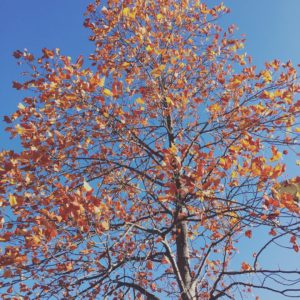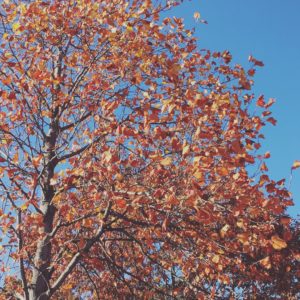 That's all for now, I will hopefully be blogging more regularly from now on so keep your eyes peeled for new posts!
See you soon!
Beth x