Hello everyone! We are back from Florida and my god, what a holiday we had! 'The Disney Blues' haven't fully settled in yet as I am trying to keep my mind busy with my blog and getting excited for Halloween, Bonfire Night and Christmas. For now, I thought I would give you a brief overview of what our Disney World holiday was like!
The Flight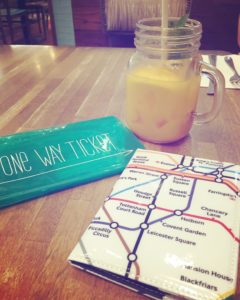 After 129 days of planning and prep, our travel day finally came around! We flew with Virgin Atlantic from Gatwick Airport on Wednesday 29th August 2018 and it was the best flight I've ever had! Lee paid a little extra for us to sit on the upper deck of the plane for a better experience and it was amazing! I'd only ever been on short-haul flights before now, where the planes didn't even have a second floor, but this plane was HUGE. It was the most luxurious flight I've ever been on, the service was amazing and there was a great range of entertainment to choose from. I watched 'Coco' and 'Toy Story' on the plane to kick off the Disney spirit! I was also surprised to see they had a great choice of music to listen to including original Broadway cast recordings such as 'Hamilton' and 'Mean Girls The Musical'. We were given plenty of snacks and drinks during the flight and a really nice meal as far as plane food goes! I think it was the first flight I've been on and not had any anxiety or felt nervous about 😁👍🏻
Arrival in Florida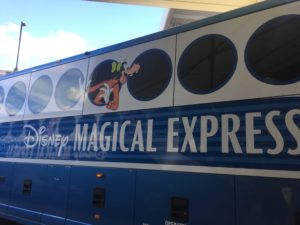 8 Hours and 15 minutes later, we touched down at Orlando International Airport and I was BUZZING. We made our way to the Disney's Magical Express station and the magic began! The Magical Express buses are the transportation service for on-site guests at Disney World and they are the coolest buses ever! A short 30-minute drive later and we arrived at our hotel.
Disney's All-Star Music Resort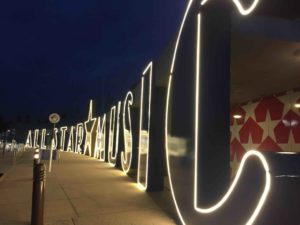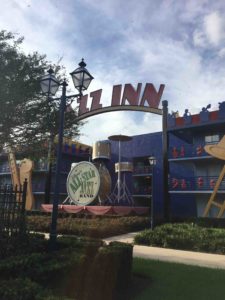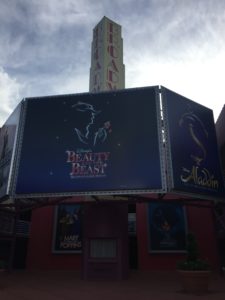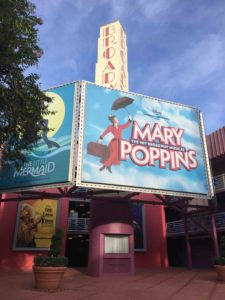 We stayed at Disney's All-Star Music Resort which is one of Disney's value hotels. The value hotels are HUGE and have different sections, We stayed in the Jazz Inn but took a stroll over to the Broadway section of the hotel because I'm a big musical theatre fan. The theming of the hotel was so well thought out and detailed, it really built the excitement of what was to come over the next two weeks. The Intermission food court has a great selection of snacks, sweets, meals and drinks to choose from, albeit a little expensive, however, portions were quite large so we just bought one meal to share between the two of us most of the time. Our Favourite meal we only discovered on our last few days which was seared chicken breast with garlic mashed potatoes and green beans – it was delish! They also have a great bakery section and an ice cream parlour where you can get cupcakes, pastries, ice cream sundaes, milkshakes, smoothies etc. We tried a couple of the cupcakes, an Ariel one and one of their Halloween seasonal ones which were Coco themed, but unfortunately, they didn't taste as good as they looked 🙁
The hotel also ran activities throughout the day including pool games, music quizzes, a tie-dye station, caricatures, and table tennis as well as having an on-site games arcade. The resort shop (Maestro Mickey's) is also really good. It has lots of merchandise including toys, clothes, bags, stationery, pins, collectables etc. The only thing that was a bit of a let down with this hotel was that Mousekeeping sometimes hadn't been around to clean our room by the time we got back from the parks in the evening some days, but others they were knocking on the door at 8 am to clean, so there was just a bit of inconsistency with the timing! Other than that, the hotel was great and I would definitely stay again!
The Parks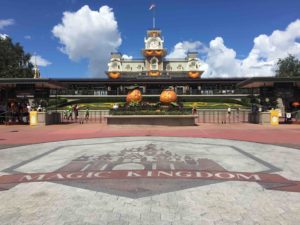 Now we come to the parks. Of course, we spent our first few days at the Magic Kingdom which is mine and Lee's favourite park. It's just the best feeling in the world to walk down Main Street for the first time and see the castle at the end of the street. The Cinderella castle in Disney World is so much more magnificent than the Sleeping Beauty castle in Paris. Now, don't get me wrong, they are both beautiful and a wonder to look at but there is just something about the Cinderella Castle, It's stunning! The rides at the Magic Kingdom are so much fun and I love that it is split into different sections, Adventureland, Frontierland, Fantasyland, Tomorrowland, Liberty Square and Main Street U.S.A. All very different with a variety of rides and attractions and all designed to look like different lands/periods in history. We found a new favourite ride while we were in the Magic Kingdom (all to be revealed soon!) and ticked plenty of things off of our Disney World bucket list! The Happily Ever After fireworks were my absolute favourite and I cried every time we watched them (damn you Disney!) they were just so incredibly beautiful! Lee surprised me on our last night with tickets to Mickey's Not So Scary Halloween Party were we trick or treated our body weight in sweets (see pic below) got exclusive collectables only available to Halloween Party Ticket holders (pins and sorcerers of the magic kingdom cards) and watched exclusive parades, shows and fireworks (get us!!) It was so much fun and I will update you on the Halloween Party in more detail over the next few weeks.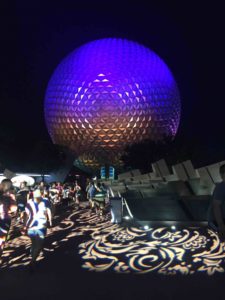 Epcot was the next park we did on our trip, I was massively excited for Epcot as pretty much everyone we know who has already been to DW has said that Epcot was their favourite park, also, I was just really excited to do the world showcase. When we arrived at Epcot we looked around Future World a little bit before heading over to the world showcase. We started in Mexico (the correct way to start the World Showcase) and then ended up for some reason going back over to Future World and going around the world showcase the wrong way and ended up in Canada 🤔Anyway, it was soooooo hot at Epcot as a lot of it is outside so we ended up heading back to the hotel for a bit and leaving Epcot to another day. When we eventually went back to Epcot, it took us another 2 days to fully finish the world showcase as one of the days we focussed mainly on the Food & Wine Festival (which was a lot of fun to try foods from around the world!) I'd highly recommend going to Disney World when the food and wine festival is on at Epcot, my only nag would be that the portion sizes they give you for the festival are very small for the price you pay for it, so I think they would benefit from either dropping the prices of the food samples or making the portions slightly bigger, It's very easy to end up spending $100 on the food alone at food and wine. Epcot is also home to one of my favourite rides, more on this soon!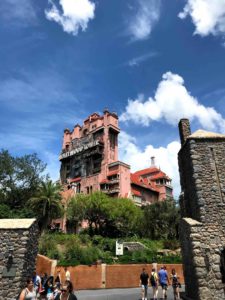 Hollywood Studios was next on the list for us, we hit Toy Story Land straight away and absolutely loved it! Hollywood Studios is where all you Star Wars fans will find the Star Wars stuff, including Star Wars Launch Bay, Jedi Training and Star Tours. They are also currently building 'Star Wars: Galaxy's Edge' which is the new Star Wars land and looks very cool! We tried to watch the Indiana Jones Stunt Spectacular but it was called off due to inclement weather and we never had a chance to go back and watch it ☹️so that is definitely on the list for next time! We watched both fireworks shows that Hollywood Studios had to offer: Fantasmic and the Star Wars Galactic Spectacular both of which were very, very good! We also discovered that the Dockside Diner in Hollywood Studios do the best Nachos (we had these about 4 times) delish!! Hollywood Studios is also the home of the Muppet Theatre (for those of you who don't know, I am a huge Muppets Fan!) you can also see the Muppets in the Magic Kingdom in Liberty Square, if you're in the right place at the right time, you might just catch one of their "Great Moments In History" the only thing I was quite sad about was that Disney World doesn't currently do any Muppets pins ☹️ They did do a really cool plush of Kermit the frog though which in hindsight, I should have bought. Oh well, add it to the list for next time 😉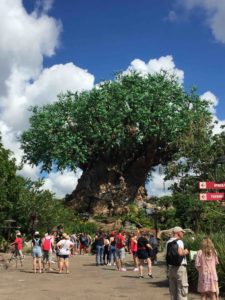 Finally, we explored the Animal Kingdom. The Animal Kingdom is where you will find Pandora – the World of Avatar where everyone is going crazy for one ride, in particular, Flight Of Passage. We were incredibly lucky to have booked fast passes for FOP and it was just incredible. Its a bit like Soarin' at Epcot but if Soarin' were on steroids. It's crazy. We ate great food at the Animal Kingdom and watched Finding Nemo the Musical which was the best, I bloomin' love that show! You can also go on safari in the Animal Kingdom, we did and it was such a fun experience! We did, unfortunately, miss a lot out of Animal Kingdom when we went but that was only because we didn't know that a lot of it existed! We did have a map but the park itself is not very well signposted (we got lost a couple of times!) 😬It does mean that there is still a lot for us to explore next time though! The Animal Kingdom was probably my least favourite Disney park but that might just be because we missed so much out, it didn't feel like there was much to do here that's all!
The Weather
HOT. Everywhere is so bloody hot. I bought cooling towels as you may know if you read my previous blog post, but pretty much ended up using them to dab our faces dry from the sweat 😓(we did wash these before using them again for their intended purpose just so you are aware) The heat was a nice change from the great British weather we are used to, It did rain a couple of times throughout the 2 weeks but to be honest, it was a welcome aid in cooling us down! Towards the end of our holiday, Hurricane Florence was starting to head towards us so there were a few electrical storms on our last few evenings, which were quite scary/cool but there are so many lightning rods placed throughout each park, you know you're technically pretty safe. All in all the weather was great, we got a fabulous tan and consumed our body weight in frozen/ice cold drinks, win-win.
The Flight Home
The flight home was nowhere near as easy as the one coming over. We were delayed by an hour to start with, which was okay, no big deal for us we just got some food and explored the terminal for a while before we were able to board. The main issue was that the flight was overnight, Now, I like to be able to see what's going on out of the window but being night time, I couldn't see a thing. To make matters worse, the air stewardess' told us all to close our window blinds so the sunrise wouldn't be too bright (bearing in mind this was at the start of the flight and sunrise was at least 7 hours away!) so I felt really caged in and then the turbulence started. I'm normally absolutely fine with turbulence but I was already feeling on edge. The turbulence went on for what seemed like forever, I tried listening to music and watching a film but I just could not relax. I found some comfort in the fact that nobody else on the plane seemed worried about the turbulence. Lee eventually saw that I was feeling really anxious and decided to take my mind off of it all by playing a game together on the in-flight entertainment system, thankfully, this worked! 😇It won't stop me from flying again but it wasn't a flight I would like to experience again any time soon! 😬
We had the best holiday ever at Disney World and I will update you in the coming weeks with photos, what we bought when we were there, what we ate and lots of tips and tricks for your Disney World holiday!
See you all soon!
Beth 😁