⚠️ WARNING MY INCREDIBLES 2 REVIEW MAY CONTAIN SPOILERS! (DUH..)  ⚠️
After FOURTEEN long years, the wait is over! The Incredibles 2 is finally here, and it is SO worth the wait!
The movie picks up exactly where the first one left off,  We see the Parr family set out to save the day against the Underminer, which unfortunately doesn't end so well for superheroes in general and the Parr's have to adjust to a life in hiding, something that Bob (Mr Incredible) finds especially difficult. Jumping from motel to motel, the Parr's grow further and further apart until an opportunity arises to bring supers' back into the limelight once again. This time, It's Elastigirl who gets her big break.
Businessman Winston Deavor is a big fan of superheroes and is on a mission to make all supers legal again. He drafts in Frozone, Elastigirl and Mr Incredible himself to carry out his plan, however, the first mission requires only Elastigirls skills (much to Mr Incredibles disappointment) leaving Bob to carry out dad-duties in their swanky new house, courtesy of their new job. This proves difficult for Bob as he struggles with helping Dash with his maths homework, Trying to repair the broken heart he caused of his daughter, Violet and keep up with baby Jack-Jack's ever-growing powers.
The Incredibles 2 introduces a new villain called ScreenSlaver (very clever name) who hypnotises his victims through their TV/computer screens and manipulates them into thinking that superheroes are the real problem and that the only option is to get rid of supers forever. He/She can also control the people who are brainwashed into doing things while they are completely unaware of what they are doing. Elastigirl's job is to track down ScreenSlaver and stop him from brainwashing the public with his hypnotic trance. ⚠️I will just shout a warning here, please be careful seeing this movie if you suffer from photo-sensitive Epilepsy or find it uncomfortable to watch flashing images- this movie has a LOT of them, and they're extremely intense. One scene, in particular, is very full on with flashing images which I believe has now been cut from the UK release of the movie ⚠️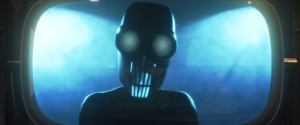 You may remember at the end of the first movie, Jack-Jack finally gets his powers, which included setting on fire, making himself extremely heavyweight and turning into a raging red demon baby. Well, turns out that's not all he can do… Throughout the movie, Bob, Dash, Violet and Lucious (Frozone) try to keep Jack-Jacks powers a secret from Helen (Elastigirl) in an attempt not to worry her or make her stray from her mission. Helen eventually finds out when the kids have to save the day and retrieve the adults from ScreenSlaver's trance. Disappointed that she missed his first powers, Bob explains to his wife that she actually missed Jack-Jacks first 17 powers:
Self-Duplication
Shapeshifting/Polymorphism
Raging Red Demon Baby
Turn himself into a human fireball
Teleportation to an alternate dimension
Levitation
Laser Vision
Size alteration (expansion/supersize growth)
Make himself extremely heavy by turning himself to solid metal.
Superhuman strength
Superhuman Durability
Telekinesis
Intangibility
Psychic Detection
Electrokinesis
Molecular Vibration
Wallcrawling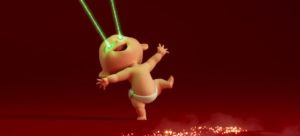 Keeping Jack-Jacks powers a secret and running the household while wife Helen is away on a mission, eventually takes its toll on Mr Incredible who slowly begins to lose his cool and when he realises he can no longer cope, seeks the help of old friend Edna Mode. We see a really funny moment with Jack-Jack and Edna after an exhausted Bob takes him to get a super suit made in the hopes that she can design something that will make Jack-Jack's powers more manageable and let Bob get some rest. Edna at first is horrified at the thought of being left with the baby overnight until Jack-Jack showcases his powers to her. This hilarious situation leads to Edna and Jack-Jack becoming the best of friends, which contributes to some of the comedic scenes in the movie and is genuinely really heart-warming to see!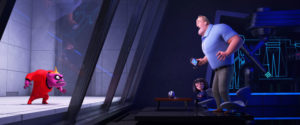 With an unexpected (or in my case expected!) identity reveal of the villain ScreenSlaver, all hell breaks loose when Elastigirl becomes 'enslaved' when a pair of ScreenSlaver's hypnotic goggles are forced over her eyes by the Villain itself. This becomes somewhat of an epidemic throughout adult superheroes and when both Frozone and Mr Incredible also fall under ScreenSlaver's control, it's up to the kids to save the day. This movie re-introduces Mr Incredibles beloved supercar, The Incredibile – much to Dash's excitement! The kids end up obtaining the Incredibile to carry out their own mission to save their parents, This time, with baby brother Jack-Jack in tow. Violet, Dash and Jack-Jack brave the danger that stands before them and with their powers and strength combined, nothing is going to get in their way.
With twists, turns and hilarious scenes, The Incredibles 2 is a credit to the first movie and is simply amazing! It is refreshing to see a superhero movie that is centred slightly more on female protagonists, which this movie seems to promote with characters such as Elastigirl and daughter Violet. I think this is really great for young girls who will see this movie and have strong female characters to look up to. 14 years ago when the first movie was released, I remember my 7-year-old self thinking how cool Violet was and wishing I had powers like her (still do if I'm honest)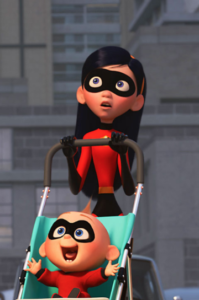 I love how movies like this are widening kids imaginations and becoming more inclusive and encouraging both boys and girls that everyone can be a superhero. There really is something for everyone in this movie, there is quite a scary scene (in my opinion) at one point, however, the comedic segments and nostalgic references from the first movie lighten the mood when things get a little bit spooky. There are also quite a few easter eggs to be found throughout the movie, including the classic Disney/Pixar easter eggs 'A113', the Luxo Ball and Pizza Planet truck which can be found in most, if not all Disney Pixar movies. See if you can spot them in the Incredibles 2.
Overall I give 'The Incredibles 2' a gigantic 5 stars! Very well deserved for the Pixar sequel we've all been patiently waiting for, and what a fantastic film it is.
You could even say it's Incredible…
Rating: ⭐️⭐️⭐️⭐️⭐️
---
Click HERE to see my other movie reviews!