Hey everyone! Welcome back, if this is your first time visiting my blog then welcome in general, So, Today I thought it would be cool to show you my latest book purchases. I have to confess, I have a bit of an addiction when it comes to buying books 😬 I tend to buy most of mine from supermarkets or charity shops as I find they are always significantly cheaper (half price or less) That's not to say that I don't buy from mainstream bookshops such as Waterstones, I do sometimes if there are good deals available, however, I just don't see the point of paying more money for the same thing.
Charity shops in particular can be an absolute gold mine when it comes to books. I've found that a lot of people buy books to read only once and then donate them to charity shops; which means you get a great read, most of the time in nearly new condition and averaging at around £1 or less (the most I've ever paid for a book at a charity shop is £2.00) so you can't really go wrong!
Now, Without further ado, here are my January/February book buys!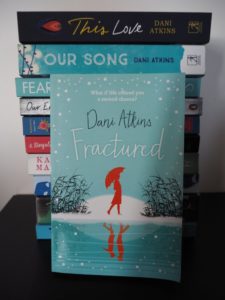 I picked this one up in a charity shop a couple of weeks ago. I know they say 'don't judge a book by its cover' but when it comes to choosing books, what it looks like from the outside heavily influences whether or not I will pick it up. This one caught my attention because of it's simplicity. I also really like the idea of hearing the flip side/two very different alternatives of the same story.
Blurb:
The night of the accident changed everything…
Now, five years on, Rachel's life is crumbling. She lives alone in a tiny flat, working in a dead-end job, desperate with guilt 0ver her best friend's death. She would give anything to turn back the clock. But life doesn't work like that… Does it?
The Night of the accident was a lucky escape…
Now, five years on, Rachel's life is perfect. She has a wonderful fiancé, loving family and friends around her, and the career she always wanted. But why can't Rachel shake the memory of a very different life?
Can two different stories lead to the same happy ending? Or will Rachel stay fractured forever?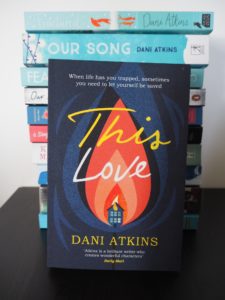 Another one from Dani Atkins. I actually found this one in a discount book store for £3 brand new. Upon reading the blurb I was intrigued as to what tragedy could have occurred to the main character that made her lose faith in 'happy endings' at such a young age.
Blurb:
Sophie Winter lives in a self-imposed cocoon – she's a single, thirty-one year old translator who works from home in her one bedroom flat. This isn't really the life she dreamed of, but then Sophie stopped believing in happy endings a very long time ago, when she was fifteen years old and tragedy struck her family. Her grief has left her scared of commitment and completely risk averse. Sophie understands she has a problem, but recognising it and knowing how to fix it are two entirely different things.
Until one night a serious fire breaks out in the flat below hers, leaving her trapped. Her cocoon must be shattered – but what will be the consequences of this second life-changing event?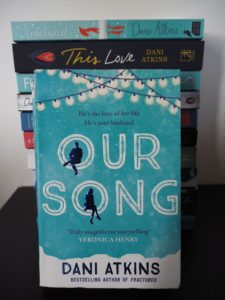 Another book from yep, you guessed it, Dani Atkins, I hadn't actually realised at the time that I'd bought so many books by the same author, she just seems to be everywhere at the moment! I've never read any of her books before so I'm excited to see what they're like!
Blurb:
He's the love of her life, He's your husband.
David has lived life to the full. He fell in love with Ally at university.
Ally walked away from David at the snowflake ball nine years ago and tried to forget. She is now married to Joe.
Charlotte fell in love with David at first sight. She has never forgotten Ally and suspects David feels the same.
Joe fixed Ally's broken heart and built a family with her.
Four lives, interwoven in many more ways than they know, Over the course of one night, everything will change.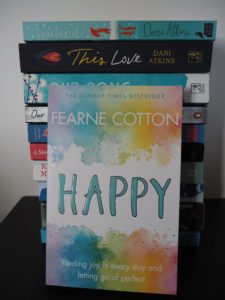 Unlike the rest in this post, this one is a non-fiction book. I've seen a few books Fearne has written about self-acceptance and positivity etc and I think it's such a great idea! There are lots of people (like me!) who need a little positive boost sometimes and a book is a great way to get that, especially ones like this where there seems to be little challenges, tips and journal ideas along the way.
'Happy' is all about Finding joy in every day life and letting go of perfect.
Our Endless Numbered Days – Claire Fuller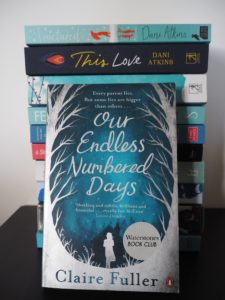 I must admit, this one sounded pretty creepy to me. Maybe it's just me but the idea of being told basically nothing and nobody else exists anymore is kinda scary! Nevertheless I'm excited to read it, read the blurb and see what you think….
Blurb:
Every parent lies. but some lies are bigger than others…
Peggy is eight years old when her father takes her to live in a cabin in a remote European forest. There, he tells her that her mother and the rest of the world is gone.
Now the two of them must scratch a living from the Earth: trapping squirrels, foraging for berries, surviving winter as best they can.
But it's easy to lose your way in the forest, to lose yourself. how long will Peggy believe her father's story? How long can you stay sane when the world is lost? And what happens when you stop believing in everything?
The Keeper of Lost Things – Ruth Hogan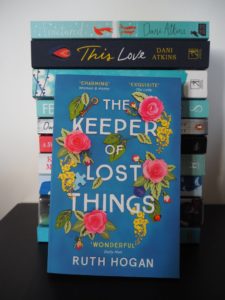 I almost bought this one just before Christmas but stopped myself as I needed to be careful with ££ (Damn you, Christmas!) However, after seeing it in a charity shop for only 30p in perfect condition, I simply couldn't resist! Such a bargain and one I've been wanting to read for a long time!
Blurb:
Meet the 'keeper of lost things'…
Anthony Peardrew has spent half his life collecting lost objects, trying to atone for a promise broken many years before.
Realising he is running out of time, he leaves his house and all its lost treasures to his assistant Laura, the one person he can trust to reunite the thousands of objects with their rightful owners.
But the final wishes of the 'keeper of lost things' have unforeseen repercussions which trigger a most serendipitous series of encounters…
The Singalong Society for Singletons – Katey Lovell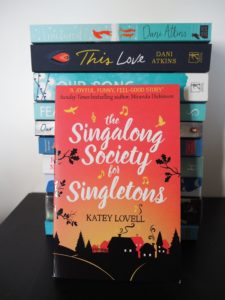 A book with musical theatre in it? Yes please! This one looks and sounds like an easy, light-hearted read, definitely one to look forward to!
Blurb:
Monique and Issy are teachers, housemates and lovers of musicals! Their Friday night routine consists of snacks, wine and DVD's. So when Monique's boyfriend moves to America for a year and her sister Hope moves in because of her own relationship woes, Friday nights get a new name… 'The Singalong Society for Singletons'.
It's a chance to get together, sing along to their favourite tracks from the best-loved West End shows, and forget the worries of work, relationships and love (or lack of it). but when Issy shares the details of their little group further afield, they get some unexpected new members who might just change their opinions of singledom for good….
WARNING: POTENTIAL TEAR-JERKER.
I heard about this one from a YouTuber whose video's I watch and it just reminded me of 'Me Before You' by JoJo Moyes (which I loved!) Couldn't believe my luck when I came across it in a charity shop a few weeks ago, I just had to grab it!
Blurb:
What if the moment he needs you most… Is the moment you were going to leave?
On the day Hannah is finally going to tell her husband she's leaving him, he has a stroke… and life changes in an instant.
Tom's only 32. Now he can't walk or cut up his own food, let alone use his phone or take her in his arms. And Hannah's trapped. She knows she has to care for her husband, the very same man she was ready to walk away from.
But with the time and fresh perspective he's been given, Tom re-evaluates his life, and becomes determined to save his marriage. Can he once again become the man his wife fell in love with, or is it too late?
The Understudy – David Nicholls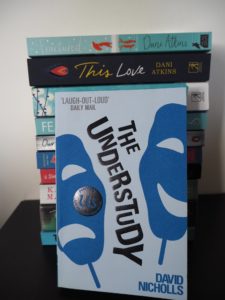 I saw this one with a different cover in a charity shop and was in two minds whether to buy it or not (my hands were pretty full!) I decided against it as I literally couldn't carry any more books to the checkout, however, upon entering the next charity shop, there it was again. I took that as a sign that I needed to get this book, which I did and ended up getting this one which had a much nicer cover! Again, theatre related so should be a good read!
Blurb:
To find the thing you love, and do it to the best of your ability, no matter what people say.
Isn't that all anyone wants?
Stephen C McQueen has spent his whole life waiting in the wings. His big break, when it comes, is not quite what he expected…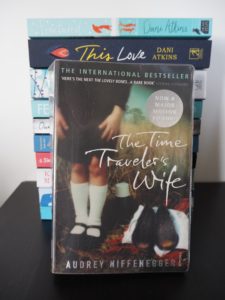 Now, this one's an oldie but I've never seen the movie or read the book. I found this copy in my local library's book sale for 30p!
Blurb:
This is the extraordinary love story of Clare and Henry who met when Clare was six and Henry was thirty-six, and were married when Clare was twenty-two and Henry thirty. Impossible but true, because Henry suffers from a rare condition where his genetic clock periodically resets and he finds himself pulled suddenly into his past or future. In the face of this force they can neither prevent nor control, Henry and Clare's struggle to lead normal lives is both intensely moving and entirely unforgettable.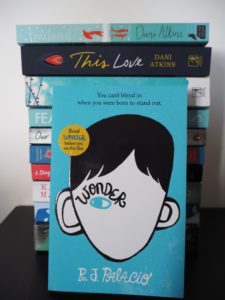 I got this one from a supermarket as it's recently been made into a movie so the book has circulated back around again. My mum read it not long ago and said it was good so I thought I'd get it for myself!
Blurb:
You can't blend in when you were born to stand out.
My name is August. I won't describe what I look like. Whatever you're thinking, it's probably worse.
So, those are my January/February purchases, have you bought any new books recently? And what are you currently reading? Let me know in the comments below!