Hello! It's me, back with another reading challenge update! I know I've been really, really slack on the blog front lately, I'm still trying to work out a work/life balance at the moment and unfortunately, it has meant I've had to prioritise other things over the blog. I've got a bunch of draft posts waiting to be published so I'm going to make writing a priority as much as I can from now on! Anyway, this month's read was The Midnight Library by Matt Haig. I'd heard a lot of good things about this one for ages and was recommended it so many times, I was super excited to get stuck in when I finally bought a copy!..
The Midnight Library – Matt Haig
Genre: Fiction/Fantasy/Contemporary/Mental Health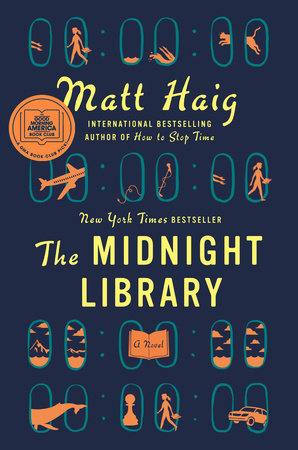 Blurb:
Nora's life has been going from bad to worse. Then at the stroke of midnight on her last day on earth she finds herself transported to a library. There she is given the chance to undo her regrets and try out each of the other lives she might have lived. Which raises the ultimate question: with infinite choices, what is the best way to live?
Since childhood, I've never had a favourite book but this right here, is it. The book of all books. 'The Midnight Library' made every other 5-star review I've ever left seem unworthy of 5 stars.
The book tells the story of Nora Seed, Nora is severely depressed, life isn't going how she expected and no matter which angle she looks at it from, there seems to be no light at the end of the tunnel. After years of misfortune and negative impacts on her life, she decides she no longer wants to live. At midnight after her suicide attempt, she finds herself in a sort of purgatory in the form of a library. The library is filled with perculiar green books of different sizes, shades and depths, each book containing a different life Nora could have lived had she made different choices throughout her 'root' life.
First of all, what a beautiful premise. Can you imagine having the chance to try out any life you could possibly imagine? How amazing would that be?! I've often felt the way Nora does in the book. Fortunately, I've never felt suicidal but I do experience both anxiety and depression at times and am often curious about what my life would be like if I'd made different choices. Would I be content with where I live? The job I'm doing? Would I still have regrets of not having gone to university? Or, even in the perfect life, would I still find something to think 'what if?' about? This book brings those deeper, profound questions and thoughts to the surface. It's really easy to think the grass is greener but as 'The Midnight Library' proves, it's perhaps not always the case.
One thing I really loved about this book is the fact that it perfectly captures how someone with depression feels, with merit to the author, Matt Haig. Having suffered with depression and anxiety himself, Matt beautifully illustrates the way depression affects both your way of thinking and indeed the way you live your life. it's so refreshing and such a relief to read a book written by someone who really understands first-hand what it is like to live with a mental illness. I can't tell you how reassuring it was to me to read that the way I sometimes feel isn't isolated to myself.
I did have only two thoughts/criticisms on the book;
1 – There was one phrase that was repeated twice quite close together in the book (pages 134 and 139) which played on my proof-reading/copyediting mind for a minute
2 – page 262 error – It reads: 'moments ago, she was in the garden with Ash and Nora and Plato' however it should have said Ash and Molly and Plato as this was referencing who Nora, the main character, was with before she found herself back in the Midnight Library (she wasn't with herself!) 😊
Overall, The Midnight Library was truly the best book I've ever read. Never before have I resonated with a characters' thoughts and processes on such a level. This is one book I will recommend to anyone and will be setting as my default gift to friends and family from now on!
Rating: ⭐️⭐️⭐️⭐️⭐️