Monday 27th April
Furlough week 3! This week I decided to start getting back into the routine of waking up early (well, normal working week time!) to prepare myself for potentially going back to work next week (by going back I mean working from home) I'm going to stagger it over the next week so that I don't mess up my body clock but to be honest, I've been waking up by 8 recently anyway (which is the time I start work) so I just need to get back to waking up at 7 again so that It's easier to get back into my routine!
I started the day today at 8am and jumped straight into writing my blog and finishing up some scheduled posts. I then decided to make myself a smoothie for breakfast which was really tasty! I used frozen strawberries, mandarin and peach slices as well as orange juice for the base.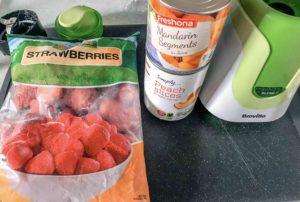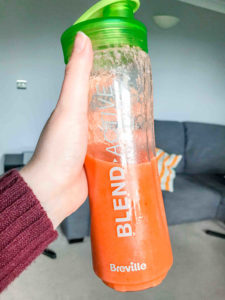 After writing for a few hours, I cooked pasta for lunch and then sat down to watch a couple of youtube videos before tackling the dishes!
Once I'd finished the dishes, I went to check if the mail had come yet and my wedding shoes had arrived! I love them and I think they're going to go really well with my dress, I can't wait to try it all on and piece together the ensemble!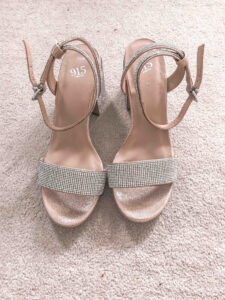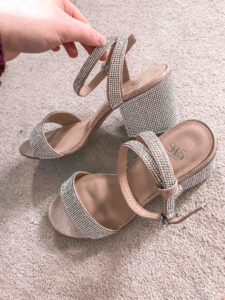 We then decided to tick off another to-do list item and cleaned out our fish tank. We refreshed the water, scrubbed all the plants & decorations and then popped the fish back in, it now looks gleaming again and the fish are very happy.
I then cooked some spaghetti bolognese and garlic bread for dinner and sat down to watch the last 20 minutes of 'Triple Frontier' It was actually quite a good film, a bit predictable, but not bad!
After watching the last 20 minutes of that, we buckled up and watched the final Avengers instalment, 'Avengers: Endgame' and I still have no words, what the heck.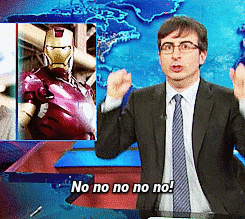 After the endgame rollercoaster, we decided to go out for a quick walk to get a bit of exercise. We headed to our usual walking spot along the seafront and walked to the end of the pier. There's a spot right at the end of the pier that connects onto the harbourside where a lot of people go fishing during the day. As it was around 21:30, there was nobody around and it was so peaceful and relaxing! You could look straight out across the ocean and all you could hear were the sea birds, soft waves and the ringing of boat bells as they swayed in the breeze. It was a really lovely spot to just take a moment to forget about everything going on in the world at the moment.
Tuesday 28th April
Started the day with a bit of writing in the morning and then decided to look for some prints for the living room. I bought some frames a few months ago from IKEA so needed to find some prints to go in them. I found the pictures I wanted on Etsy so just need to get Lee to print them!
I then searched Pinterest for some flourless baking recipes. We still cannot get flour anywhere, its been weeks now 😂I found a great looking recipe for flourless chocolate cookies so thought I'd give it a go! It was super easy and actually turned out amazing! They were a bit strange at first as you kind of expect a certain texture from cookies, but as they didn't have flour they were super chewy and actually really tasty! Recipe here.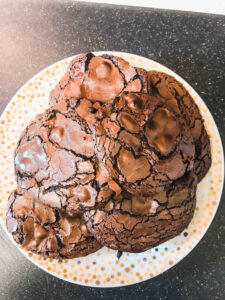 I made us both some pasta for lunch and then cleared through some more cupboards. Along the way, I found my iPod shuffle so decided to charge it up and update the music on it. I also found our Nintendo DS's so charged them up too!
I then cracked the DS games back out, played Super Mario Bros for a bit, then re-started Nintendogs (childhood nostalgia at its finest!)
I ended the day with a spot of reading and then went to bed!
Wednesday 29th April
The good old U.K. weather returned today! Very rainy in the morning but to be honest, I think it's been needed for a while! We've been super lucky lately with the weather, blue skies and sunshine as well as warm temperatures for the past month or so. We joked that as soon as the weather went back to normal, we'd probably be allowed out of lockdown and will have missed the nice weather.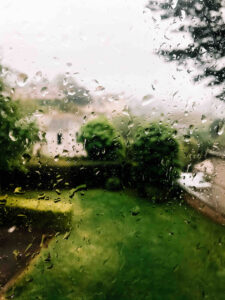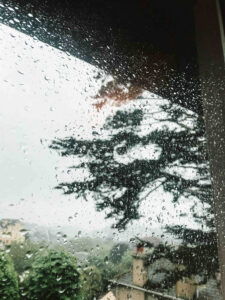 I decided to make us both a smoothie for breakfast (apple juice base this time) think I still prefer it with orange juice though! After finishing our smoothies, I had a little look around Disney+ for something to watch. I ended up starting 'Hannah Montana' again, something I used to love as a kid but upon re-watching it now, I just cannot get on with it. I'm not such a fan of Miley Cyrus nowadays lol
After 2 episodes of HM, I got bored and decided to bake some cupcakes instead! I used a basic vanilla cake mix and added 2 tablespoons of cocoa powder to make them chocolatey! We had some chocolate frosting in the cupboard from Lidl so I piped that on and stuck some chocolate chips on top for decoration! They were delish.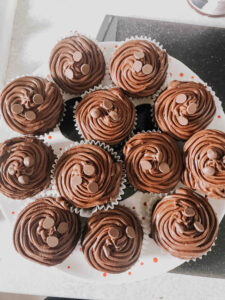 I then did some colouring to pass the time and checked my emails to find one from work saying my furlough was being extended. This was great news to be honest as I was really not looking forward to going back next week. I've now been allocated at least another 4 weeks so I've got lots more time to tackle my to-do list, relax and crack on with my online courses!
A little while later, my Boots order arrived! I bought the majority of their Tea Tree and Witch Hazel range to try and tackle this spot problem I've been having!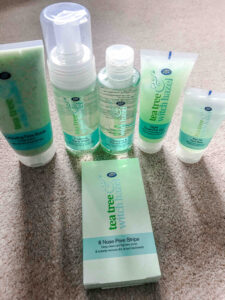 Thursday 30th April
Started the day with some more colouring and caught up with my daily YouTube videos from TheTimTracker.
I then cleared down my emails and found my birthday discount voucher form ShopDisney and thought it would be rude not to have a look. I used the discount to buy myself some new pins which I am so excited for! I can't wait to show you what I got.
Decided I wanted something much healthier for dinner than what we've been having lately. I know they say you are what you eat and I can definitely vouch for that, In fact, I think the term should be you feel what you eat. I wouldn't say we've eaten awfully lately but I think having limited options really makes mealtimes a struggle. I've felt really bloated and just a bit meh lately so baked up some chicken breast with a bit of paprika and lemon seasoning, made some honey roast carrot and sweet potatoes and boiled up some broccoli. I can't lie, it was actually really tasty. Chicken and veg is one of my favourite meals and it's super easy to make. This was my first time roasting veg though and it turned out great in my opinion. I did have a tiny bit of gravy over the top just to give it a bit more oomph and it was delish. Will definitely make again.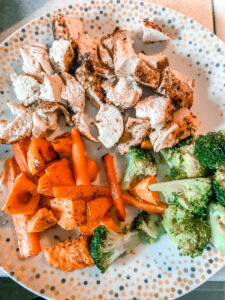 Thursday night is clap for NHS and Keyworker night, so I set my alarm for 19:58 so that I was ready for 8pm to clap. As I got to the window to start clapping, there was a giant double rainbow in the sky and it was just amazing!! Don't ask me how I did it because it was completely coincidental but I managed to catch a bird mid-flight as I snapped a pic.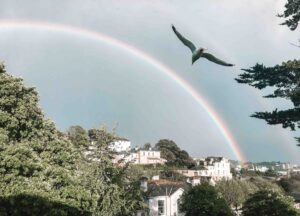 It then rained a bit more and we had another rainbow about 40 minutes later! This one was a lot more vivid in terms of colour but didn't reach as far across the sky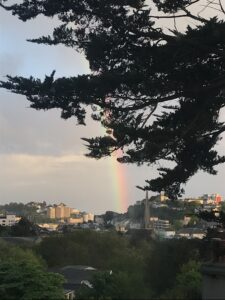 Week 3 of furlough turned out to be a bit of an online shopping week – oops! I ordered some pins and ended up placing a few bids of eBay as well as ordering some cute Disney sandals from a store called Reserved which I'd never heard of before! I'll show you everything I bought once it all arrives!
We then settled down to watch Harry Potter and the Prisoner of Azkaban – forgot how good this one is!
Friday 1st May
I started Friday with a bit of writing in the morning, catching up with my daily check-ins. I then did some more colouring to pass the time and a bit of photo editing for upcoming blog posts etc.
I then had a look around Disney+ for something to watch and found that Prop Culture has now been added! I love these kinds of shows where you get so much insight into the behind-the-scenes of Disney movies.
I then watched the next episode of 'High School Musical: The Musical: The Series' which was good but the more I watch of this show, the cheesier it gets, I swear.
After Lee had finished working (from home obvs) we watched the final episode of the Mandalorian which was so good!! I can't wait for season 2, it's going to be amazing!
We then ventured out to get some essentials and were amazed to find they had flour in stock so we grabbed a bag as fast as we could! This means I can finally bake recipes that call for flour now!
I then did a couple of meditation/mindfulness exercises before bed as Lee was watching some action film. I listened to a few soundscapes and then went to sleep!
Saturday 2nd May
I've been trying to use this social distancing period to train my hair to only be washed once a week. I know that sounds gross, however, you need natural oils for maintaining your hairs condition. If you wash too frequently, you'll strip the scalp of natural oils and your hair could become super dry and fragile so it's a good idea to wash only once or twice a week. I've always washed it twice a week over the years, however, I've been having an issue with hair loss at the moment due to having come off the Pill back in January and frequent washing won't help the situation, so I'm trying to cut it down to just once a week on a Saturday. I'm currently using the Maui Shampoo and Conditioner and it smells amazing.
I then did some more colouring to pass the time (yes, I've essentially turned into a 5-year-old) and watched a bit of Prop Culture as well. After a few episodes, I decided to switch to Disney's Fairytale Weddings. I love this show but it also makes me really sad that I can't afford to get married at Disney 😩Maybe we could renew our vows there in 10 years time when we're rich and win the lottery 😂
After another chilled day of watching TV and colouring, we went for a walk at one of the quieter local beaches. We'd also watched Pirates of The Caribbean: Salazar's Revenge earlier that day on Disney+ and some of the rocks out at sea looked like something out of one of the Pirates of the Caribbean movies.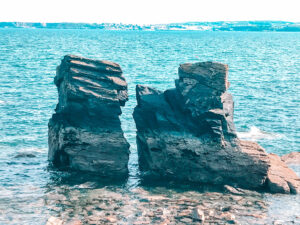 I then went to bed at 19:30 to do a bit more writing and catch an early night.
Sunday 3rd May
Today we made another one of my Chocolate Oreo Tarts. My stepdaughter absolutely loves making these so I measured all the ingredients out for her and let her have full reigns! she did a great job and decorated it beautifully with sprinkles and chocolate chips.
we then played Disney's Club Penguin together for a while and completed a few of the Secret Agent missions. I forgot how good Club Penguin was until I re-discovered it at the beginning of lockdown.
After that, we decided to make pizzas for lunch which were delish!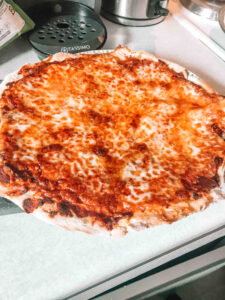 We then played the top trumps Disney Quiz which was great fun and some of the questions were really difficult, even for me!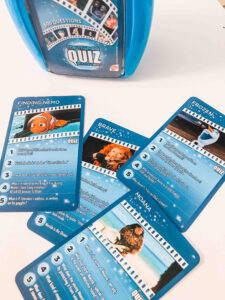 When it was almost time to take Lee's daughter home, we decided to get some fresh air and went out for a walk (Again, at the quietest beach we could think of!) Along our walk, we found some cute little sea birds. I didn't know what kind of birds they were so had a quick google and found out they were 'Ruddy Turnstones' – every day's a school day eh?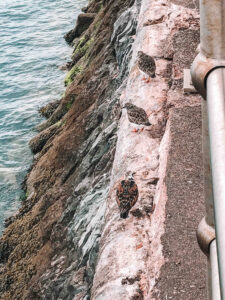 We finished the day watching 'Harry Potter and the Goblet of Fire'
---
Three things I'm thankful for/made me happy this week:
My furlough extension 🙌🏻
Finally finding flour in the supermarket, I'll be baking a few things next week!
Living by the sea. I love being by the sea, the sounds of the coast really ease my anxiety and calm me.
What are you thankful for at the moment?
---