What a crazy turn 2020 decided to take! Seems like only yesterday we were wishing each other a happy new year and making plans for the year ahead and now we're all in self-isolation and social distancing. These are scary and uncertain times so to try and keep the negativity and boredom at bay, I have compiled a list of suggestions on ways to keep busy during self-isolation/social distancing!
the most important thing you can do in times like these is practice self-care. I know that things like this can wreak havoc for anxiety and I'll admit this whole situation has sent mine into overdrive a little bit, so it's really important to take some time to check in with yourself and reset.
My favourite ways to practice self-care are the following:
Mindfulness & Meditation
I have many different Mindfulness apps on my phone that I use when I need a moment to clear my head and relax. My favourites are 'Headspace' and 'Breathe' both of which offer various different meditation exercises. Headspace is currently offering an entire section of meditation exercises called 'Weathering the storm' completely free of charge for all users during the next few months whilst everyone is self-isolating. This is a great offer to take upon and I'm so glad there are organisations like Headspace in the world that offer such generosity in the midst of difficult times. I didn't think I could love them any more than I already do, but yet here we are, they've again exceeded my expectations.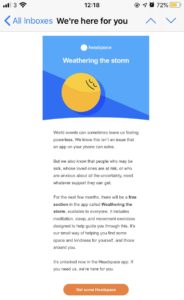 Meditation and breathing exercises, mindfulness podcasts, gentle home workouts, sleep techniques. – My personal favourite along with…
Personal check-in every time you open the app which then gives you a list of suggested meditation exercises and activities based on the emotions/feelings you are experiencing.
Virtual cognitive behavioural therapy app including coping cards, motivational quotes, anxiety chart to show your daily anxiety levels based on your check-ins, virtual thought journal, breathing exercises and educational posts to help understand anxiety.
White noise machine with various different calming soundscapes including rain, crackling fires, thunderstorms, the ocean, bird song and many more. This one is great if you have trouble getting to sleep!
A selection of satisfying, anti-stress games, perfect for winding down, clearing your mind and easing anxiety.
Exercise
Exercise is so important for your mental and physical health. I personally don't have a gym membership and choose to do home exercises instead. I use the following apps and videos to stay fit, all of which can be done in the comfort of your own home whilst you are in self-isolation
I've been using this app for a while now and I really enjoy it! I've not done it for 30 consecutive days yet (obviously!) but I like to switch up my workouts a lot so this one is on rotation. It's definitely the best app I've used though!
I found PopSugar fitness about a year ago now and they offer some really great home exercises! There are so many different genres to choose from whether you have exercise equipment or not, below is the one I have used most…
Broadway Cardio – Joseph Corella of 567Broadway
These are my absolute favourite workouts to do, Joseph Corella from 567Broadway does some amazing cardio workouts to songs from broadway musicals and they are SO MUCH FUN. Even if you're not a dancer and just love a bit of broadway, the workouts can be done at any experience level. My favourite one I've done so far is the Mean Girls 15-minute workout.
Pamper yourself
Have a nice relaxing bath or pop on a face mask, anything that allows you to just sit and relax for a bit and clear your mind.
Reading
If you're a bookworm like myself, I'm sure you've got a few books on to your to-read pile, am I right?? I truly believe that reading is one of life's many joys and that losing yourself in a story is a great way to unwind, relax and forget about the real world for a while. I'm hoping to get through a few books myself whilst we're in self-isolation so that I can scale down my to-be-read pile! You can also get really cheap e-books at the moment so if you have a kindle or different kind of e-reader, it might be good to see what's on offer right now…
Connect with me over on Goodreads to see what I'm currently reading!: @bethroseblog
Watch some TV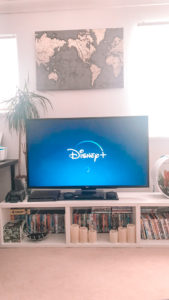 Or a movie for that matter. With streaming services such as Netflix, Youtube, Disney+ and Amazon Prime Video, there is so much content to choose from! I'm so excited that Disney+ has finally launched in the U.K. and you can bet that I'll be watching anything and everything that they have to offer! I've already started 'Disney's Fairytale Weddings', 'The Imagineering Story', 'The Mandalorian' 'High School Musical The Musical the Series' (what a name) and 'Encore!' I am LOVING it. Baby Yoda is too freaking cute and I seriously can't get over it. It's a little bit annoying at the moment in the U.K. as we have to wait for a new episode every week so we can't binge watch a full series just yet of the Disney+ Originals but at least it gives us something to look forward to and there are plenty of other movies and shows to watch in the meantime!
Find a new hobby
Or, continue with an old one! You could learn to cook, paint, do some gardening (the weather seems to have cheered up significantly since we all became under isolation, figures!) write a story or teach yourself how to play a musical instrument, the possibilities are endless! I for one am going to try and practice piano as much as I can as it's always something I've loved doing.
Take an online course
These are such a great idea in times like this! Get yourself stuck into learning something new with an online course. I have taken quite a few online courses over the years and have since gained 5 more diplomas! There are so many different educators who offer online courses, I have completed courses with both of the below educators and have just enrolled on another one with New Skills Academy that I am pretty excited for!
Spring cleaning
I know it sounds boring and tedious but sometimes having a good clear-out and clean can really refresh your outlook. De-cluttering your life, therefore, de-clutters the mind. I like to go through my clothes and belongings at least once a month to decide what to keep and what to donate to charity or sell on eBay/Depop. You won't believe the sense of achievement you feel once you're done!
Colouring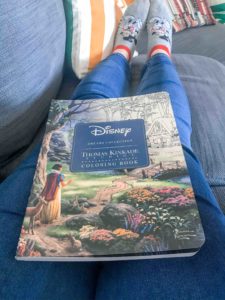 Studies have shown that colouring is extremely beneficial for mental health at any age. Colouring books for adults have become increasingly popular over the past few years and I myself have about 7. Sometimes it's nice to do something that doesn't take much brainwork and let's face it, who doesn't love colouring??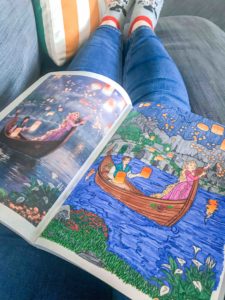 Play games
Playing games is a great way to pass the time indoors, crack open a jigsaw puzzle or a board game and get playing, even just a deck of cards can be good fun! Lego is also a great way to stay entertained so maybe think about treating yourself or your kids to a set? I've been considering buying myself a proper adult's Lego set for a while now and it seems like the current situation provides plenty of time to complete one! The only thing with Lego is that it can be pretty pricey so I, unfortunately, won't be buying the Disney Castle anytime soon…
DIY Projects
My final suggestion is to start a DIY or craft project! Do some re-decorating or get started on some of the little jobs you've been putting off for a while (I know you have some!)
I have been meaning to paint my makeup storage boxes for well over a year now so I'm going to try and get those done at some point. I've also started making my own Minnie ears again so I'll likely have made a few by the time this all blows over!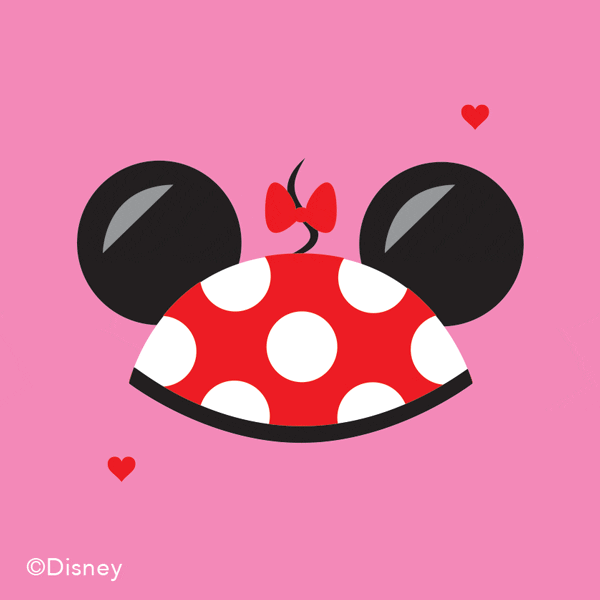 So there you go, a few of my suggestions for things to do during this self-isolation period! Do you have any suggestions? Leave them in the comments below for everyone to see 😊
Please please please stay home, stay safe, stay calm and most importantly, look after yourselves! These are strange and scary times at the moment and I'm always here if you ever need a chat, just get in touch via the contact page or via my social media channels ❤️
---
---
DISCLAIMER: NONE OF THE PRODUCTS OR SERVICES FEATURED IN THIS POST HAVE BEEN GIFTED OR SPONSORED.