Hello again! Welcome back to another reading challenge update. This month's read was a non-fiction book, and you all know how much I love those! 'Ask Me His Name' was very different from the other non-fiction books I've read and I found this review really difficult to write because, If I'm being honest, I really struggled with this book.
Ask Me His Name – Elle Wright
Genre: Non-fiction, Memoir, Parenting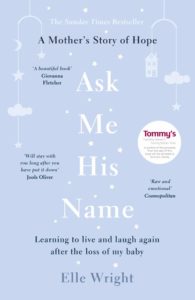 Blurb
Elle Wright had an admittedly easy pregnancy – her scans went well, she and her baby were healthy throughout, and in May 2016, she and her husband welcomed their son, Teddy, into the world.
Just a few hours after giving birth, they woke to find a nurse holding a cold and unresponsive Teddy, who had stopped breathing during the night. The happiest day of Elle's life had turned into every parent's worst nightmare, and she had to let her beautiful baby boy go. Three days after delivering him into the world, Elle sat with Teddy in her arms as he took his last breaths, and tucked him in for the final time.
Ask Me His Name is a moving account of Elle's pregnancy, Teddy's life, and what happens when a mother leaves a hospital with empty arms. In the UK, 1 in 4 pregnancies end in loss, but conversations about the heartbreakingly frequent issue of baby loss are few and far between. In this honest, beautifully written and hopeful exploration of mothering, Elle explores how she navigated a parenthood that no one had prepared her for.
It's so difficult to review a book that is so personal to somebody's life. I can't imagine how hard it must have been to write Teddy's story and have to re-live every moment in detail in the process. I know this book will resound with many parents that have suffered the loss of their child and there are some really great tips near the end of the book on how to, not necessarily overcome the loss of a child but to help ease the process such as yoga, acupuncture, reflexology and self-care.
This was one of the most heartbreaking books I've ever read. It was just so raw with emotion and what happened the writer's son was utterly devastating. We learn about Teddy's story quite early on in the book so the rest of the book is of Elle's journey to finding happiness again after the loss of her son.
I've found this review really difficult to write if I'm honest because as much as I found the book enlightening, it was a little repetitive after a while. I know it's someone's real-life story and it's absolutely awful but I can't help but feel this book was not edited? It just wasn't particularly easy to read which I feel so bad for saying as it is clearly a labour of love and not really something you can 'review' as such, I just found I got a bit restless with the repetitiveness after a while? I did enjoy the inserts from the perspective of other members of Teddy's family and learning the majority of Teddy's story through Elle and her healing process, I just felt that the rest of the book was heavily padded out with lots of trying to understand why people don't understand loss and I think the truth is, nobody can really truly understand it until they themselves have experienced it, which is unfortunate because it's something that nobody should ever have to go through.
If you have suffered loss and/or are struggling with the loss of a child, this book is one you should definitely read as I do feel you will get some closure or at least feel a little less alone in what you're going through.
Rating: ⭐️⭐️⭐️
---