So, a little late to the party due to having a busy work life but on Sunday 30th June, I finally went to see Toy Story 4! I love Toy Story, they are easily some of my favourite Pixar movies. Toy Story 1 was a classic, Toy Story 2 was my favourite but I'll be honest, I really didn't enjoy Toy Story 3, so when it was announced that they would be doing another movie, if Toy Story 3 was anything to go by, I didn't think Toy Story 4 would be any good, but boy was I wrong! In fact, I think it may be one of the best yet…
Plot
The movie starts with a flashback to the day that Bo Peep was sold and left the gang. Molly is getting older and decides she no longer needs her Bo Peep lamp to help her sleep at night, Molly and Andy's mom then boxes her up along with her sheep, ready to sell. Bo tries to convince Woody to go with her but being the loyal cowboy we all know and love, he decides to stay put with Andy.
Fast forward nine years, Woody and the gang are now Bonnie's toys, as we saw at the end of Toy Story 3. Bonnie is about to start Kindergarten and Woody is worried that she will feel lonely as she has been told she can't take a toy. He then hops into Bonnie's backpack and heads to kindergarten with her where she makes a new toy, Forky. Forky doesn't realise that he is now a toy and not a piece of trash anymore and decides to jump in the trash can at every chance he gets. Woody takes it upon himself to keep an eye on Forky and teach him his importance to Bonnie now that he is a toy. Forky still doesn't really understand and decides to jump out of the window of the Campervan that Bonnie's parents have rented to take Bonnie on a road trip. Woody goes after Forky, leaving the rest of the gang wondering how on earth Forky and Woody will make it back to the campervan in time. With a great new storyline and lovable characters, Toy Story 4 is, in my opinion, one of the best Toy Story Movies to date!
Cast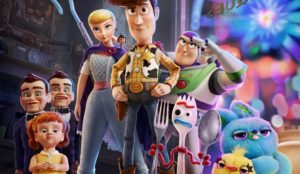 The cast includes the original characters we all know and love, as well as some new faces! The original cast all return to play their respective characters including Tom Hanks as Woody and Tim Allen as Buzz Lightyear. Some of the new characters include:
Forky – A cute and clueless little Spork character created by Bonnie on her first day of Kindergarten, Forky needs some convincing from Woody to believe he really is a toy and not a piece of trash anymore..  (played by Tony Hale)
Gabby Gabby– a sweet and innocent-looking doll whose sound box was defective straight out of the box, she has been sat in the 'Second Chance Antiques' store ever since, dreaming of the day where she will finally have a child that loves her. After realising that Woody's sound box still works perfectly fine, she shows a sudden interest in keeping him around… (played by Christina Hendricks)
Duke Caboom – A new friend of Bo Peeps', Duke Caboom is a Canadian stuntman toy whom now resides at the 'Second Chance Antiques' store after his kid was disappointed with how far he could jump in comparison to what the TV advert suggested. (Played by Keanu Reeves)
Giggle McDimples – Giggle is an enthusiastic police officer, based off an 80's toy of the same name (kind of like a little Polly Pocket playset) She is Bo Peep's right-hand girl. (Played by Ally Maki)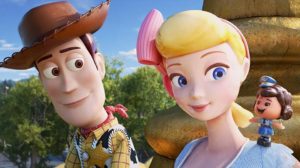 Ducky and Bunny – These guys may look snuggly and cute, but they mean business. They have a slight fascination with world dominance and attacking old ladies and are a little stand-offish, to begin with. Underneath that though, they are an enthusiastic dynamic duo who provide a lot of sass and comedic elements to the movie. (Ducky is played by Keegan-Michael Key, Bunny is played by Jordan Peele)
There are also some pretty creepy ventriloquist dummies in the movie, the main one being Benson, Gabby Gabby's right-hand man. If you're not a fan of Dummies, I'd suggest giving this one a miss, in the words of Forky, "he is terrifying!"
All the new characters are brilliant and are so cleverly portrayed. I am always amazed by the creativity of Disney/Pixar and the way they work to incorporate new ideas and characters to their movies, they are just genius!  I know a lot of people are raving about what they've done with Bo Peep in this movie, and I agree to some extent that she is pretty cool, however, in my opinion, she's also kind of rude? Especially towards Woody, the toy she supposedly loves! I get she's supposed to be seen as strong-willed and independent but it just came across as if she was still a little annoyed at him for not leaving with her when she was sold, but surely she's gotten over that after all these years? Either way, all is well in the end!
My favourite new character definitely has to be Forky, he's funny, clueless and loveable! I think it's adorable that he still thinks he is trash at first and that he always finds his way to a bin to sleep!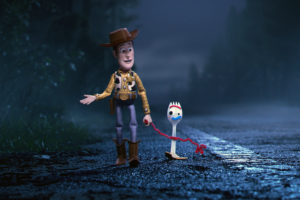 As always with Pixar movies, there are a few cheeky adult jokes in Toy Story 4 which are absolutely hilarious and the kids are unlikely to understand! As well as jokes, there are also plenty of classic Easter eggs throughout the movie, such as a little girl in Bonnie's kindergarten class who looks remarkably like Boo from Monsters Inc. I can't wait to see it again to try and spot even more!
A few things I will admit I was a little disappointed with was the lack of screen-time of the classic characters, Jessie only had about 3 lines and the Pizza Planet Aliens didn't have any lines, not even an 'OOooOOoo!' which was a bit of a shame as they are my faves! Another thing is that once we had finished watching the movie ( be sure to stay for the end credit scenes) we were a little surprised that the movie was rated U. I think it is probably more suited to being a PG as there are a few scenes young children may find pretty scary thanks to the Ventriloquist Dummies!
The biggest highlight of Toy Story 4 for me has to be the ending. It's not what everyone was assuming it would be (Woody doesn't die, I'm not even sure how that works for toys?) but in a way, the ending is equally as sad. I won't spoil anything but its pretty moving and a definite tear-jerker of an ending!
In conclusion, Toy Story 4 is a brilliant addition to the Toy Story franchise, easily one of my favourites! There is so much to see in this movie and I can't wait to watch it again and spot things I missed the first time around!
RATING:
---
Related