Hello everyone! Happy Star Wars Day! (if you know, you know) Welcome back to my blog, if it's your first time here then welcome in general! Today I thought I would share with you all the apps myself and Lee found useful when we were at WDW. Let's jump right in!
Countdown To Disney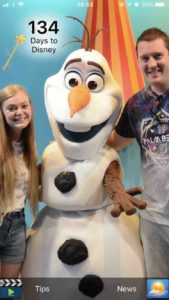 Pretty self-explanatory, this one is great to begin the countdown for your trip to Disney! You can change your background and either choose from their library of stock photos or set your own pic! The only downside of this app, in my opinion, is that it can be a bit buggy when wanting to share your countdown on social media, it will close itself down a few times before it allows you to share, but if you're not interested in sharing your countdown then it's a great app and does the job perfectly!
Download for iPhone / Download For Android
My Disney Experience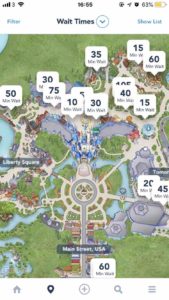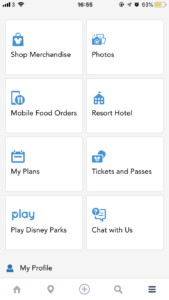 The almighty! My Disney Experience app is the starting point for any WDW holiday. You can link your reservations/booking, book your dining reservations, manage fastpasses and even buy merchandise on the app as well as viewing live wait times for the rides and attractions across all 6 WDW parks. You can also unlock your hotel room with the app and use mobile ordering for food around the parks – the possibilities are endless! Well, when the app works… The app can be really temperamental so if you can get it on a good day, it's a great one to have!
Download for iPhone / Download For Android
Magic Guide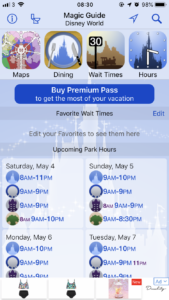 Magic guide is a great app to have for those (frequent) times when the MDE app is not working. It's not an official app but it's pretty much the same in the sense that you can view park hours for the week, check wait times for the rides, look at park maps and see dining locations wherever you are in the parks, however as it is an unofficial app, it does not let you book those dining reservations or FastPass+
Download for iPhone / Download For Android
Play Disney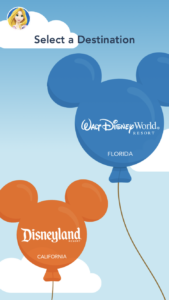 .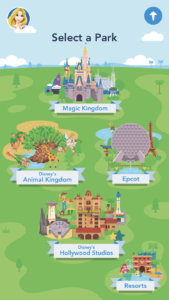 This one can be a lifesaver in those long queues! Play Disney is an official Disney app (same as My Disney Experience) and allows you to play games related to the ride in which you are in the queue. It's a great way to pass the time in those long waits!
Download for iPhone / Download for Android
Uber/Lyft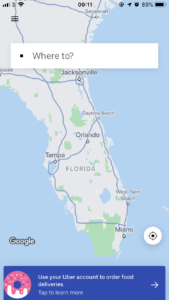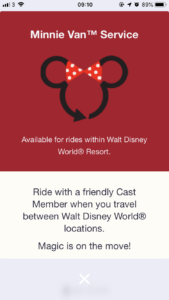 Uber and Lyft are great apps to have when you need to get somewhere quick and can't risk taking on-site transportation or if you want to go off-property and explore Orlando a bit more. You can hire an Uber/Lyft directly to your resort hotel and they can take you anywhere on or off property a lot quicker and for reasonably cheap prices! You can also hire one of Disney's Minnie Vans through the Lyft app.
Download Uber for iPhone / Download Uber for Android
Download Lyft for iPhone / Download Lyft for Android
Uber Eats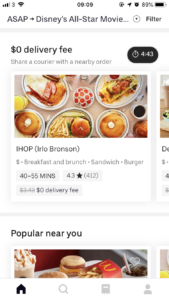 We found Uber Eats to be a great idea on those nights when we were too tired to walk from our room to the food court to grab something to eat. It was also great for when we didn't really fancy anything from the food court that night, so ordered McDonald's or some other takeaway and had it delivered straight to our hotel room! It's also perfect for when you're too tired to make the trip off-property yourselves after a long day at the parks!
Download for iPhone / Download for Android
Mickey Quest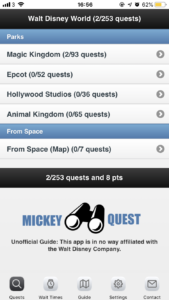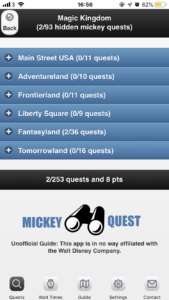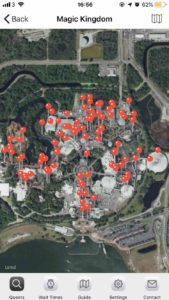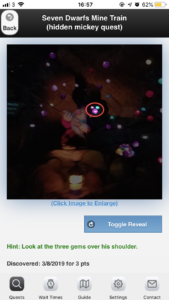 Mickey Quest is one of my favourite apps to have at Walt Disney World. If like me, you enjoy a good scavenger hunt, Hidden Mickeys are a great way to pass some time or take a break from the rides. The Mickey Quest app gives you clues to all the locations that have a Hidden Mickey on/in them and, if you're really stuck and can't find it, you can use the 'toggle reveal' button and it will reveal exactly where the hidden mickey is in the place that you are looking (see image above) You can also buy a book of hidden Mickeys which has a lot more than the app has, I have both and no matter which one you use its great fun to check them all off as you go along!
Download for iPhone / Download for Android
MyRadar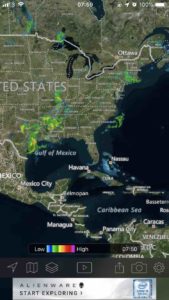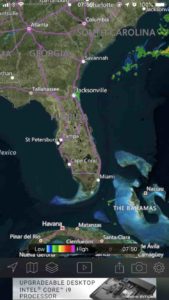 My Radar is an interactive weather map, you can check anywhere in the world and it will show you weather patterns and areas of high/low pressure.
Download for iPhone / Download for Android
FOX Weather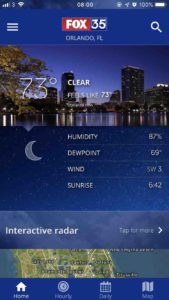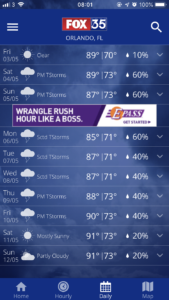 Fox Weather is probably my favourite weather app to have in Florida. You can see weekly, daily and even hourly weather predictions, temperatures, interactive radar and traffic updates.
Download for iPhone / Download for Android
Florida Storms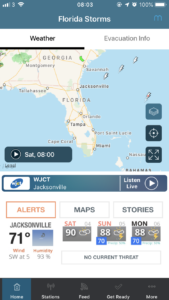 And finally, the Florida Storms app has a storm radar map and shows you exactly where the storms are at any moment. It also allows you to set notification updates for any inclement weather such as storm and hurricane warnings. This is especially good if your holiday is anywhere from June-November as this is hurricane season in Florida!
Download for iPhone / Download for Android
So there we go! The best apps to have at Walt Disney World (in my opinion!) do you have any others that you use on your trip? Let me know in the comments below and I will see you next time!
---
Related