So, a couple of weeks ago I decided to treat myself and Lee to tickets to see Heathers The Musical at the Other Palace in London – and it was probably one of my best spontaneous ideas to date! I had wanted to see Heathers for a long time and was waiting for the day it would finally come to London, so when they announced that it would be showing at the Other Palace, I was super excited! I managed to bag front row seats for the matinee on Saturday 16th June for £25 each.
---
HEATHERS STORY/PLOT
'Heathers The Musical' is based on the 1989 movie of the same name starring Winona Ryder. Veronica Sawyer (played by the incredible Carrie Hope Fletcher) is invisible until she gains the trust of the 'Heathers' the most popular girls in school, after an impressive handwriting forgery to get them out of trouble. She does so in return for a favour, Let her sit with them at lunch just once so people will leave her alone. Veronica then becomes the fourth 'Heather' in the group when they take her under their wing.
The 'Heathers' are led by the "Almighty, Mythic Bitch" Heather Chandler, Played by the incredibly talented Jodie Steele. They are loathed by everyone and treat people like dirt but in the eyes of Veronica, they're the key to her immunity. Heather Duke (T'Shan Williams) and Heather McNamara (Sophie Isaacs) complete the trio and are quite simply sublime. We first meet the Heathers in the middle of the shows opening number 'Beautiful' and what an introduction it is! The dramatic reveal of the 'Heathers' is provided by loud rock music, bright lights and thunderous cheers from the audience, making you realise for the first time just how freaking cool this show is.
After Veronica becomes frenemies with the Heathers, she seems to forget about her best friend Martha (Jenny O'Leary) but quickly begins to realise the mistake she's made when they ask her to forge a note in jock Ram Sweeney's handwriting inviting Martha to his homecoming party, leading her to believe he likes her. Veronica knows that Martha has had a crush on Ram (played by Dominic Anderson) since kindergarten and that this would completely break her heart if she knew it was all a stunt to poke fun at her. Veronica tries to make the Heathers see reason which only infuriates the leader of the pack, Heather Chandler who then along with Heather Duke and McNamara, make Veronica choose whose side she's on in 'Candy Store'. Terrified, Veronica backs down and the note finds it's way onto Martha's lunch tray.
Finally, we meet J.D. Played by Jamie Muscato, J.D is the new kid in town. Dark, wounded and mysterious, Veronica falls for him instantly. After spending more time with him, Veronica has a feeling there is more to him than meets the eye, which becomes apparent when he manages to convince/trick her into poisoning Heather Chandler. This then leads down a very slippery, messy slope and I don't want to give anything away so let's just say, it doesn't end well!
---
CAST
The casting for this show was impeccable. I am a huge fan of Carrie Hope Fletcher so when I heard she was going to be playing the role of Veronica Sawyer, I was quite thrilled. Needless to say, she lived up to expectations and absolutely killed it (if you pardon the pun) I really feel like this role was made for Carrie and I think I actually preferred her as Veronica than as Wednesday in 'The Addams Family' as I feel the role was more suited to her, though of course, she was still fantastic in 'The Addams Family' too.
The 'Heathers' – Jodie Steele, T'Shan Williams and Sophie Isaacs were just the perfect mean girls. Each one of them had their characters down to a tee and their vocals were sensational. Candy Store was the real show-stopper from these girls and really showed off their sassy, vibrant characters.
My other favourite songs included 'Dead Girl Walking' and 'Seventeen' both of which were powerfully performed by Carrie Hope Fletcher and Jamie Muscato.
The ensemble/Other Cast members were a fantastic bunch of nerds, jocks and stoners including Chris Chung as Kurt Kelly,  newcomers Olivia Moore and Alex James-Hatton, Charlotte Jaconelli from TV's Britains Got Talent and Lauren Drew, whom I have seen in many previous shows such as Kinky Boots and Ghost the Musical. They had heaps of energy and were so much fun to watch! The 'Adults' of the show included Edward Baruwa, Jon Boydon, Rebecca Lock and Sergio Pasquariello who all provided extra doses of comedy to this already brilliantly humorous production.
---
TECHNICAL
The lighting design for 'Heathers' was really cool in my opinion. Coming from a technical theatre background myself, It's hard to understand how the creative side of theatre often gets overlooked. I mean, if you took away the sound and lighting, you're taking away half the atmosphere of the show. You wouldn't get the same look or feel of excitement as you would with the big flashy lights and ground-shaking music, of which there were plenty in 'Heathers'. We were lucky enough to have gotten front row seats which were incredible, and from where we were sat, you could see every one of their faces up close and personal and hear them breathing without needing the aid of a microphone. The set was fantastic and cleverly put together, with hydraulic systems on the trucks (staging) and realistic props. The sound was practically flawless, the loud volume and live band made it feel like an epic concert as well as a cutting-edge piece of musical theatre. The band are also certainly worthy of a mention, having performed 21 incredible songs throughout the show absolutely flawlessly – Bravo!
---
VENUE
This was the first time I'd ever visited The Other Palace and was amazed by what a cool little venue it was! It can be found on Palace Street in Westminster, London,  a stone's throw from Buckingham Palace (quite literally) and is part of the Really Useful Theatres group. The venue itself is modern looking with plenty of seating areas in the foyer and has a cool studio style theme with a relaxed and casual feel. 'The Other GIN Palace' is the bar situated on the ground floor of the theatre which serves drinks, snacks and light bites. The theatre also has a restaurant on the first floor called 'The Other Naughty Piglet' which serves small plates and natural wines.
I really liked that they had a noticeboard in the foyer with paper and pens for people to write their feedback and reviews and pin them up for everyone to read, I thought this was a great way for everyone to share their thoughts and from the theatre's point of view, a really good source of feedback. I also really loved the layout of the auditorium, it was comfortable with plenty of legroom and I can't think of anywhere you could sit and not get a good view of the stage.  The bar prices were reasonable and they had a great selection of drinks and snacks so there is definitely something for everyone. The only thing I would say might have needed a bigger space would be the merchandise stand. There was a great range of merchandise and a lot of people queueing to buy something, but the way the merchandise kiosk was positioned, the line ended up trailing out the doors! Other than that, I thought 'The Other Palace' was a superb little venue and will definitely be looking at their other upcoming events in the future.
---
Overall, Heathers The Musical is absolutely incredible. I had such a blast and couldn't fault the production at all, We were lucky enough to bump into the director Andy Fickman on the way out of the auditorium and passed on our compliments to him as we left. I would highly recommend seeing Heathers, whether you're a fan of musical theatre, enjoyed the original movie or just want to dip your toes into theatre in general, Heathers The Musical is a great place to start! A huge well done to the Cast, Crew and Creative Teams for staging such an epic show.
Heathers is SO GOOD.
⭐ ⭐ ⭐ ⭐ ⭐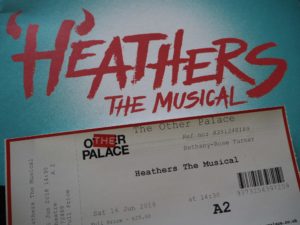 ---
PLEASE NOTE: Tickets for Heathers The Musical at The Other Palace are now SOLD OUT.
DISCLAIMER: I am in no way sponsored by anyone to create my content/reviews. All views, thoughts and opinions are my own.