So, I recently saw the movie 'Love, Simon' and I must say, I really enjoyed it!
The movie is based on the book 'Simon vs the Homo sapiens agenda' by Becky Albertalli and tells the story of 16-year-old Simon Spier. Simon (Played by Nick Robinson, Jurassic World)  is 'just like you' except he has a big secret- nobody knows that he is gay. Through an online blog site, he discovers 'Blue' who also hasn't told anybody that he is gay. After exchanging emails with each other for a while, the two soon fall in love and find closure in being able to finally have someone to share their secret with. Unfortunately for Simon, he accidentally leaves his emails open on a school computer which then get leaked by someone at his school. Simon's life spins out of control very quickly as he realizes his decision to come out to his friends and family in his own time is no longer an option. Simon spends every day trying to work out who 'Blue' could be, all while having to come to terms with his privacy being so publicly and humiliatingly breached.  With an all-star cast (including Jennifer Garner, Josh Duhamel, and Katherine Langford) witty humour and cheesy comedy, 'Love, Simon' is a heartwarming and eye-opening story of love, friendship, and acceptance.
Okay, I know I'm an emotional wreck when it comes to most movies nowadays, but this one really tugged at the old heartstrings.
In the movie, Simon asks the questions 'Why is straight the default?' and "how come straight people don't have to come out and tell their parents that they are straight, but gay people have to tell theirs that they are gay?" which really, is a valid point. I hope one day when I am ready to have kids, that myself and my partner raise them to know that they can come to us about anything, no matter what they like or who they love, regardless of gender and without fear of being treated any differently. I will support them and love them for who they are.
I know there will be small-minded people out there who will say 'life was intended for men to be with women and women with men' but in my eyes, life is intended to be lived happily with whatever and whoever makes you happy. As the movie promotes, everyone deserves a great love story.
So, if you are going through the same kind of thing as in the movie, are struggling to come to terms with your sexuality, enjoy cheesy comedies or just love a good romance, I highly recommend seeing 'Love, Simon.
Rating: ⭐⭐⭐⭐⭐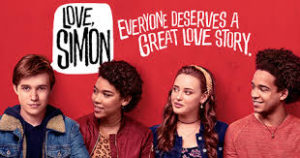 Read My Previous Movie Review Here