On the 13th January 2020, I had the absolute pleasure of seeing Dear Evan Hansen at the Noel Coward Theatre in London. I was so excited to finally be seeing this show as I've been obsessing over the Original Broadway Cast Recording ever since it was released! Safe to say, it did not disappoint!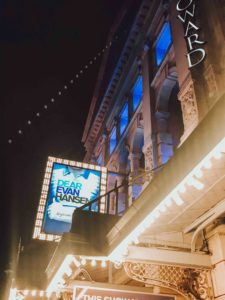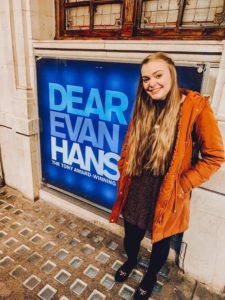 Synopsis
Dear Evan Hansen is a musical about a 17-year-old boy with social anxiety and confidence issues. Longing to fit in, Evan seizes his opportunity when Connor Murphy, a troubled classmate of his, commits suicide, leaving his family on the edge of breaking point. Evan then fabricates a story of how he and Connor were good friends with the help of Jared – a tech-savvy "family friend" of Evan's who is also a bit of a loner himself.
Through made-up emails and stories of their friendship, Evan gains the trust of the Murphy's and finds a place within their family unit, much to the dismay of his hard-working mother, Heidi. Having never had a family that was whole before or a mum who didn't have to work and could just be around all the time, Evan starts to feel like he is a part of something thanks to his relationship with the Murphy's and the fundraising efforts of the 'Connor Project' – an online drive created by Evan that is dedicated to keeping Connor's memory alive.
Things soon start to become undone when Evan gets in too deep and his string of lies threatens to impact the lives of everyone involved for the worse.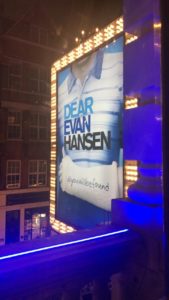 Review
Let me start by saying, the cast for this show, though small, made the biggest impact of any west end show I have ever seen. The acting in this show is second to none and every single cast member was astounding to watch.
Sam Tutty who plays the title role is incredible. His stage presence and professionalism is so captivating, you can't help but watch in disbelief that this is his first West End show. This stands as testament to his training and natural performing abilities, His voice is just incredible, I cannot wait to see him succeed and progress in his career because he is truly set for great things!
Just a worthy mention of the women of DEH, Rebecca KcKinnis (Heidi Hansen) Lucy Anderson (Zoe Murphy) Nicole Raquel Dennis (Alana Beck) and Lauren Ward (Cynthia Murphy) for having some of the most beautiful voices I have ever heard and talent beyond compare! I sincerely (me) hope they make a West End OCR because I would snap that up straight away.
Jack Loxton (Jared Kleinman) and Nicole Raquel Dennis (Alana Beck) provide a lot of the show's perfectly timed comic relief and had me creasing with laughter! Speaking of, Sam, Jack and Doug Colling (Connor Murphy) gave an outstanding performance with 'Sincerely Me'. It's such an upbeat, funny moment in the show.
Lauren Ward and Rupert Young play Cynthia and Larry Murphy, the Parents of Connor and Zoe. One of my favourite parts in the show is when Larry and Evan sing 'To Break In A Glove' and Larry shows just how much he tried to help Connor. Lauren and Rupert play their roles extremely well and in my opinion, truly capture the emotions and struggles of grieving parents. On the same note, Lucy Anderson (Zoe Murphy) is an outstanding actress, playing the role of the girl who just wants to be noticed by her parents instead of constantly being overshadowed by her brother's troubles. Lucy's rendition of 'Requiem' is simply stunning, leaving not one dry eye in the house!
I have never ever felt such emotion in seeing a show as much as I did in Dear Evan Hansen. I cried SO MANY TIMES. It is the saddest, most beautiful thing I've ever seen! The message of acceptance and being a part of something and finding yourself is something I think everyone really needs to hear. Even having listened to the OBCR the past 3 years, nothing prepared me for hearing the songs in context.
I feel like DEH is the kind of show that makes you fall in love with musical theatre all over again. I couldn't help but think what a beautiful experience musical theatre is whilst watching this show and it really made me wish I had the confidence to get back into performing! Instead, I watched in awe of this amazing cast and felt so incredibly lucky to have watched such a stunning show. As soon as the curtain call had finished, me and Lee both turned to each other and said 'I want to see it again' and believe me, had it have been a 2-show day and we'd seen the matinee, you can bet I'd have bought tickets to the evening performance too.
I honestly can't fault a single thing about this musical. If you take anything away from this review, let it be that Dear Evan Hansen is an incredible, INCREDIBLE show and you all need to see it. If you only see one show this year, make it Dear Evan Hansen, you will not be disappointed!
Rating: ⭐️⭐️⭐️⭐️⭐️
---