Hello everyone! Welcome back to my blog, if it's your first time here then welcome in general! Today we're heading back to the beauty side of things (I know, it's been a while!) I've had my eye on ColourPop's Disney Designer range for a while now so I decided to treat myself and purchase a few items! I'm actually quite proud of myself for spending so little if I'm honest as I wanted to buy everything! Quick disclaimer before we start: the following products have not been gifted to me, nor am I being sponsored by ColourPop to write this post (I wish!) These were purchased with my own money for and by myself) And now, on to the goods!
I know I said I wasn't going to buy any more eyeshadow palettes but come on, How could anyone possibly resist this one?? It has a gorgeous selection of colours which are the shades I would normally gravitate towards as they are perfect for everyday wear as well as for going out (not that I ever go out anywhere fancy!) My favourite shades are Ray, Fairy Godmother, Enchanted rose and of course, thingamabob (although, I'm not sure how often I'll get to wear such a sparkly colour!)

I'm a bit sceptical when it comes to lipsticks, I tend to opt for a liquid lipstick as they stay put a little better, but this shade was just too lovely to pass up on! It's the most perfect nude for my skin tone which is difficult to find being so pale. I love the packaging also, it's great quality and feels/looks way more expensive than it actually was!
ColourPop Disney Designer Collection – Super Shock Shadow – Heigh-Ho / So This Is Love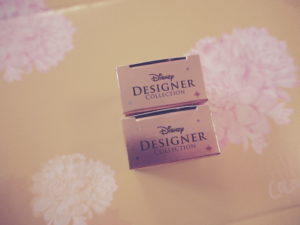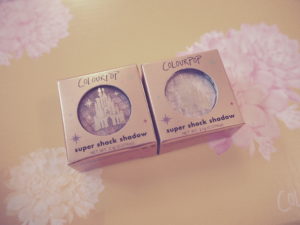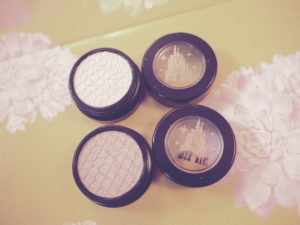 So This Is Love (Rose Gold Shade) – Again, I know it's more eyeshadow but I think this is possibly my most favourite shade I've ever bought. Look how gorgeous it is! I tend to opt for this kind of colour (neutrals, browns, taupes etc.) as I love a natural eye look. Once I get better at application, I might try out some more adventurous colours as the Disney Villains range had some AMAZING shades!
Heigh Ho (White Shade) – This is such a pretty colour, I wasn't expecting it to be as sparkly as it is but I feel like it will be really pretty to pair with 'So This Is Love' above to create a really nice natural look.
ColourPop Ultra Blotted Lip – Zuma / ColourPop Zoella Ultra Matte Lip – @Me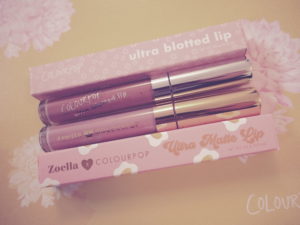 Zuma – I can't remember which youtuber I saw wearing this in one of their videos but I completely fell in love with it! I decided to give it a go as it was pretty reasonably priced, just need to start wearing lip colours more often!
@Me – Again, another one that I saw someone wearing before and I really liked the colour! I'd heard Zoella was doing a ColourPop range and so decided to check out some of her stuff. The packaging for this was really cute, It had tiny little fried eggs all over the box! Beautiful colour, can't wait to have somewhere to wear it!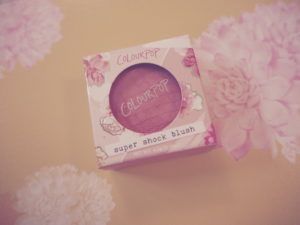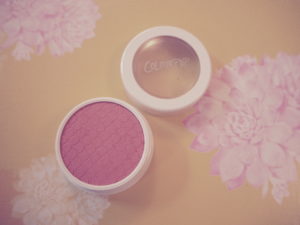 I was a little bit worried when this one arrived as it looks SO PINK but when you apply it it's a really lovely natural blush colour. It's got a soft jelly-like texture (it's not powder) so it's really nice to apply and it's easy to build too – Genuinely the nicest blush I've ever used!
So there we have it, my first ever ColourPop haul! I was surprised to see that they are an American company (I was confused as they use the British spelling of colour in their name!) But I really wish they had services over here in the UK, it would save the international shipping costs! The prices of the products are really reasonable and there wasn't a single thing I bought that I didn't like. 5 stars from me!
---
Related