Hello Everyone! Since I'm going to be away at the end of the month and won't be able to do an August Favourites post, I decided I would do a generalised Summer Beauty Essentials instead.
Summer is great, especially when it's nice and warm but as we all know, the change in seasons can drastically affect your skin and hair, So I've compiled a list of all my favourite products to keep them looking and feeling healthy!
Skincare
Cleansers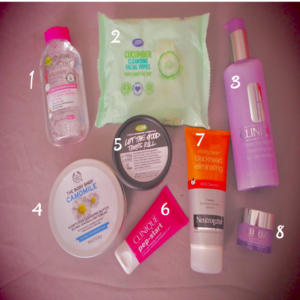 Cleansing your skin is so important, whether that's just with facial wipes or a cleansing lotion or gel, it's absolutely necessary to reduce the risk of oil build-up and problem skin such as acne and blackheads. Here are my favourite cleansers I have found over the past few years…
Moisturiser and BB Cream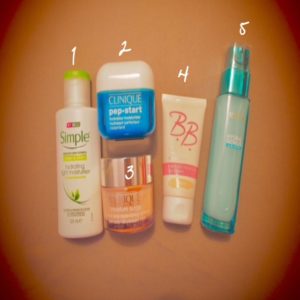 If like me you suffer from dry skin pretty much all year round, you'll know that it can be a nightmare to keep it feeling hydrated throughout the dry hot season. Here are my favourites:
Masks and Scrubs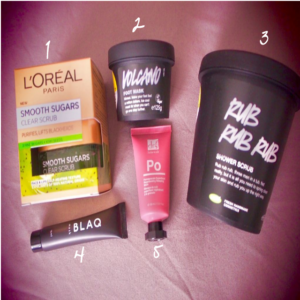 L'Oréal Paris Smooth Sugars Clear Scrub – Another great product for blackheads, this fine sugar and kiwi seed scrub purifies and exfoliates your skin and lifts blackheads at the same time. All while smelling amazingly fruity and making your face look like a kiwi!
LUSH Volcano Foot Mask – Great for those days when you've walked your feet off! The LUSH Volcano foot mask has a natural cooling effect, to begin with, and then a warming effect to stimulate your feet! With an odd mix of natural ingredients including Papaya, Lemon Oil, Pumice for exfoliation, Tomatoes and potatoes, it's no wonder this foot mask has such a funky smell (it's not got a particularly nice scent!) but my god it works a treat on your feet!
LUSH Rub Rub Rub Shower Scrub – I love this scrub. This was actually given to me for free at my local LUSH store about a year ago. I was buying a few other things and I couldn't decide whether or not to buy a small pot of this scrub as I had spent quite a lot already and was only working part-time at the time so couldn't really afford to buy this too, the girl who was serving me asked me if I could just grab one of the large pots from the shelf and she very kindly snuck it in my bag (don't be alarmed, this wasn't stealing, the

staff are allowed to do this!

) and I just couldn't believe her generosity. Another reason why LUSH are just the best!!
Blaq Deep Cleansing Mask – I got this in a birchbox a few months ago and have always used cheaper versions of these black peelable masks and not really seen any results. This one, however, works really well and leaves your skin looking visibly clearer after use.
Dr Botanicals PO Pomegranate Sleeping Mask – This is an overnight mask and is easy peasy to use. Simply put a thin layer of this on before bed (allow to absorb fully before actually heading to bed) and rinse in the morning – Easy!
SPF and After-Sun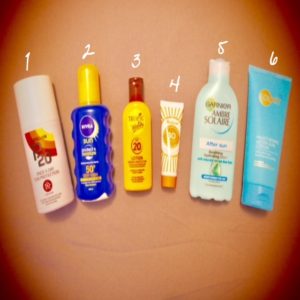 P20 SPF 50 Once A Day Spray – P20 Is the BEST sunscreen I have ever used. It is my go-to sun protection whenever the hot weather arrives and I always take this on holidays with me. It's a once-a-day application spray and for someone who is very fair-skinned and prone to sunburn, I can safely say I have NEVER burnt after applying P20. This is definitely coming to Disneyworld in my suitcase! The only down-side to this SPF is that the formula is slightly oily/greasy so if you have long hair like me, it's best to keep it tied up for a while after application.
Nivea SPF 50 Protect and Moisture Sun Spray – Another great sun lotion, Nivea knows where it's at when it comes to skincare! This is my second favourite sun cream and I always have both this and P20 in stock at all times. It's a great SPF, not too sticky or greasy, has a high UV protection rate and has an intensive moisturising formula. Perfect!
Tropic by Malibu SPF 20 Lotion – A handy little travel-size sun lotion. Great for if you've already applied your factor 50 but feel you need to apply a little touch up on the go!
Garnier After Sun – My absolute favourite after sun ever! Smells amazing, hydrates and turns that burn (if applicable) right into a tan!
Superdrug Solait After Sun Lotion – another great after sun lotion, I use this as a back-up for when my Garnier after sun runs out! *Top tip for aftersun lotions* – keep them in the fridge, feels so much cooler after a long day in the sun!
Lipcare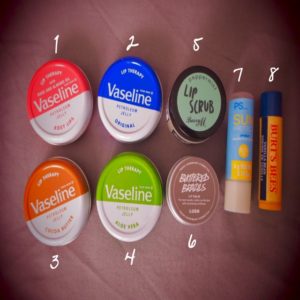 Vaseline Rosy Lips – I love Vaseline, its great for hydrating dry skin. Rosy lips leave your lips with a slight pink tint
Vaseline Original – Great for applying to your lips and leaving on overnight to work its magic! Seriously, try it!
Vaseline Cocoa Butter – My personal favourite vaseline, smells amazing and I always keep a tin in my bag!
Vaseline Aloe Vera – My second favourite and go-to for leaving on overnight.
BarryM Peppermint Lip Scrub – I love a good lip scrub as lip balm alone can only do so much. Exfoliate first with a scrub such as this one to leave a clean slate/new layer for lip balm to get in, which it will leave your lips soft and suhydratedated!
LUSH Buttered Brazils Lip Balm – I love this lip balm, I first tried this as it was given to me as a gift for Christmas a few years ago, I have been using it ever since! Its quite a thick balm but is really nice as once you apply it, it melts like butter for easy application! Smells amazing too.
PS… Sun Protect SPF50 Lip Balm – I found this in Primark a couple of months ago and thought it would be perfect to take on my travels! Factor 50 lip balm, who knew??
Burt's Bees Vanilla Bean Lip Balm – My favourite brand of lip balm, I love Burt's Bees products and their lip balms are just the best. They have loads of different flavours and are all made with 100% natural ingredients. Vanilla Bean is my favourite.
LUSH Lip Scrubs – Unfortunately, I don't have any of the LUSH lip scrubs at the moment as I am currently using up my BarryM Peppermint one, but I absolutely love the LUSH lip scrubs. If I didn't have the BarryM one to be getting on with, you can pretty much guarantee that I'd have a LUSH scrub in my collection!
Haircare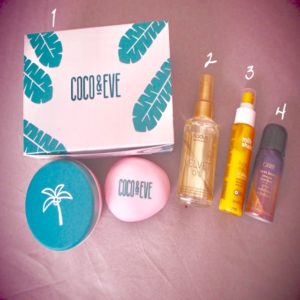 Coco & Eve Hair Treatment Mask – This stuff is great. It's pretty pricey and could probably benefit from being a bit cheaper, but it works really well on keeping dry, sun-damaged hair or split ends feeling nourished and really soft!
Kadus Velvet Oil – I used to use this all the time back in my youth 😋 It smells amazing and is perfect for defining curls if you have curly hair. Just be wary this is a type of Argan oil so please don't use if you are allergic to argan oils.
Milkshake Incredible Milk 12 in 1 – This is my all time favourite hair product EVER. It's a leave-in product which I love because it's just so easy and it literally smells like a vanilla milkshake. 'Milkshake 12 in 1 leave-in incredible milk' has 12 effects- it repairs all hair types, prevents split ends, offers frizz control, heat protection, conditions and detangles (like a DREAM) holds style longer, creates high-shine, adds volume to your hair, makes smoother straightening/defined curls, protects and maintains colour, protects from the suns UV rays and smooths the hairs cuticles. and did I mention is smells exactly like a vanilla milkshake? Oh, I did? moving on…
Oribe Wave and Shine Spray – Another Birchbox sample, I love a good waving spray for that just-stepped-off-the-beach look. I used to use salt spray but after a while, it can make your hair feel stiff and dry. Oribe's Wave and Shine spray has hydrating properties so it doesn't dry out your hair or make it feel stiff and straw-like. Perfect for those summer waves!
General Must-Have/Life-Saver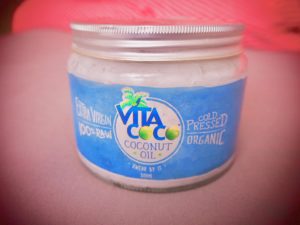 Vita Coco Coconut Oil – Cold pressed, extra virgin 100% organic coconut oil. You can literally use this for everything. Dry skin? Coconut oil. Chapped lips? Coconut oil. Overnight Hair Conditioning Mask? Coconut oil. Want to make really delicious coconut popcorn? Coconut oil. seriously, you can cook with it, use it in your hair, on your skin, as a moisturiser/massage oil etc. It's amazing and my current jar (above) has so far lasted me about a year and I'd say I still have over 3/4 of the jar left!
So there we go, my Summer Beauty Essentials!
See you soon!
---