I think it's safe to say that Summer 2018 is in full swing. I've already been to the beach at least 10 times and haven't worn trousers (except for at work) or long sleeved tops for over a month. WHAT IS GOING ON? The UK has been hit with the longest heatwave we've seen in over 5 years, Weather warnings have been issued and we've even been threatened with the risk of a drought, The country can't cope. We're a bit useless when it comes to any weather besides rain, to be honest! Anyway, today I bring you my summer nail polish picks! As you will see, they are all Barry M Nail Paints, this is simply because after trying lots of different nail polish brands, I have decided that Barry M Nail Paints are just in my opinion the best! They rarely chip, have a great selection of colours and effects and are super affordable! So without further ado, here are the colours I have whittled my vast collection down to for summer!
Browns/

Bronzes/

Golds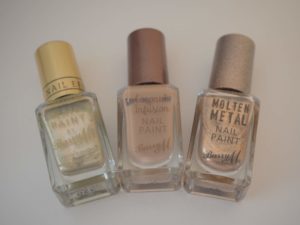 I really think you can't go wrong with a nice brown or metallic in the summer, they are just
Barry M Coconut Infusion 'Tiki Hut' – My favourite colour out of these three is the Coconut Infusion in the shade 'Tiki Hut' it looks absolutely stunning on a pedicure and is my go-to pedicure colour for sandal season!
Barry M Molten Metal 'Bronze Bae' – a sizzling hot bronze colour, perfect for insta!
Barry M Nail Effects 'Gold Foil' – Can't go wrong with a nice gold! This one looks so shiny and reminds me of the sun, sand and hot summer days!
Blues/

Greens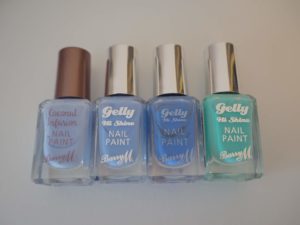 My favourite colours are powder blue, Turquoise, lilac and mint green so I have quite a few green/blue nail paints, here are my favourites for the summer:
Barry M Coconut Infusion 'Laguna' – One of my absolute favourite shades of blue, Laguna is a lovely pastel shade of powder blue.
Barry M Gelly 'Blueberry' – probably my favourite ever Barry M Shade. Blueberry is such a pretty colour, you could actually make this work all year round, but it's absolutely PERFECT for summer.
Barry M Gelly 'Damson' – A lovely bright blue colour, I think this shade would be really flattering against a tan!
Barry M Gelly 'Greenberry' – a nice bright turquoise/aqua colour, weirdly reminds me of swimming pools and mermaids!
Corals/

Pinks/

Purples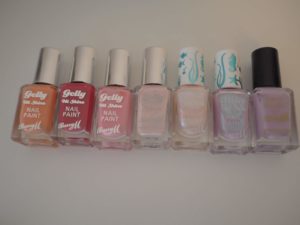 I never used to be a pinky person, however, in recent years, I've built up quite a collection of pink nail polishes! I'm not a huge fan of bright pink as being blonde, it might seem a bit Barbie-esque, But I love a good pastel shade so here are my top pink, purple and coral polishes for summer:
So, there are my Summer 2018 Nail Polish Picks! What are your favourite colours for this summer? Let me know in the comments below!
See you soon!
Beth x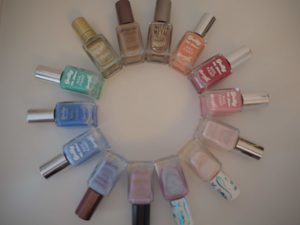 Disclaimer:
I can't stress enough how I am not in any way sponsored by any of the brands/companies I might mention, I am purely expressing my genuine opinions and love for the products that I have purchased.
---
Other Related Posts