Hello everyone! Where the heck did July go? This year is going ridiculously quick, which means it'll soon be time for me to jet off to Disneyworld! Yay! So, it's time for my July Favourites, and this month I've found some real bargains…
July Birchbox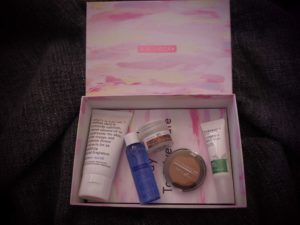 July's Birchbox is so pretty! I love watercolour designs and even paint in watercolour myself, so I was so happy to see this lovely little box design when I opened it. I was a bit disappointed this month as my Birchbox was 2 weeks late! I think they might have lost it for a while as I had been notified of its despatch at the usual time, however, there were no updates on the tracking for ages until it finally said 'delayed' – no idea what happened there but it's all good, I've got it now! This month I received:
Price: £10 + £2.95 P&P Monthly
Get Yours With This Link And Receive 50% Off Your First Box
Real Techniques Limited Edition Illuminate + Accentuate Brushes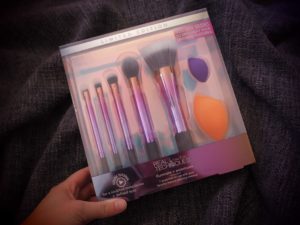 Real Techniques are one of my favourite makeup brush brands, I was so excited when I saw this limited edition set in Superdrug at the amazing price of £9.99! What a bloomin' bargain! I believe they are currently on offer because this particular set has now been discontinued, so if you want one, you'd better get in there quick! The set includes:
Bronzer Brush – large head and dual-length bristles provide lightweight application of bronzers
Contour Brush – delicately apply highlighter to cheekbones or apply contour product to the hollows of cheeks
Domed Shadow Brush – custom cut for flawless lid shadow application
Shading Brush – tapered cut for max colour pickup and even distribution of shadows
Smudge Brush – short, dense bristles diffuse and blend eye makeup along the lash line
Miracle Complexion Sponge™ – use damp with liquid foundation for a dewy base
Miracle Mini Eraser Sponge – correct mistakes like flaking mascara and eyeshadow fallout
Price: £9.99, Superdrug (While Stocks Last)
Mermaids Soft Medium Makeup Brush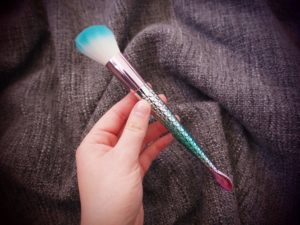 While we're on the subject of makeup brushes, I found this cute little mermaid brush in Home Bargains for £1.49! It's so pretty and really soft so I can see this being great for blush or bronzer maybe? The handle of the brush feels pretty sturdy and good quality- reminds me so much of the Tarte Cosmetics Minutes to Mermaid brush set.
Price: £1.49, Home Bargains
LUSH Volcano Foot Mask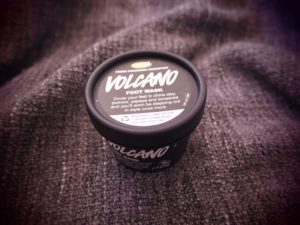 I first heard about this Volcano Foot Mask on Instagram. It sounded really amazing especially since I have been doing a lot of walking lately, my feet need a little TLC! The mask is made from china clay, pumice, papaya, tomatoes and potatoes (bit weird!) and is said to be really good for dry, tough skin. If you've ever been to a LUSH store, you'll know that they tend to keep their fresh masks on ice, which is perfect for summer when it's hot outside and you've been walking around all day! I will say though, due to the ingredients in this mask, it does smell a bit funky, but it's not the worst smell in the world, it actually reminds me of something but I can't quite put my finger on it! Another great thing about this product is that it is part of LUSH's 5 Pot Programme (bring back 5 clean full-size lush pots or tubes and get 1 fresh mask free!) LUSH recycle all of the black pots/tubes you bring back as part of this scheme and I was told in store by a member of staff the other day that they haven't made any new black pots since 2013 – pretty amazing really!
Price: £7.25, LUSH
Creighton's Charcoal Detox Clay Mask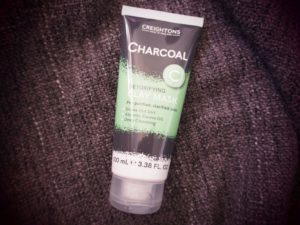 I love face masks and found this lovely one in Home Bargains this weekend for only 89p! It's a detoxifying charcoal clay mask which draws out dirt, absorbs excess oil and deep cleanses your skin. As I mentioned earlier, I'm quite lucky in the sense that I don't get spots very often, however, I have always had a mild problem with blackheads. I'm not sure what the best way of getting rid of them is but I do my best! I thought this might help somewhat so decided to give it a go for the sake of 89p! Even if it doesn't help, I'm sure it will be great for a nice little pampering sesh!
Price: 89p – Home Bargains/ £1.99 Creighton's
Crelando Watercolour Brush Pens
As I've mentioned before, I really love painting with watercolour. It doesn't mean I'm any good at it, but I enjoy it none the less. I had bought water brush pens from Hobbycraft before but didn't get on with them very well as I would have expected for the price I paid for them! However, I hadn't done any watercolour painting for a long time and then I found these in Lidl the other day. They were only £2.50 and work amazingly! They are surprisingly so much better than the ones I bought from hobbycraft for around three times the price! I'm so happy I found these as it has encouraged me to get back into working with watercolours again.
Price: £2.50, Lidl
So that's everything I have found and been loving in July! Let me know if you have tried any of the above in the comments!
See ya!
Beth x
Disclaimer:
I can't stress enough how I am not in any way sponsored by any of the brands/companies I might mention, I am purely expressing my genuine opinions and love for the products that I have purchased.
---
Other Related Posts: