Hello Everyone, It's time for another monthly favourites post! I seem to have got back into the habit of buying books this month (uh-oh!) So, here's what I've been loving in the month of May…
May Birchbox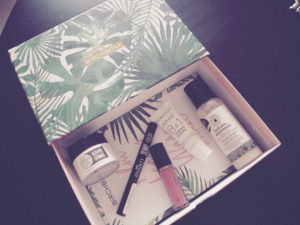 I must say I was much more impressed with this months Birchbox than Aprils! April Birchbox seemed to include a lot of tubed products so everything seemed a bit samey in my opinion, but this month has had quite a variety! I also really love the design of the box this month (as I have every month) May's box has a palm leaf design which looks so summery and gets me excited for my upcoming holiday! In this months box I received:
Native Unearthed Activated Charcoal Natural Deodorant Balm– I was sceptical of this at first as I am loyal to my current brand of underarm deodorant and didn't really see how a deodorant balm would work for me, however other than it being a slightly messy, slightly gross sounding process (you have to rub in between your fingers and apply by hand!) it's actually not too bad! The smell is very organic-y as it is with most of the products Birchbox tend to promote but actually, it's quite hydrating and has helped soothe my otherwise sensitive underarms (TMI, Sorry…)
Eyeko Skinny Liquid Eyeliner – I've recently started getting the hang of eyeliner so was excited to receive this one in my box this month, however, after giving it a go, It hasn't beaten my trusty NYX Epic Ink Liner!
Marcelle New Age Precision 8 in 1 Power Serum – I absolutely love this product! I was unsure at first as I wasn't actually sure what it did or whether it was going to make an impact, but after using it for the last month, I have absolutely fallen in love with it! It's classed as an anti-aging gel and it Is said that you begin to notice a difference after just 1 week, which I can totally vouch for! It smooths and fills facial lines, reduces wrinkles (even deep ones!) firms, lifts, strengthen and generally improves your skin's complexion. The serum is paraben, gluten and fragrance-free, although I personally think it has the same smell and consistency as Bonjela for some reason? Odd! It's lightweight and moisturising without making the skin look or feel greasy  

😋

I will definitely consider buying the full-size version when I've used up my sample.
Greenfrog Botanic Natural Bodywash Geranium and Peppermint– I really like the smell of this body wash and the handy travel size sample will be great to take with me on my upcoming trip to Disney!
Doucce Luscious Lip Stain in 'Amber Rose'– very slightly disappointed with this one to be honest. It's a really pretty colour but I found it had started to become patchy and flakey within 30 minutes of application. #sadface
Price: £10 + £2.95 p&p
Get Yours Here With This Link And Receive 50% Off Your First Box!
Yankee Candle – Pink Sands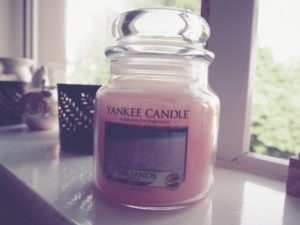 I had wanted this Yankee Candle for such a long time and I was lucky enough o have been given it for my birthday from Lee. It just smells amazing and I can see it lasting such a long time (I've already lit it a few times for several hours and there's still so many more uses left in it)
Price: £17.65 on Amazon
Disney Animators Collection Backpack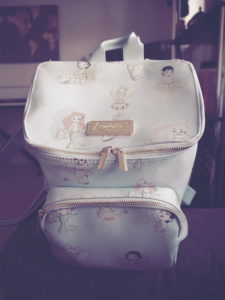 I saw this backpack whilst having a browse on the DisneyStoreUK website and just completely fell in love with it. We were given a money off voucher for the Disney store when Lee booked our trip to Disneyworld so I decided I would treat myself! Its pastel blue and has Ariel, Moana, Tink and Mulan dotted around all over it. I really like the Disney animators collection merchandise and just think this is super cute. Will definitely be using this on our Disney trip!
Price: £25.00, DisneyStore Online
Buy It Here
Travel-size Perfume's
I saw these on a recent Primark shop and thought they would be perfect for when we go to Disney this year. Rather than taking a full-size bottle of perfume, these handy little travel-size sprays are such a great idea for conserving space in your toiletries bag. I picked up 3 different scents, Sunset Goddess, Eternal Summer and California Girl. I was really impressed with the packaging as they look and feel really upmarket even though they are actually ridiculously affordable. My personal favourite is either Sunset Goddess or Eternal Summer as they are a really familiar scent for some reason. The only way I can think to describe them is that they remind me of being on holiday in Turkey and the smell of suncream, coconuts and massage oils from the Turkish baths, they just smell like summer!
Price: £2.00 Each, Primark
NYX Ultimate Shadow Palette – Warm Neutrals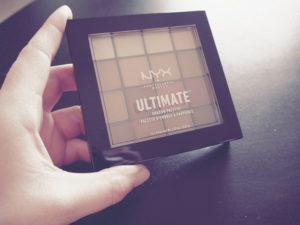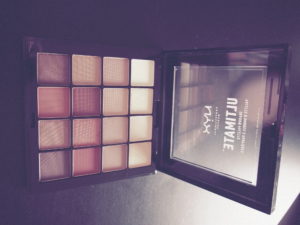 I love a natural eyeshadow shade, particularly golds, bronze, nudes, browns and taupes. In fact, I don't think I've actually got a palette with any other colours in them? (Palette collection post to follow soon!) I'm a big fan of NYX products and I'd had my eye on this NYX Ultimate shadow palette for a long time. A couple of weeks ago I was having a "down day" so decided to head to Boots and treat myself! I absolutely love the shades in this palette as they are all my favourites! The pigmentation is really rich and the texture/consistency of the shadows are beautiful! Cannot recommend this enough!
Price: £16.00, Boots
Bourjois Rouge Edition Velvet Liquid Lipstick and Contour Edition Lip Liner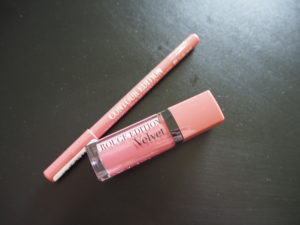 I also bought these as a treat on my trip to Boots when I was feeling low. I know my mum is familiar with Bourjois but I had never used any Bourjois products before so I was intrigued when I stumbled upon their new liquid lipstick range. I picked up the shade 07/Nude-ist and it is just lovely! It's kind of my go-to shade that I would normally choose in lip colour but I feel this colour really suits my skin tone and is slightly more natural looking than some of my similar ones from other brands. The lip liner pencil also matches the colour really well, they have a fantastic range so whatever shade lipstick you pick up, you're sure to find a matching liner!
Price: Liquid Lipstick: £8.49/Lip Liner: £4.99 Boots
Bourjois Rouge Edition Velvet Liquid Lipstick
Bourjois Contour Edition Lip Liner
Mickey Mouse Earrings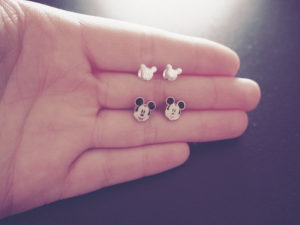 How awesome are these? I mean, seriously! I bought the Mickey face ones from Typo and the silver Mickey ones from a store on eBay, they are insanely cute!
Price: Mickey Face: £4.99 Typo/Silver Mickey Ears: £3.29 eBay
Mickey Face Earrings
All The Bright Places – Jennifer Niven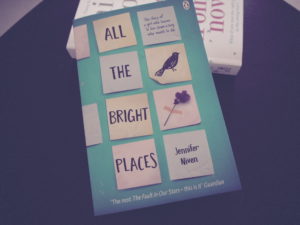 'All The Bright Places' has been on my reading list for such a long time so I was thrilled when I stumbled across this in my local ASDA the other day! I can't wait to get started when I've finished the 3 I've already got on the go!
Blurb:
Theodore Finch wants to take his own life. Violet Markey is devastated by her sister's death. They meet on the ledge of the school bell tower, and so their story begins. It's only together they can be themselves… But, as Violet's world grows, Finch's begins to shrink. How far will Violet go to save the boy she has come to love?
Price: £5.75, Amazon
Five Years From Now – Paige Toon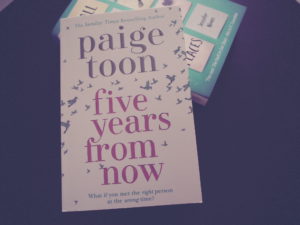 I am a big fan of Paige Toon's books. I first discovered her when I worked at my local library, There I was shelving books when I came across another one of Paige's books, 'The One We Fell In Love With' – which needless to say, I fell in love with! I have since bought 4 more of her books and was quick to pick up her latest release 'Five Years From Now' again, at my local ASDA.
Blurb:
Nell and Van meet as children when their parents fall in love, but soon they are forced worlds apart. Five years later, they find each other. Their bond is rekindled and new feelings take hold, but once again they must separate. For the next two decades, fate brings Nell and Van together every 5 years, as life and circumstance continue to divide them. Will they ever find true happiness? And will it be together?
Price: £4.88, Amazon
Eve Of Man – Giovanna and Tom Fletcher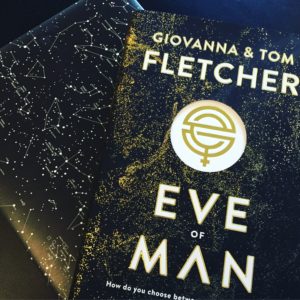 My mum kindly pre-ordered this book for me (thanks mum!) and I have already dived right in. I was so excited to start reading it! I absolutely love the Fletcher family and this collaboration is just the best. I am so far only 4 chapters in but it's already such a gripping and suspenseful novel, I just can't put it down! Review to follow soon…
Blurb:
All her life Eve has been kept away from the opposite sex. Kept from the truth of her past. But at sixteen it's time for Eve to face her destiny. Three potential males have been selected for her. The future of humanity is in her hands. She's always accepted her fate. Until she meets Bram. Eve wants control over her life. She wants freedom. But how do you choose between love and the future of the human race?
Price: £7.79
So there are my May Favourites, let me know if you've tried, read or used any of the items on my list and what your opinion was in the comments below!
See you soon,
Beth x