Hello again! Another month, another lot of favourites! It finally looks like Spring has decided to arrive, albeit a little late but better late than never. The weather has been beautiful recently, the skies are blue and the sun is shining which is great after the snow we've been getting the past few months! We've managed to get out and go for lots of walks and just enjoy the sunshine! Due to having started my new job (which I am thoroughly enjoying btw) I haven't had much chance to do any shopping, which is probably a good thing for my bank account! I did, however, have a bit of time at the end of March, so many of the items/things on this list are from what I bought then! So, here we go!
April Birchbox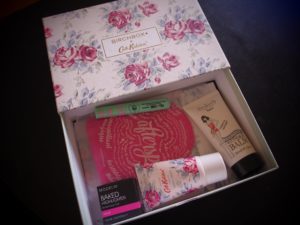 So the April Birchbox was presented by Cath Kidston and I received the following items: ModelCo Baked highlighter in the shade 'Frose' (a beautiful shade, however, I'm a little bit scared of using highlighters as I'm not great with makeup and would probably end up looking too shiny!) , A Beautaniq Beauty Fill + Tame brow Gel (they sent me the wrong shade, however, my mum also was sent the wrong shade in her box which just so happened that we got each other's correct shade so it is likely we will swap!)  A limited edition Cath Kidston hand cream, Percy & Reed Perfectly perfecting wonder balm (wasn't really sure what this was to be honest, turns out it's to make your hair a little more nourished, shiny and hydrated) and an AfterSpa magic make up remover cloth. Very lovely products once again!
Price: £10.00 +£2.95 p&p per month
Primark Cucumber and Mint Hand Cream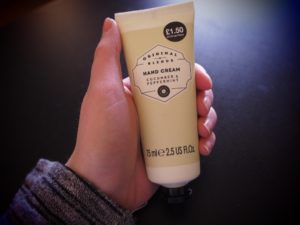 I discovered quite a few nifty products on my trip to Primark, This hand cream is one of them. The only hand cream I had before this one was the 'Love and Light' hand cream from LUSH, which was nice except for the fact that Lee absolutely hated the smell of it! (It did have a funny scent, I must admit) so upon finding this lovely cucumber and mint one I just had to get it! They had a few other different ones as well, the scents of which I can't quite remember, but this one had 2 of my favourite smells combined so it was the one for me! I may try the others at some point when I've used this one up as I've found this one to work wonders on hydrating my hands after this long winter we've had!
Price: £1.50 – Primark
Minnie Mouse Toiletries Bag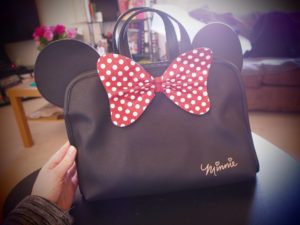 Okay, so when I saw this absolute beauty of a toiletries bag in Primark I just HAD to get one! Look how amazing it is! I just love it. And it matches my Minnie Mouse purse – amazing!
Price: £6.00 – Primark
Moxi Eye Catcher Cleansing and Correcting Buds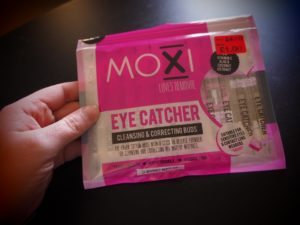 My mum actually bought me my first pack of these from Primark. I decided to give them a try as I normally get through so many cotton buds in removing or touching up my eye makeup. These handy little ones have a Vitamin E, Coconut and Aloe extract cleanser inside them, you just snap one end of the bud off and let the fluid run through into the other end of the bud. They are amazing! I only have to use 1 a day whereas, with normal cotton buds and makeup remover, I can get through about 4! These are also a lot more gentle on your skin and are individually wrapped so perfect for travelling! I loved these so much that I actually went out and bought myself 2 more packs. I might even buy a few more if they still have them next time I'm at Primark!
Price £1 reduced from £4 – Primark
Mickey Mouse Clasp Backpack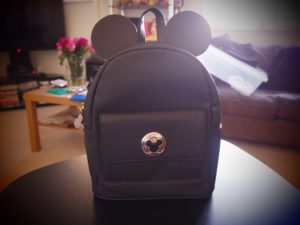 I had a Mickey Mouse-eared backpack before I bought this one but the front pocket didn't have a closing method so was just open all the time. I ended up not being able to put anything in the front out of fear of someone stealing it/it falling out. So when I saw this one the last time I was in Primark I just fell in love. This is the cutest backpack I have ever owned and I love it! It's small, it's handy and it's Disney- what more could you ask for??
Price: £12.00 – Primark
H2O On The Go Water Tracker Bottle
I've never been very good at keeping my body hydrated, so when I found this water bottle in Home Bargains, it was just exactly what I needed to help me stay on track! Our bodies are made up on average of 60% water. They say you need to drink 2 litres of water every day, which sounds completely impossible, But with this bottle, it is so easy! It has a 1L capacity which you need to fill twice a day and has handy little targets set for how much you should drink and at what times. It just makes it easier for you to get the 2L a day that you need! I've been keeping on top of it for a few days now and feel great for doing it. I've never kept so hydrated and drank so much in my life and I'm excited to see the benefits and changes that getting the right amount of water intake can provide.
Price: £2.49 – Home Bargains
Peppermint Foot Scrub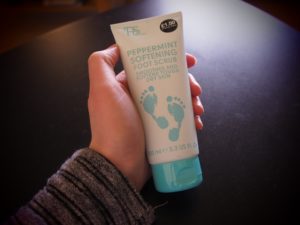 This was another one of my nifty Primark purchases. I decided my feet don't really get the care and attention they deserve, after all they carry me everywhere and pretty much are the most worn out part of me! So when I saw this lovely peppermint scrub in Primark, I decided to give it a go! It smells amazing and really exfoliates your feet nicely – Great purchase!!
Price: £1.50 – Primark
Rose Gold Ballpoint Pen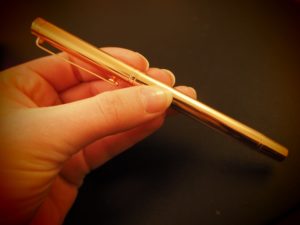 Not gonna lie, I am a sucker for stationery. My very first job when I left school was in a high-end book/stationery shop and ended up spending nearly half my wages there every month 😬 I found this gorgeous pen while shopping for essentials in Home Bargains a few weeks ago and I just love it! It's so pretty and really nice to write with.
Price: £2.49 – Home Bargains
NYX Lip Lingerie – French Maid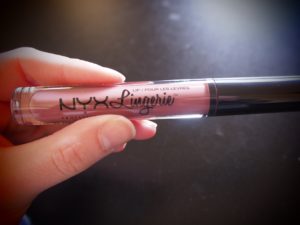 I have been getting into make up a lot more recently and really like the NYX brand. I have quite a few different shades of their Lip Lingerie range and recently found this beauty! It's difficult to find shades that suit me and don't wash me out due to my extremely pale skin, but this one is just lovely!
Price: £7.00 – Boots
Clinique Moisture Surge 72-Hour Hydrator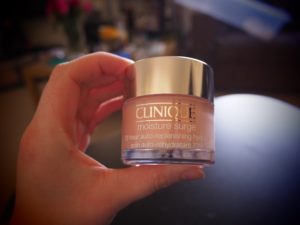 I received a Clinique gift set for Christmas (read about that here) and really fell in love with the skincare range. I have been looking for a really hydrating moisturiser for a long time now as my skin can get really dry sometimes. I found this Moisture Surge 72-Hour Hydrator on a shopping trip not long ago in Debenhams beauty hall and was amazed at how hydrating it was after testing on the back of my hand. I asked for one from my Mum for my birthday and I was lucky enough to receive a pot of it! Thanks Mum! x
Price: From £24.00 – Clinique/Boots
PS Bronze Shadow & Shade Palette
Me and my Mum actually both got one of these when we went shopping early in the month. Primark have really started to step up their game both clothes and make up wise and have bought out quite a few palettes. This one was perfect for me as I tend to reach for more natural and subtle colours, mainly golds, bronze, browns and beiges- exactly this palette really! The only downside would be the quality of the packaging, it was difficult to find a palette on the shelf where the colours hadn't broken 😬
Price: £4.00 – Primark
Minnie Mouse Charm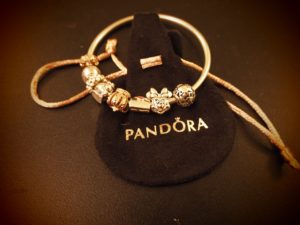 I am a collector of Pandora charms and received this lovely Minnie Mouse charm for my birthday from Lee. I absolutely love it and will be buying the Mickey charm soon too!
So, those are my favourites for April, have you tried any of these products too? Let me know your thoughts in the comments below. See you all soon!
Beth x
Disclaimer:
I can't stress enough how I am not in any way sponsored by any of the brands/companies I might mention, I am purely expressing my genuine opinions and love for the products that I have purchased.