Hello all! I've had a bit of a mind blank recently when thinking of things to blog about (my apologies for this) but I am back today with a little snow/life update.
Enjoy…
Snow!
So as I'm sure you all heard/witnessed for yourselves 2 weeks ago 'The Beast From The East' met with Storm 'Emma' and boy did they strike up a riot!
I love the snow, I have always loved the snow, but this mixture of storms was way too much for me, and from the looks of things, the whole bay to cope with!
I am one of those people who really feels the cold and tends to have cold hands and feet almost 100% of the time, so the additional chill in the air was not fun for me! 😨
I kept myself wrapped up warm on the sofa with blankets, tea and candles and, after a few days, the snow eventually cleared and normality was restored!…
Until now.
The Beast From The East – Part 2 is upon us!
Although it has snowed much more than last time, it seems so much nicer! It's not as cold or as windy, which makes it more bearable to go out in.
The gritters have been out in force this time round but despite their best efforts, I think the snow was just too heavy for the grit to have made much of a difference 😬 You wouldn't believe it is the first day of Spring tomorrow with all this snow!
The bay has turned into a beautiful winter/spring wonderland which has made for some great photographic opportunities, Here are a few snaps I took whilst on a stroll yesterday ☺
Day 1 – Saturday 17th March 2018
We made some last-minute emergency bread and milk deliveries to family on Dartmoor in the early evening and it's a good job we left when we did!
It was Saturday night when the snow began to fall again, just a light sprinkling to start with which soon turned into a few centimetres by Sunday morning.
Day 2 – Sunday 18th March 2018
The snow didn't seem too bad in the morning so I managed to drive up to my mums house where upon my arrival, the blizzards began! I stayed at my mums for a few hours before the snow got too bad and was rescued by Lee who managed to make it up the hill no problem in his beast of a car.
My little Kia however, is still stranded at my mums house! Oops! 🚙
We soon got home safely and decided to go for a little walk down to the nearest shop to pick up some essentials for ourselves (I have recently gotten Lee absolutely hooked on crisp sandwiches, I'm quite frankly shocked that he had never had one before, but I guess there's a first time for everything!)
So, we got our essentials and headed back home, stopping along the way to take some photographs (see above) Once home, I decided to attempt to build a snowman… Make of him what you will…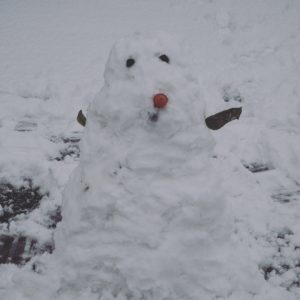 Snow Day – Monday 19th March 2018
As I write to you now, I am currently off work because of the weather conditions #SnowDay! (We woke up to almost 16 inches of snow 😳)
We have been quite productive over the weekend since we've been snowed in, Having a good clear out, sorting through paperwork, getting on top of all the laundry and just generally having an early Spring clean.
So I guess we will be continuing with that today also 😊 Call me boring, but I have started to keep a check on my finances lately as there's so much I want to save up for, so keeping an eye on my expenses is a great way to see how and where I can be saving some ££. The joys of adulthood eh?
I am about to leave the house to have a second attempt at building another (better) snowman in the garden, pics to follow shortly…
Life Update
New Job!
I have a lot to look forward to and prepare for at the minute as I have got myself a new job!
I am currently working my notice at my current job and will be starting my new role in early April. I am so excited for my new opportunity and can't wait to get started.
As my current role was also up for potential redundancy, the job couldn't have come at a better time!
2 redundancies in 6 months is not something every 20 year old goes through early in their careers, but unfortunately through no fault of my own, it's somehow happened to me!
Nevertheless, I am very excited to get started in my new role and am looking forward to the future!
New Posts
I have lots of new blog post ideas coming up including reviews, monthly favourites, travel tips and much more. Keep your eyes peeled for new posts as they arise!
See you all soon!
Beth x