Hello Everybody! Welcome to the first of many monthly favourites posts. I know a lot of beauty bloggers such as Zoella do these based on their favourite products they've been using each month, I myself love hearing about new brands and products that they find so I wanted to do something slightly similar. I've said it before, I am by no means a beauty blogger however, My monthly favourites will include beauty products/accessories as well as any other items I have purchased that I have been loving.
So, without further ado, My March Favourites!
Birchbox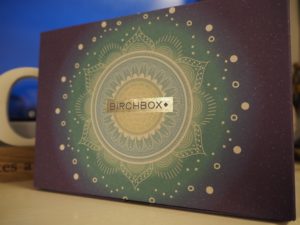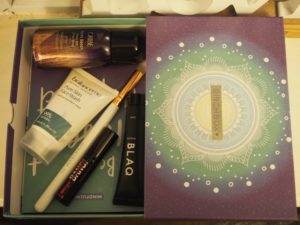 So I recently joined the monthly subscription service 'Birchbox' which sends 5 different health and beauty product samples to your door each month in a cute little drawer box. Each month's samples are tailored to you based on the health, skincare and beauty preferences you set when you first sign up for the box. You get the option each month to choose 1 of the products you receive in your box based on a multiple choice, whilst the other 4 products you get will be a surprise until the months Birchbox has been released. The Birchbox also comes with exclusive offers, discounts and you also get an extra treat sent to you on your birthday! I have only just started so I currently only have 1 box (March) and am loving it! I'm so excited to see what I get in my April box as I have already picked my product of choice (ModelCo Baked Highlighter in the shade 'Frose') and it is my birthday month so I'm excited to see what my extra surprise will be!
Price: £10 + £2.95 p&p/Month
Tanya Burr Cosmetics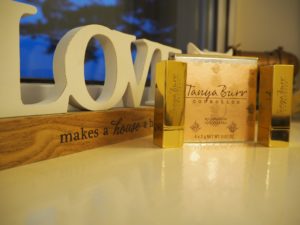 I've been wanting to try Tanya Burr Cosmetics for a while now after hearing so many good things about them. I went into one of the many local Superdrug stores near me and lucky for me they had a sale on their Tanya Burr range! I picked up 2 Lipsticks in the shades 'happily ever after' and 'big kiss' at £1.49 each (absolute bargain) and the 'my paradise' eye palette for £2.99. I am seriously impressed with the quality of the lipstick packaging, it looks really high-end like a YSL or Lipstick Queen product. The colours are gorgeous in the eye palette and the range is so affordable its unreal! 
Price: Eye Palette – £2.99 Lipsticks – £1.49 Each
Benefit BadGal Bang! Mascara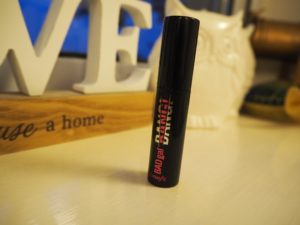 I actually received this in my March Birchbox and it is the most incredible mascara I have ever used! I haven't tried many Benefit products as they are usually not within my price range, but I may just have to buy myself the full-size version of this Mascara as I'm not sure my old Max Factor will quite cut it after using this Benefit beauty!
Price: £21.50
Primark PS… Silicone Face Cleansing Pad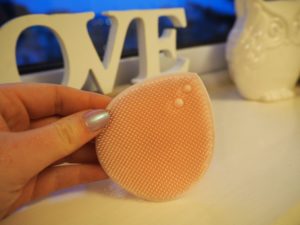 Before I got one of these I would have normally just washed my face with my hands, but now I can use this handy little scrubby pad which exfoliates my face as well as making sure my cleanser gets right in there. Love it! and it was only £1!
Price: £1.00
Buy A Similar Version Here
BarryM Under The Sea Nail Paints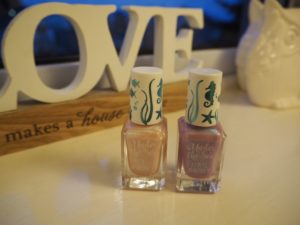 BarryM are my go-to brand for Nail Paints as in my opinion, they are just the best! They have a great selection of colours and loads of different effects such as Gel, Metallics, Matte, Glitters and normal Paints. I recently spotted their brand-new Under The Sea Range in Superdrug and fell in love with them immediately! I picked up 2 out of the 4 shades, A lovely light pink one called 'Angelfish' (left) and a lilacy-purple one called 'Jellyfish' (right) I have tried and tested them both and they are BEAUTIFUL. They have a very shimmery two-tone colour, 'Angelfish' being pink but silvery-white in the light and 'Jellyfish' being Purple but greeny-blue in the light. They reminded me so much of the little mermaid so I just had to get them. I may just have to buy the other two shades!
Price: £3.99
Burt's Bees Lip Balm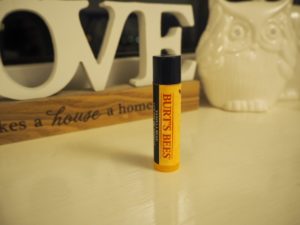 I am currently using the Burt's Bees Lip Balm in Vanilla Bean and oh my god is it wonderful or is it wonderful? I don't think I have ever used a lip balm as good as Burt's Bees!
Price: 3.99
Vaseline Cocoa Butter Lip Therapy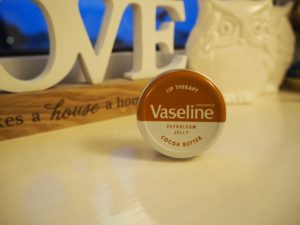 While we're on the subject of lip balms, The Vaseline Cocoa Butter Lip Therapy is a worthy mention. I put this on before I go to bed which leaves my lips soft and plump when I wake up in the morning!
Price: £0.95
Rimmel Lasting Perfection Foundation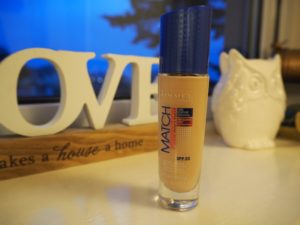 I've been looking for a new foundation for a while now and after doing my research, Rimmel's Match Perfection Foundation, along with their 25 hour lasting foundation were highly ranked in the list of best affordable high-street brand foundations. I have to say I much prefer it to my NYX Stay Matte But Not Flat Foundation. It may be a couple of pounds more expensive but it wears much better! Also, it may sound really weird, and I'm not sure if it's just my shade (010 Light Porcelain) but if you've ever wondered what the Newport Bay Club Hotel at Disneyland smells like, buy this foundation. It smells amazing and reminds me of Disneyland so much! 😂
Price: £8.29
Primark Rose Gold Apple Shaped Scented Candle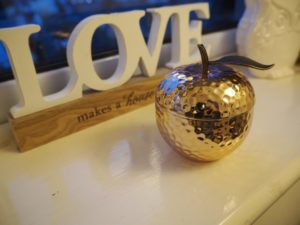 I bought this candle because I thought it was so pretty and it reminded me of the apple from Snow White. I can't remember exactly what the scent was supposed to be but it smells so amazing! I'm planning to use the apple pot as a trinket box when I've burned up the candle wax! Its just far too pretty to throw away.
Price: £3.50
Buy It Here
Q&A a Day 5 Year Journal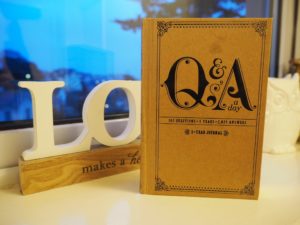 I love the idea of journals and have tried many including bullet journals etc but always find that I get bored after a while. This one however, I absolutely love because you don't have to think of a topic to write about each day as it asks you a question that you just have to answer! It's so cool and I love the fact that it lasts for 5 years, I can't wait to look back on it in the future and see how my answers change over the years! You can buy lots of different versions of this 5 Year Q&A Journal, I got mine on Amazon.
Price: £10.59
Yes to Cucumbers Soothing Body Wash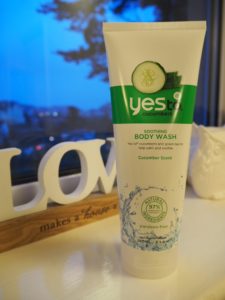 My favourite smells of all time are Coconut, Vanilla and Cucumber. I had never seen 'Yes to' body washes before but found them when I was Boots a few weeks ago. I bought myself the Cucumber one as its one of my favourite scents. They do 4 different 'flavours'; Cucumber, Carrot, Grapefruit and Blueberry. Im Interested in trying the Grapefruit and the Carrot ones but I'm not a massive fan of blueberry. The cucumber one has the most gorgeous, refreshing scent I have ever found in a body wash. Loving it!
Price: £4.99
Primark No:34 Sea Salt Mist (Sea Salt and Sage) Scented Candle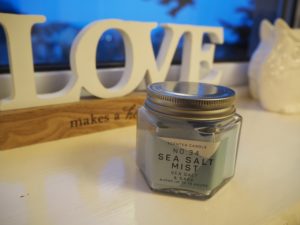 I love Primark scented candles, they all just smell great and are really cheap! This one I picked up at the same time as the Rose Gold Apple Candle and is so darn good. They do so many different scented candles, I may just have to try them all eventually! You can pick up these scented candles for £1 from the Primark Home section.
Price: £1.00
Buy One
MUA Luxe Velvet Lip Laquer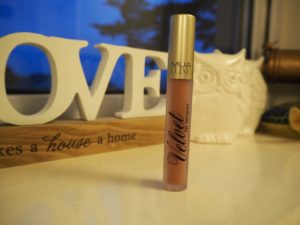 I'm not really one for wearing lip colours that often as I don't really have the lips for it. my skin is very pale so its almost impossible to find the right 'nude' shade and I find a lot of them can be really drying and make your lips look like they've never seen a balm in their life. However saying that, I'm always up for trying something new so when I found this little gem in Superdrug, I decided to give it a go! – I love it! I picked it up in the shade 'Tranquility' which is the perfect Nude and I honestly never thought I would find one because I'm so pale! Its so nice and wears really well. I went out for a meal on the day I bought it and it lasted throughout the whole evening (including eating an entire meal, drinks and talking) I can't wait to try the other shades they have in this range!
Superdrug Wake Me Up! Caffeine & Green Tea Facial Wipes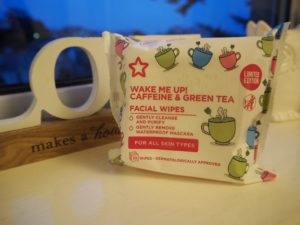 If you read my Daily Skincare/Makeup Routine you'll know that I love Superdrug's own brand facial wipes. I stumbled upon these new limited edition Caffeine and Green Tea wipes when I was picking up some essentials the other day, I needed to get some more wipes and these had just been put on the shelf. I decided to give them a go as I love to try out the new wipes when they release them and these are just divine. They have a really lovely fresh scent and have a slight tingle as it wakes up your skin. 10/10 for these wipes, I just hope they decide to bring them back as a permanent product when the limited edition period is over, if not, I'll have to stock up on them while I can!
Price: £1.29
(Couldn't find these on the website, so keep your eyes peeled in-store if you want some!)
BarryM Peppermint Lip Scrub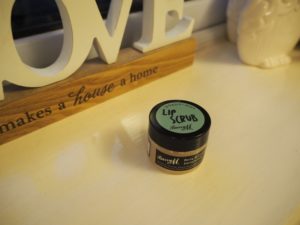 I normally get my lip scrub from Lush but since my closest Lush is a 40 minute drive away, and my lip scrub had all gone, I decided to try the new BarryM one instead. I had no idea BarryM even did a lip scrub so was very excited when I saw this! They do a Peppermint and a Mango flavour but since I don't like mango, I went for the Peppermint option! They're not as 'scrubby' as the Lush ones but they still do the job well!
Price: £4.99
So those are my March Favourites! Have you got/tried any of these things? If so let me know what you thought of them in the comments below!
See you all soon,
Beth x
Disclaimer:
I can't stress enough how I am not in any way sponsored by any of the brands/companies I might mention, I am purely expressing my genuine opinions and love for the products that I have purchased.