Hey everyone! Today I thought I would talk you through my daily skincare and make-up routine for anyone who is interested (not that many of you probably are) It's a fairly simple process as I'm no expert on beauty or makeup, but this is what I can do!
I've always had very sensitive dry skin, So finding products that get on with it well doesn't happen very often! I've only managed to find a few brands so far that suit my skin.
Skincare Routine:
Step 1: I usually take all my make-up off in the evening before bed (I'll talk about what products I use to do this at the end!) so I normally just use a simple cleansing wipe in the morning just to freshen my face up after all that sleep! I really like Superdrug's own brand wipes, I tend to get these a lot as they are cheap and I find they are softer than the more expensive brands. They also have lots of different varieties, I usually go for either the fragrance free cleansing wipes for sensitive skin, the Micellar Wipes (also for sensitive skin) or the Micellar Oil wipes (these smell amazing!) I'm currently using ASDA's own brand wipes as I ran out at one point and Superdrug wasn't open at the time, but I have found these are good too, and just as cheap!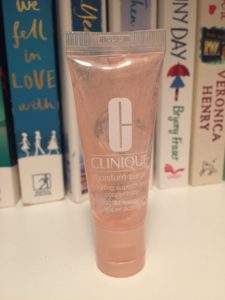 Step 2: After freshening up, I'll apply my Clinique Moisture Surge Supercharged Concentrate I love this because it's a gel with tiny little bubbles of hydration that instantly moisturise your skin (up to 179% apparently!) It makes your skin feel so much more hydrated and really, really soft.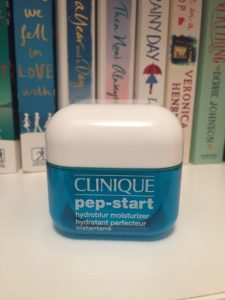 Step 3: After the moisture surge, I'll apply my Clinique Pep Start Hydroblur Moisturiser, which is possibly the most high quality moisturiser I've ever used! It has Hydroblur technology which means it hydrates as well as blurring out any imperfections- two in one, can't really go wrong! It also has a lovely texture and is a really pretty pink colour. Now, I don't normally have such fancy, expensive skincare products, I normally use my trusty Simple Skincare range, However, I received a Clinique gift set for Christmas (thanks Mum!) so have been using them everyday since, and am so far absolutely loving it!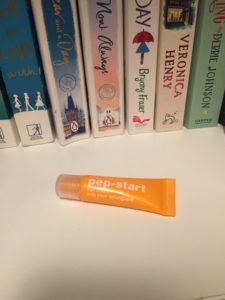 Step 4: Next I put a little bit of the Clinique Pep Start Eye Cream under my eyes and a tad on my eyelids too. This just makes my eyes seem a little bit brighter for so early in the morning and makes me appear generally more awake! Also, I may not have bags just yet, but it's never too early to prevent the inevitable!
Makeup Routine: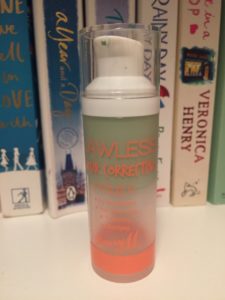 Step 5: My final skincare-y step which segways nicely into the make-up routine is Primer. I currently use the Barry M Flawless Colour Correcting Primer. I quite like this primer because its affordable and does the job just as well as any other! I also really like it because it reduces the appearance of redness in the skin, which mine does get sometimes!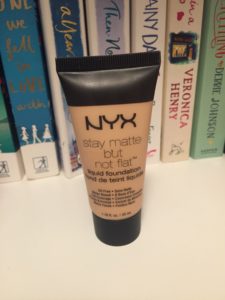 Step 6: Foundation! I use the NYX Stay Matte But Not Flat Foundation at the moment but am always on the lookout for new foundations to try out as I've yet to find one that I love.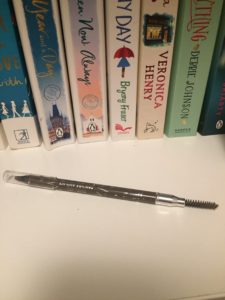 Step 7: After applying my foundation I like to just fill in my eyebrows a tiny bit. I love the Barry M Brow Wow Pencil, I used to use the Barry M Brow Kit but recently switched to the pencil and much prefer it!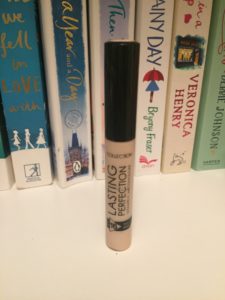 Step 8: I then use some concealer just to brighten under my eyes and cover any blemishes a little bit more. My favourite concealer so far is the Collection Lasting Perfection Concealer.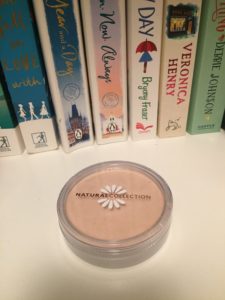 Step 9: After applying my concealer, I brush on a light layer of my Natural Collection Pressed Powder over any areas that can begin to look a little bit shiny as the day goes on (eyelids, chin and nose)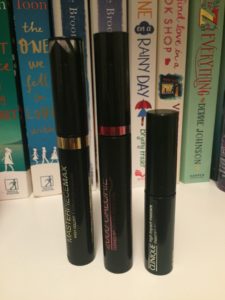 Step 10 : The final part of my make-up routine is the mascara. I tend to use 2 different ones for different reasons, I use the Max Factor Masterpiece Max to separate my lashes out so they don't clump together and The Max Factor 2000 Calorie Curved Brush Mascara. for volume and length But, with my Clinique gift set I got a new mascara and just like the rest of the set, its AMAZING! It's the Clinique High Impact Mascara and does such a good job!
Step 11: I then finish off my look with a bit of lipbalm. The Lush Buttered Brazils Lip Balm is one of my favourites!
Cleansing/Makeup Removal Routine: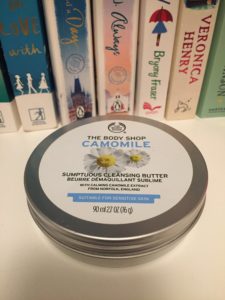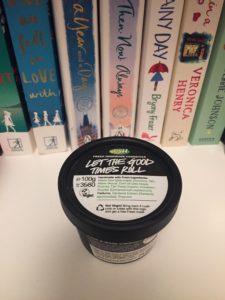 When it's time to take my makeup off at the end of the day, I start with the BodyShop Camomile Cleansing Butter just to remove my mascara. I love this because it literally melts your makeup off, it makes removing even waterproof mascara so easy. I then use my favourite product ever: Lush Cosmetics 'Let The Good Times Roll' Fresh Cleanser. I absolutely adore this product, It makes your skin feel amazing and just smells so good!
So, that's my daily skincare/make-up routine, It's very simple and quick, takes me around 15 minutes in the morning. I normally do something a bit more exciting for special occasions!
I want to finish by saying that I'm by no means a beauty expert, in fact, I'm pretty uneducated when it comes to Make-Up, but hey! I'm learning! Also, I am not at all sponsored by any of the above brands, I just personally think they are really great!
If you're still here after all that, Thanks for reading!
See you next time!
Beth x
Check out my previous post here.